Independientemente de que se extraiga la leche materna o que alimente con fórmula, alimentar a su bebé de un biberón ofrece flexibilidad. Los padres y los proveedores de cuidados pueden usar el tiempo de la alimentación con biberón para entablar una conexión estrecha con el bebé.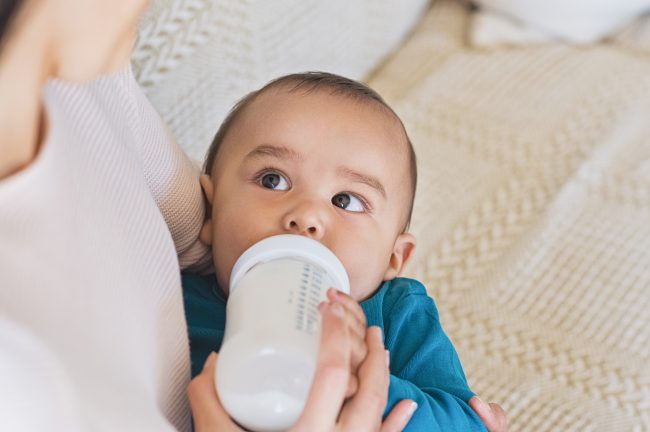 Principios básicos de la alimentación con biberón
Hay algunas cosas que se deben tener en cuenta cuando se alimenta con biberón.
Puede ser tentador dejar a su bebé en un portabebés con un biberón en la boca. Esto puede producir infección de oídos, atragantamiento o caries dental. Si necesita un descanso, deje que alguien más alimente a su bebé.
Puede alimentar con biberón en la mayoría de las mismas posiciones que son cómodas para amamantar. Si le gusta estar acostada para alimentar a su bebé, puede sostener a su bebé en sus piernas dobladas. Sea cual sea la posición más cómoda para usted, asegúrese de que la cabeza de su bebé esté apoyada en una posición elevada. No le alimente mientras esté acostado.
Sostenga el biberón inclinado en ángulo. Esto anima a su bebé a succionar y reduce la cantidad de aire que traga.
Mire las señales de que su bebé se está saciando y deje de alimentarle en ese punto. Las señales de saciedad incluyen soltar la tetilla y girarse al otro lado o quedarse dormido.
Los recién nacidos normalmente toman una a dos onzas en cada alimentación. Conforme crecen, esta cantidad aumentará.
Seguridad de la alimentación con biberón
Para los bebés pequeños, utilice solo leche materna o fórmula. Los bebés no necesitan beber agua hasta que empiezan a comer alimentos sólidos en torno a los 6 meses de edad.
Evite calentar la fórmula en el microondas ya que no se calienta uniformemente. La fórmula calentada en el microondas puede quemar a su bebé. En lugar de ello, caliente los biberones en agua tibia.
Después de darle de comer, tire lo que quede en el biberón.
Consejos para extraer la leche
Si amamanta, puede extraer su leche con un extractor o con la mano.
Su lugar de trabajo debe tener una habitación privada que pueda utilizar para extraer la leche. Además, su trabajo debe darle tiempo para extraer la leche. La mayoría de las empresas están obligadas por ley a hacer esto.
Puede refrigerar la leche materna durante cuatro días como máximo.
Puede congelar la leche materna durante 12 meses como máximo, pero lo mejor es utilizarla antes de seis meses. Descongélela en el refrigerador.
Para obtener información sobre extractores de leche, llame a La Liga de la Leche (La Leche League)o a WIC.
---
Más formas de encontrar ayuda
El sitio web La alimentación es importante (Feeding Matters) – Ayuda con problemas persistentes con la alimentación.
WIC – Clases sobre la alimentación saludable; cupones para comida.
---
The First Things First Parent Kit was developed in partnership with Health Research for Action/UC Berkeley. © 2022 The Regents of the University of California. Additional video, graphic and other content © 2022 First Things First. All rights reserved.