First Things First works at the state and local levels to give Arizona children the opportunity to arrive at kindergarten healthy and ready to succeed. We invest in proven programs and innovative strategies through grants to community organizations that provide services to children and families. We provide professional expertise and oversight to support local programs and statewide initiatives. And we collaborate with other early childhood system partners to make even more impact.
Investing in Arizona's Young Children
First Things First is Arizona's only public funding source dedicated exclusively to early childhood, the beginning of our state's education continuum. We invest early childhood funds in programs and services that address the development, education and health needs of children birth to age 5 (before kindergarten). We administer statewide initiatives and award regional and statewide grants through competitive RFGAs (requests for grant applications). Funds are allotted to Arizona communities based on their population of young children (birth to age 5), and emphasis placed on getting resources directly to children and families through a network of community providers. Everything we do is strategically designed to help more Arizona children arrive at kindergarten ready to succeed.
Governance
The statewide First Things First Board and regional partnership councils in local communities across Arizona share the responsibility of ensuring that early childhood funds are invested in strategies that will result in improved education and health outcomes for young children.
Statewide Vision
Our Board sets the vision for First Things First, determines the priorities for FTF within Arizona's broader early childhood system, and approves local funding plans and contracts. By law, members of the Board must be representative of Arizona's diversity. They must include Republicans and Democrats, as well as residents of both metropolitan and rural areas. All Board members share a deep commitment to expanding opportunities for Arizona's young kids to succeed in school and in life.
Grassroots Leadership
The 28 First Things First regional partnership councils – each made up of local volunteers – studies the unique needs of its Arizona community and decides how funds will be used to best support its young children and families. Each regional council member represents a specific segment of the community that has a stake in ensuring that children arrive at kindergarten prepared to succeed, including parents, educators, business leaders, tribal representatives, health professionals, philanthropists and leaders of faith communities.
---
---
Systems Building
Fulfilling our commitment to young children means more than simply funding programs and services. It means having a shared vision about what being prepared for kindergarten actually means and then a collective commitment to work across sectors to realize this vision. First Things First is a central partner in Arizona's early childhood system, which encompasses a diverse array of public and private entities dedicated to improving overall well being and school readiness for our state's young children.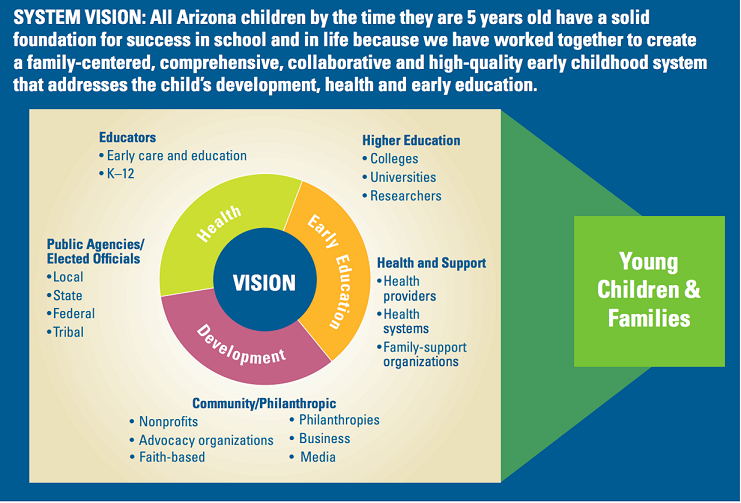 FTF serves three roles in Arizona's early childhood system. We often take a leadership role, as with our state's quality improvement and rating system, Quality First. In other instances, we serve as a convener, for example, facilitating the Arizona Early Childhood Career and Professional Development Network and Registry. We also contribute as a partner, as with Read On Arizona, our state's third grade reading initiative.
Accountability
First Things First is accountable to voters, to the state and, most importantly, to Arizona's children. When voters created First Things First, they built efficiency and effectiveness for early childhood funds into the law. The statutes that guide our work require that:
90 cents of every tobacco tax dollar currently directed to FTF go into a program account that can only be used to fund programs or services that benefit children and families.
Decisions about which programs to fund are made by local communities who know best what their kids need.
Every two years, the state board and regional councils are required to do extensive studies on the needs of children in Arizona and in specific communities, as well as the resources available to meet those needs. These studies ensure that programs funded meet the needs of local communities and allow for changes as improvements are made and as new needs are identified.
Every year, First Things First's finances are audited by an independent organization, and the results of that audit are made public. (See Publications)
In addition, FTF is required to submit an annual report to the Governor and Legislature that reflects how monies were spent and the impact to kids and families.
Part of being efficient and effective is funding what works. FTF's strategies are backed up by evidence that they improve the early education and health of children 5 years old and younger. And guided by a national panel of experts, First Things First also implements a research and evaluation plan to identify additional steps we can take to make sure the programs being funded are making a difference – for individual children and families, and for school readiness throughout Arizona.
To ensure accountability at the grantee level, each must provide information that shows they are providing the services to children required in their contracts with FTF. Our grantees are required to submit detailed financial information, as well reports regarding the numbers or children or families served and narrative information about the impact of those services. This ensures that funds are being spent efficiently and that programs are reaching the intended groups of children. And every contract approved by First Things First meets the procurement standards established by the Arizona Department of Administration.
Data
First Things First relies on data to inform policy and program decisions, enhance services for families, and expand the resources available for early childhood programs. The Board, regional partnership councils and FTF staff examine an array of data that illustrates the context in which Arizona's young children are living, growing and learning. Our biennial Building Bright Futures report aggregates state and county level data, and needs and assets reports for each FTF region are also published every two years. (Regional needs and assets reports are available on each region's webpage.) This data is studied in conjunction with additional resources, such as the FTF Data Center, as a starting point for strategic discussions with early childhood stakeholders – including educators, service providers, community leaders and families – on how to maximize the resources and yield the most positive outcomes for Arizona's youngest children. We use data to monitor the impact of our investments, including evaluation studies to see that we are funding programs and services that work.