Between 6 and 12 months, your baby may start to get into everything. As babies can move around more, they want to explore. Babies don't know what will happen when they put things in their mouths, touch something hot or sharp, or pull over something heavy. It's up to you to remove the danger.
It helps to look at your home as if you are the same size and age as your baby. Think about what will attract your baby's interest, and how it can be made safe or put away.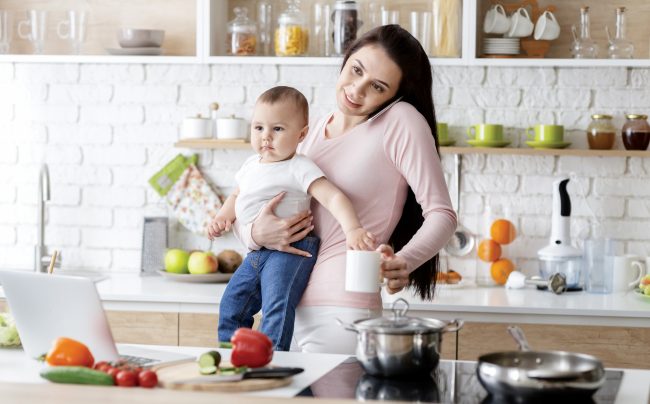 Making Your Home Safe
When your baby starts to crawl, it is time to childproof your house. Follow the advice in this chapter, and use the Home Safety Checklist to look for ways to make your home safer.
Always Watch Your Baby
Babies and toddlers can choke, fall or drown very quickly. Accidents often happen when parents are tired or distracted. If your baby starts to do something dangerous, gently move them or give them something else to do. This is all the correction a young baby needs.
Prevent Furniture Accidents
Bookcases, dressers, TVs, and other large or heavy things in your house can tip over and injure your baby. Fasten these things to walls with brackets or straps.
---
Bathroom Safety Tips
How to prevent drowning
Always stay with your baby at bathtime.
Keep your toddler away from the toilet. Use a toilet lid lock or always keep the bathroom door closed.
Put a childproof knob on the bathroom door.
How to prevent burns
Before you put your baby in a bath, check the water temperature on the inside of your wrist. The water should feel warm, not hot.
Keep curling irons, hair dryers and other appliances unplugged when you're not using them. Store them out of your baby's reach.
Kitchen Safety Tips
How to prevent cuts and other injuries
Keep knives, forks, scissors and other sharp kitchen tools in a drawer with a latch, or out of reach.
Put appliances that are heavy or have sharp parts in cupboards that your baby can't reach or open.
Let your baby have a low drawer. Use it to store safe things like plastic cups and spoons.
How to prevent burns
When you are cooking, do not hold your baby or let them play near the stove.
Cook on the back burners of the stove and turn pot handles away from the edge.
Put your baby down while you have hot food or hot drinks.
Keep hot foods and drinks away from the edges of counters and tables.
How to prevent falls
If you have a foldable high chair, make sure it is locked in the open position.
Don't leave your baby alone in a high chair.
Always use the safety straps on your high chair.
Don't let older children climb on high chairs. They can tip over.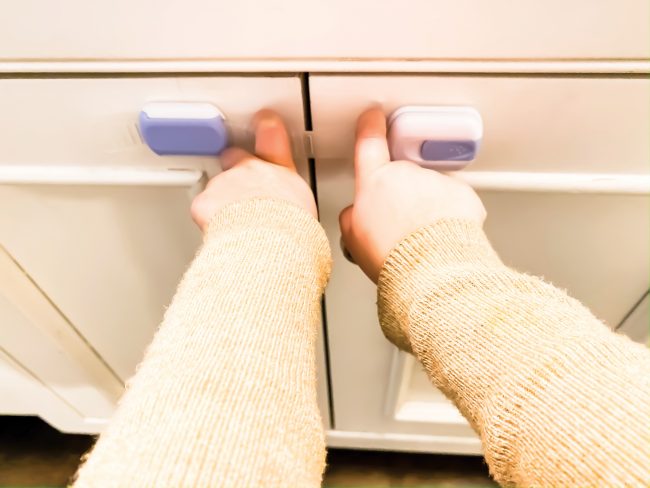 ---
Pool and Water Safety
Babies can drown in as little as an inch of water, and very quickly.
Always watch children in or around water. Keep young children within an arm's reach of an adult.
Don't be distracted when watching your child around water. Put away phones, book sand magazines. Trade off with another adult after a short time.
Make sure pools are fenced on all sides and the gates are locked.
Keep buckets empty and upside down.
Get more water and pool safety info from the Drowning Prevention Coalition of Arizona.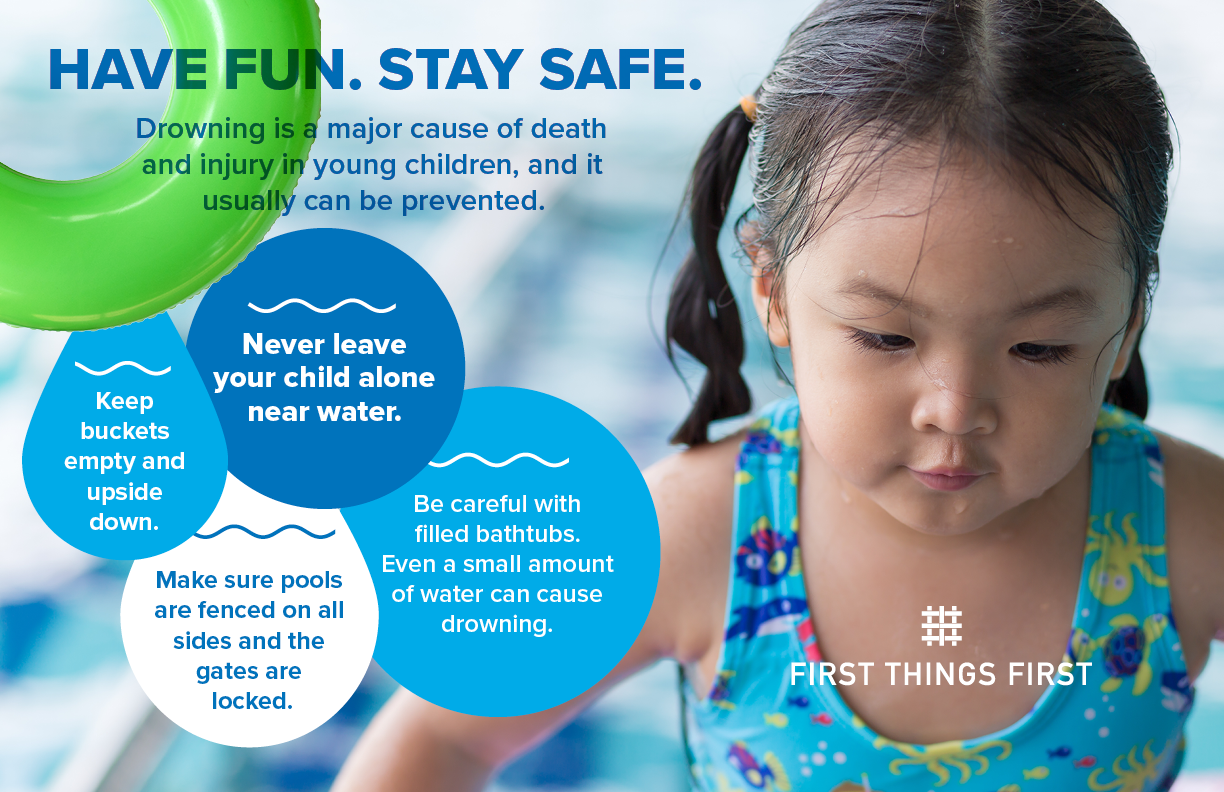 ---
About Lead Poisoning 
Lead is harmful to eat or breathe in, especially for babies and young children. Houses built before 1978 can have lead paint. Make sure that old paint is painted over and does not chip. Clay pots and dishware from other countries may also contain lead. Call or visit the Lead Hotline for more information about preventing lead poisoning.
Poisons in the Home
Lots of household products can be harmful if they are not used as intended. Poisoning can happen by swallowing or breathing in a substance, or getting it on the skin or eyes. Poisoning can be taking too much of a medicine or one that wasn't prescribed for you.
How to prevent poisonings
Keep chemicals out of reach. Put safety locks on cupboards and closets where you keep products like detergent, bleach, floor cleaner and bug spray. Or move these products to high cupboards or shelves.
Keep household products in the original packages. Original packages tell you a product's name and ingredients, and they often are childproof.
Keep all medicines out of your baby's reach and in childproof containers.
Learn about the plants in your home and yard. Remove the ones that are harmful to eat, or place them out of your baby's reach.
What to Do About Possible Poisoning 
If you think your baby has gotten into something that might hurt them, act quickly but don't panic. Here is what to do:
Call Poison Control at 1-800-222-1222 right away. Call even if you just have a question.
If your baby is having trouble breathing, is shaking uncontrollably (having a seizure), or is unconscious, call 9-1-1.
If your baby puts medicine or poison in their mouth, try to get it out.
If poison gets on their skin or in their eyes, rinse it with water.
Save the harmful substance or its package. This is so you can describe it to the person at Poison Control.
Never make your baby vomit unless Poison Control tells you to.
---
More Ways to Find Help
Drowning Prevention Coalition of Arizona – Water safety information.
Lead Hotline – Information about preventing lead poisoning.
Safe Kids Worldwide – Information about preventing childhood injuries.
---
The First Things First Parent Kit was developed in partnership with Health Research for Action/UC Berkeley. © 2022 The Regents of the University of California. Additional video, graphic and other content © 2022 First Things First. All rights reserved.