Whether you pump breast milk or feed formula, feeding your baby from a bottle offers flexibility. Parents and caregivers can use bottle-feeding time to form a close connection with the baby.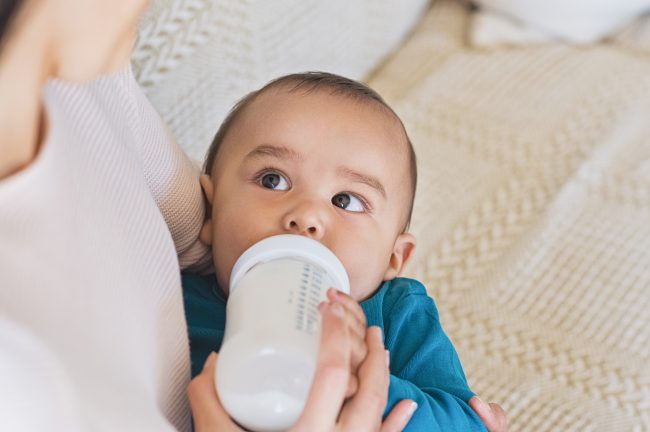 Basics of Bottle-Feeding
There are some things to keep in mind when bottle-feeding.
It can be tempting to leave your baby in a carrier with a bottle propped up. This can lead to ear infections, choking or tooth decay. If you need a break, let someone else feed your baby.
You can bottle-feed in most of same positions that are comfortable for breastfeeding. If you like lying back to feed, you can prop your baby on your bent legs. Whatever position is most comfortable for you, make sure your baby's head is supported in a raised position. Don't feed them while they are lying down flat.
Hold the bottle at an angle. This encourages your baby to suck and reduces how much air they swallow.
Look for signs that your baby is getting full, and stop feeding then. Signs of fullness include letting go of the nipple and turning away, or falling asleep.
Newborns usually drink one or two ounces per feeding. As they grow, this amount will increase.
Bottle-Feeding Safety
For young babies, use only breastmilk or formula. Babies don't need to drink water until they start eating solid foods, at about 6 months old.
Avoid heating formula in the microwave, because it doesn't heat evenly. Microwaved formula can burn your baby. Heat bottles in warm water instead.
After a feeding, throw away what is left in the bottle.
Tips for Pumping Milk
If you breastfeed, you can pump your breastmilk or express it by hand.
Your job should have a private room that you can use to pump. Your job should also give you time to pump. Most businesses are required to do this by law.
You can refrigerate breastmilk for up to four days.
You can freeze breastmilk for up to 12 months, but using it within six months is best. Thaw it in the refrigerator.
For information on breast pumps, call La Leche League or WIC.
---
More Ways to Find Help
Feeding Matters – Help with ongoing feeding problems.
WIC – Classes on healthy eating; food coupons.
---
The First Things First Parent Kit was developed in partnership with Health Research for Action/UC Berkeley. © 2022 The Regents of the University of California. Additional video, graphic and other content © 2022 First Things First. All rights reserved.