Having someone else take care of your baby is a big step. It lets you go out for errands, work or school, but it's also a little stressful. This chapter can help you choose child care that's good for you and your baby. When you like and trust your baby's caregiver, you can feel confident that they will be safe and happy.
Studies show that babies do best when they have lasting bonds with a few caring adults. This means it is best for them to be cared for mostly by the same person besides parents.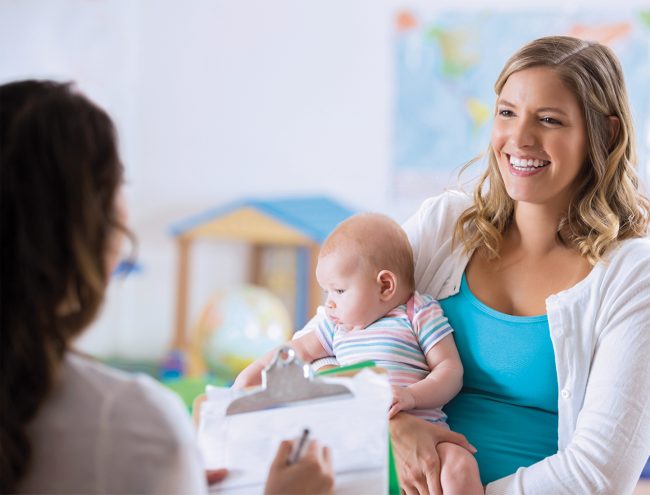 Different Kinds of Child Care
Child care centers usually have several caregivers. Often children of different ages are in separate groups. Look for a center that is licensed by the state.
Home child care is provided in the caregiver's home. Look for a provider who is certified by the state.
Choosing Child Care
When you choose a caregiver, talk to them about how to care for your baby. Make sure you agree about sleeping, feeding and other issues. The caregiver should give careful, loving attention to your baby. Tell them what your baby is like at home, and ask them often about how your baby is doing. You can visit your baby's child care at any time.
Finding the Right Caregiver Takes Time
Start looking early. There may be a waiting list.
Ask other parents about programs or caregivers they like. Or contact Arizona Child Care Resource and Referral.
Make appointments to visit several centers or homes.
You can search for programs that participate in Quality First, Arizona's quality improvement and rating system for childcare and early education.
When Your Baby Is Sick
Keep your baby home when they are sick. If you get paid sick leave, you should be able to use it to care for your sick baby. Or arrange for a trusted relative or friend to stay with your baby.
Make Sure Your Caregiver Knows
How to safely help your baby stop crying.
To put your baby to sleep on their back in a safe crib.
Who to call in an emergency.
The name and phone number of your baby's doctor.
Your baby's health needs, allergies and medicines.
Injuries at Child Care
If your baby gets hurt at child care, licensed caregivers should give you a report about it. If you see scratches, cuts or bruises, or your baby seems hungry or dirty, ask why. If you are not satisfied with the answer, call Childhelp at 1-800-422-4453 or the Arizona Child Abuse Hotline at 1-888-767-2445.
---
More Ways to Find Help
Child Care Facilities Licensing – Information from the State of Arizona about safe child care.
DES Child Care Administration – Help with paying for child care.
---
The First Things First Parent Kit was developed in partnership with Health Research for Action/UC Berkeley. © 2022 The Regents of the University of California. Additional video, graphic and other content © 2022 First Things First. All rights reserved.