---
Leaving your baby in someone else's care is a hard thing to do for parents, whether it's with a relative or friend or in a child care program. But it's often a necessity.
If formal child care is your best option, you're probably dealing with an extra level of worry and emotion as you entrust your baby to someone you may not really know.
But take comfort — there are safe, nurturing programs providing child care for infants in communities across Arizona. They know how to care for your baby and support their healthy development, they're really good at it, and they love doing it.
And when choosing quality child care for your infant, there are things you can look for and ask about to help you feel more confident in your decision:
1) Close, consistent relationships
Babies are born learning, and they learn and grow through nurturing relationships with the adults who care for them. In child care for infants, babies benefit from having caregivers who get to know them well. Close relationships develop over time, so when considering a program for your baby, ask how long the teachers have worked there — low staff turnover is good — and if caregivers regularly work with the same few babies. Consistency and continuity of care will help your baby feel safe and secure, and that's best for their healthy development and learning.
2) Responsive care
Having a close relationship with your baby allows a caregiver to read your baby's cues and respond promptly, appropriately and with love. Quality caregivers will soothe your crying baby and hold them when they need holding. They'll know when your baby is ready to be fed or, if they turn away when offered a bottle, to try again later. They'll also look for learning opportunities when your baby is awake, alert and ready to play. Your baby's day at the program may be scheduled, but the caregiver should have the flexibility to adapt, moment-to-moment, to your baby's individual needs. Small group sizes and consistent relationships are key to responsive child care for infants.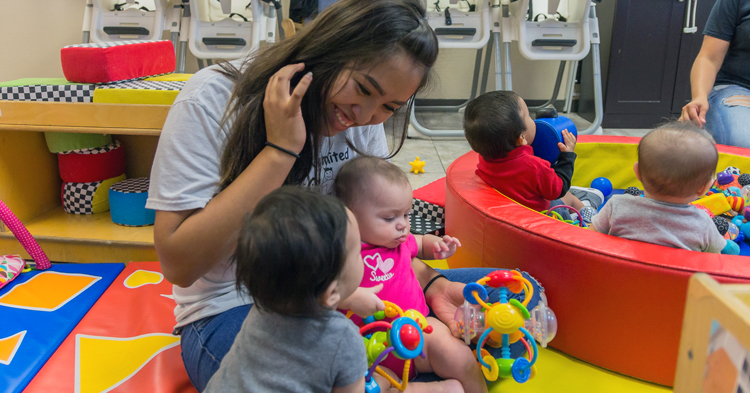 3) Talk, exploration and play
Quality child care for babies involves much more than just caring for their physical needs. It's about interacting with your baby and providing lots of opportunities for exploration and activity throughout the day.
Look for caregivers who talk and listen to the infants in their care. Back and forth "conversations" can happen during playtime, diaper changes, hand washing or anytime. Narrating activities, asking questions, singing lullabies and reading books with your baby helps them develop language skills and also builds a healthy attachment relationship.
Quality caregivers will also offer your baby things to explore and experience, especially when your baby is ready to play, but also during times they need to be held. And babies should get time to play on their tummies, to help develop their core muscles and overall physical development. Some babies don't enjoy it, and it shouldn't be forced on them, but some tummy time should be offered to all babies when they're awake and alert.
4) A nurturing environment
The infant room should be a safe, clean, calm place for your baby. There should be a variety of age-appropriate toys and books to play with. But the room shouldn't be so busy or cluttered to be overwhelming to their senses.
Things to look for in the environment include:
No hidden areas or blind spots; babies should always be able to be seen
Areas for calm and quiet
Soft, soothing music
Soft places for your baby to move and play
A place for not-yet-mobile babies to be away from the crawlers
Space for nursing moms
5) Safe, healthy practices
Safety comes first when considering child care for your infant. Quality programs have strong health and safety practices for things like hand washing, diapering, naps and feeding. For example:
Babies should always be supervised. They need their caregiver's awareness and attention.
Babies should be held while being fed. That's to prevent choking or gagging, because they can't hold a bottle on their own, and to provide the opportunity for loving conversation and bonding.
Babies should always be placed on their backs to sleep, with no blankets or toys or any extra items in the crib.
6) Communication and trust
In addition to developing a close relationship with your baby, quality child care programs will also develop a relationship with you. You should always feel welcome and be able to stop by to visit your child at any time.
And your child's caregivers should share the details of your child's day with you – how they ate and slept, the activities they engaged in, etc. The best caregivers love what they do, and their understanding of your child and enthusiasm for caring for and interacting with them should come through in your conversations at drop off and pick up.
That's what you're looking for most of all — a feeling of trust that comes with knowing they care about your child and are excited to spend the day together.
---
THINGS YOU CAN DO