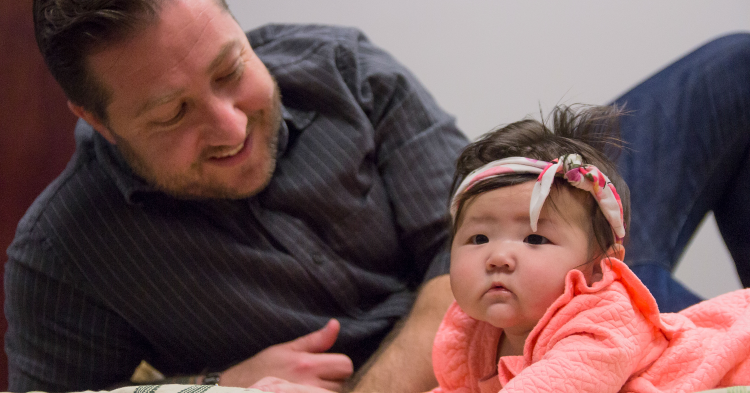 Becoming a parent comes with lots of change. Changes to your schedule, your priorities, and your relationships are completely normal and natural parts of adjusting to life as a new parent.
But at times, this new role can feel isolating.
Even if you do receive outpourings of support from family and friends when your baby arrives, accepting invitations to attend events or spend time with friends feels more complicated when you consider whether you can take your child with you. 
Many new parents experience loneliness, and if you are feeling that, you're not alone.
Social connections can help. Research shows that having social connections is one of 5 elements, called protective factors, that can help parents and families manage stress. 
These connections can help you feel supported as a family and new parent. Research studies demonstrate that social connections and the support that comes from them can lead to positive mood, satisfaction and well-being in parents. It's even correlated with lower levels of parental anger, anxiety and depression, according to the Center for the Study of Social Policy. 
It's safe to say that social connections are a powerful tool.
Your relationships and connections don't have to look exactly the same as they did before you became a parent. 
Instead, you can focus on what social connections look like for you now. 
Here are a few ways FTF's Family Support experts say you can find social connections as a new parent. 
Embrace video calls 
Video and FaceTime calls are a great way to check in with your family and friends. You may have times where you can't or don't feel like leaving the house when you're taking care of your new baby. Video calls can help you stay connected and share parts of your new experience as a parent with people who love and care about you. 
Seek spaces to meet other new parents
Connecting with other new parents helps combat loneliness, too. Having the shared experience of being new parents gives you lots to talk about and helps you get support from other people who understand what you're experiencing and going through. 
First Things First funds family resource centers, which are local community hubs that offer programs and services for families like parenting classes and workshops and family activities like story time. You can use our Find Programs tool to search for a family resource center near you and to see other free programs for parents and families with young children in your area. 
Visit the park 
Where do families often go when they have young children and want to get some fresh air? The park. Spending time at neighborhood parks is a great way to meet other parents with children. 
You can strike up a conversation about your kids naturally and enjoy a moment of connection outside. Oftentimes, new parents love to swap stories, so you may be able to get some great recommendations for classes, activities or places to go from other families you meet at the park. 
By looking in some new (and some familiar places), you can start to make the social connections you need to feel loved and supported as a new parent and family. Other great places to meet new parents are at local parenting groups or churches, in libraries, at local "Mommy and Me" or "Daddy and Me" groups, and through online platforms like Facebook groups.
It's also important to remember that you may have some already existing relationships to continue nurturing. Your friends may not be experiencing the same things as you at the exact same time, but you may find that they want to continue loving and supporting you as your life changes. So don't count old friends out.