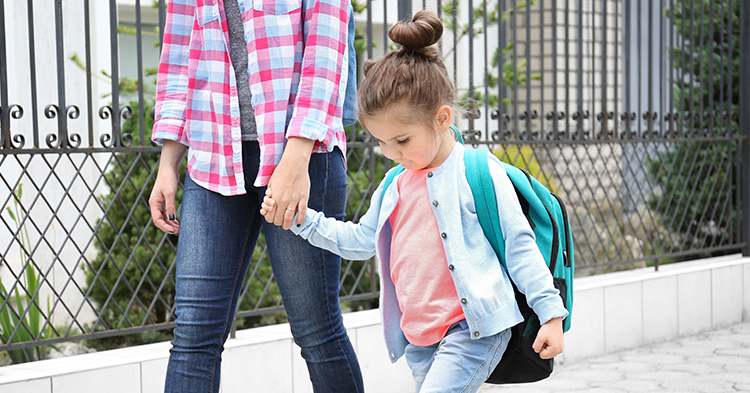 When you look up the word "parenting" in the dictionary, "planning" should definitely be in the definition. As parents we plan for everything – dinners, play dates, birthday parties and what to bring when we leave the house with the kids. But planning for kindergarten somehow wasn't on my radar.
As the time for my daughter to start school drew closer, I started to get questions from my friends. Questions I had no idea how to answer, like, "When is your daughter's first break? Do you know what time you have drop her off? Do you know what you're going to do for her care before and after school?"
In a bit of a panic, I made some calls to the school district to ask about what I needed to do to be prepared for the first day of kindergarten. Once I did, I realized how important it is to plan ahead. Everything worked out, but I would have saved myself a lot of scrambling had I started earlier.
So, from the parent of an almost-first grader, who is still working on her planning skills, here are some things to check out before your child's big day.
Start early so you can plan ahead.
In January or February of the year your child is going to enter school, start by making a basic timeline. While you may not have to get into the specifics of everything about kindergarten, it's helpful to know, well in advance, when applications for enrollment are due, when all paperwork to the school district office is due and, most importantly, the date school starts.
Take the tour.
I admit, I didn't think kindergarten would be that complicated to figure out, and honestly, I missed the official tour of the school when it was offered. The first week of school would have been so much smoother if I had gone. Typically you can tour the school before the prior school year ends in May or a week before the new school year starts, which for us is July.
Ask the simple but important questions.
You and your child can be much more prepared for the day-to-day realities of kindergarten by knowing some basic things about your school's policies and procedures. Things like:
Where do kids get dropped off/picked up, and how does that process work? Do you have to walk them in and stay until school starts or do they stay in a designated space with an on-duty teacher or attendant?
What is the basic daily schedule for the kids? It is good to know the schedule and start them on it before the first day. Remember, most schools don't have a nap time!
How does the school handle discipline? This will be different for each teacher but usually the school has a basic framework to follow. It's helpful to get to know the terms they use for discipline so you can start using them ahead of time.
Look at the school schedule for the year.
Each district posts a calendar of early release and recess days. It is good to have this ahead of time so you don't get caught unprepared.
Consider the costs.
Since I am a working parent, I made sure to check the costs of child care before and after school. This is not usually handled through the school itself, so it is important to check out your options in advance. A few more other things to ask about are the costs are lunches, school supplies (ask how many times of year these are requested), field trips, fundraisers (they're almost constant) and don't forget about summer camp!
Help your child be prepared.
In addition to getting yourself organized, it's important to talk with your child about what to expect on the first day. First Things First's New Parent Guide offers some great tips on preparing your child for that first day. With a little planning for kindergarten, you'll both be ready.