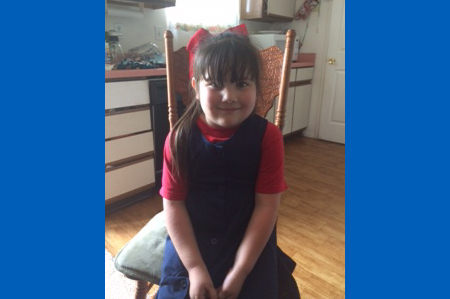 Yesenia's baby daughter Melanie was only 18 days old when her mother enrolled in the Healthy Families Arizona program in Nogales.
She was already a mom to school-age children, but she was concerned about her ability to communicate with them.
"I didn't know how to talk to my children without yelling at them," she admitted. Yesenia wanted things to be different for her infant daughter.
First Things First funds the Healthy Families Arizona home visitation program in Santa Cruz County. The free, voluntary program provides a parent educator who regularly visits pregnant women and families of newborns in their homes. Program services are designed to strengthen families during the critical first years of a child's life. Services include providing emotional support and encouragement to parents; teaching appropriate parent-child interaction and discipline; providing periodic developmental assessments and referrals; linking families with community services, health care, child care and housing; encouraging self-sufficiency through education and employment; and providing child development, nutrition and safety education.
For Yesenia, the program provided her with information through different modules, starting with basic care, nutrition and physical and emotional aspects of her daughter's development.
Yesenia and Melanie spent five years in the program. As Melanie grew, so did Yesenia as a parent. She was soon helping her daughter with letters, shapes and colors. Also, she worked to prepare Melanie emotionally for the transition to kindergarten.
The home visitation coach also helped Yesenia get a referral for Melanie to the Arizona Early Intervention Program for additional speech help.
Melanie is now in kindergarten in the Santa Cruz Valley Unified School District. Yesenia credits the Healthy Families Arizona program for helping her daughter be ready for kindergarten and beyond.