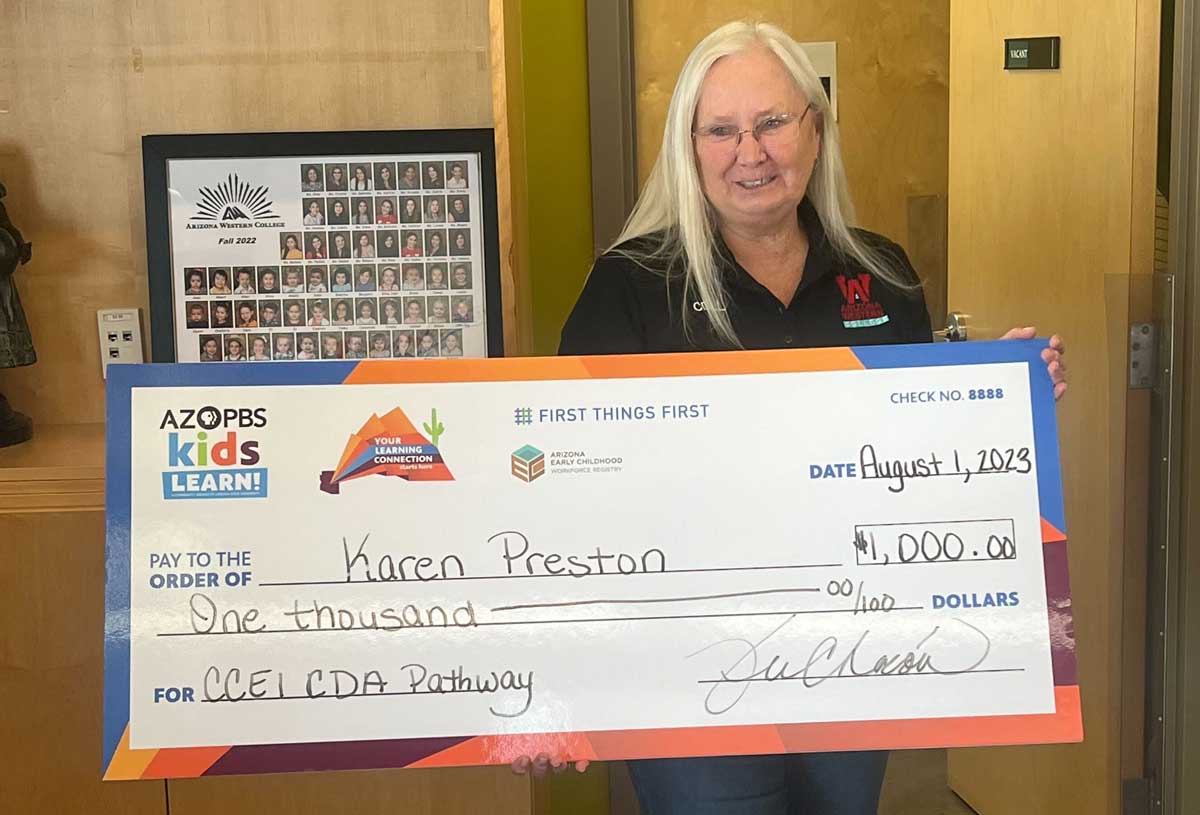 Karen Preston has been working in early childhood education for decades. She started in high school and worked her way through various child care centers and Head Start programs. 
Today she's an adjunct faculty member at Arizona Western College in Yuma, where she works with early childhood students helping them achieve their Child Development Associate (CDA) credential. 
Preston also recently became the first scholar in Arizona to complete her CDA through online courses sponsored by First Things First. For Preston, it was a way to stay up-to-date on an alternative way to complete the CDA, renew her expired credential and be able to advise early childhood education students if the online courses would be a good path for them. 
"There are a lot of women who work all day in a child care center and have kids at home," Preston said. "They can't work full time and go to school. Some people are not able to go to classes at night."
Instead, the online coursework is available at no cost to members of the Arizona Early Childhood Workforce Registry, who have access to the entire ChildCare Education Institute (CCEI) training catalog. Now, students can also access the online CDA pathway through CCEI. The CCEI catalog includes more than 200 early childhood courses applicable to people working with infants, toddlers and preschoolers. The trainings, which are also available in Spanish, are self-paced and can be accessed from any computer at any time, to offer flexibility for child care workers.
A contract between FTF and the Arizona Department of Economic Security's (DES) Division of Child Care has allowed FTF to expand its early childhood college scholarship program. The expansion was made possible through federal COVID relief funds dedicated to early care and education. But the program ends in June 2024, when federal relief funding ends. 
The federal relief money also allowed for the online CDA opportunity through CCEI that provides early childhood practitioners with all the courses and prep they need to complete a portfolio to apply for the credential. The participant will work their way through 120 modules that are based on a core set of standards that aim to provide early childhood professionals with a deep understanding of practices to help young children move successfully from one developmental stage to the next. 
In addition to the online CDA pathway, the scholars also get a laptop, headset and a year of access to internet connectivity to remove barriers that typically exist in accessing online learning. 
FTF College Scholarships offer scholarships to aspiring early childhood educators completing a CDA credential, associate and bachelor's degrees. It also allows any early childhood practitioner pursuing bachelor's level coursework towards a degree in early childhood education to apply for a scholarship covering tuition, books and fees. Without the pandemic relief funds, the scholarship program has supported only a limited number of bachelor's degrees in specific areas of the state. 
Preston was recently honored at the college and presented with a $1,000 check for being the first professional in the state to complete this new continuing education professional development course. 
"The program will be valuable for young teachers who don't have access or the ways and means to get to school in person," Preston said. She pointed to several remote communities in the Yuma area and beyond like Wellton, Antelope and Hyder. "In places like that, this program will be extremely valuable," she said. 
Currently, Preston said that she has two former co-workers to whom she recommended the online coursework and are going through it. "I told them, 'This is perfect for you.'"