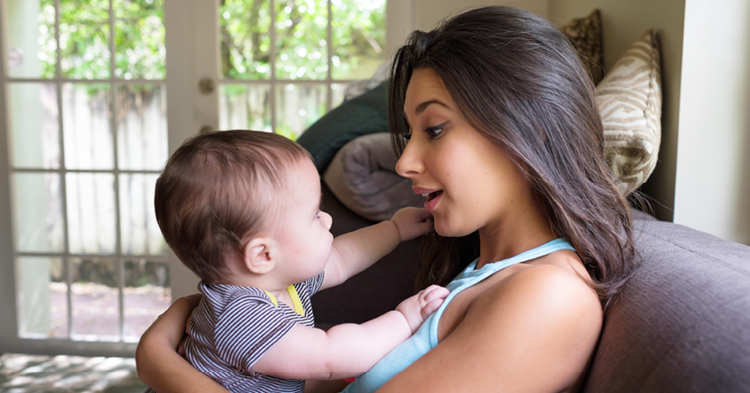 A new source of online information for Spanish-speaking parents of babies, toddlers and preschoolers is available on the First Things First website.
Early childhood providers and educators can now share Spanish-language resources with Spanish-speaking parents of babies, toddlers and preschoolers.  The First Things First digital Parent Kit – or Guía para Padres de Familia – and Ages and Stages guides for children ages two months to 5 years old are now available in Spanish and early childhood service providers and educators are encouraged to share the resources with families they work with. The digital Parent Kit provides useful tips and dependable online information and resources to help parents do their best in supporting the healthy development of their baby, toddler or preschooler.
This digital Parent Kit mirrors the physical Arizona Parent Kit which is provided to Arizona parents of all newborns before they leave the hospital or birthing center. It covers a wide range of topics from pregnancy and child development to physical and emotional health. A translated version of the physical Arizona Parent Kit has been available for Spanish-speaking parents for years. Considering that Spanish is by far the most common language other than English spoken in Arizona (20 percent), translating the digital Parent Kit is another way to reach the many Spanish-speaking families in the state with important information on early childhood development.
From the day a child is born, the care, attention, love and support they experience lays the foundation for their future. The digital Parent Kit is designed to support parents from bringing baby home on day one to caring for the whole family's physical and emotional well-being.
Learn the signs
Likewise, the Ages and Stages guides which are created by the Centers for Disease Control and Prevention, provide parents with a handy checklist of developmental milestones, or things that most children can do by a certain age. First Things First partners with the CDC and its "Learn the Signs. Act Early" campaign to share this important information with parents of young children. Campaign materials are also available in Spanish. While all children develop differently, it helps parents to know if their child is meeting typical milestones. How a child plays, learns, speaks, acts and moves offer parents important clues about their child's development. The guides offer materials to help parents understand what's happening at different stages of their child's life and how they can help them learn and grow.