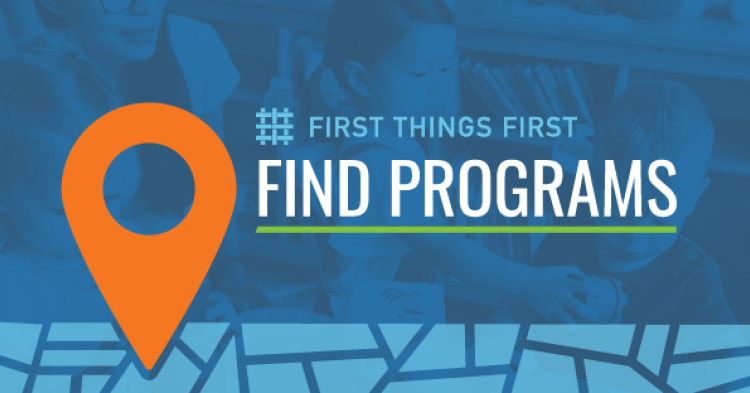 For parents of babies, toddlers and preschoolers sometimes having all the answers at the tip of their fingertips or in their case their mobile device can be a double edged sword. Where do you start? Which information is trustworthy?
The majority of today's parents are millennials, or born between 1980 and 2000. They are the most connected generation and research shows they regularly turn to online sources for parenting information, particularly on mobile devices.
Online opportunities
First Things First is there to help. As Arizona's early childhood organization, the FTF website, FirstThingsFirst.org offers many online opportunities for parents and caregivers to find information and resources that will help them support their young child's healthy development and learning.
For example, a new online tool can connect parents and caregivers with a variety of no-cost early childhood programs in their local area. FTF's Find Programs online tool is an easy way for parents, grandparents and other caregivers to learn about the FTF-funded programs and services available near them.
All parents have to do is enter their ZIP code and search for the early childhood programs that meet their needs and interests. All are offered at no cost.
Parenting programs include classes, workshops or one-on-one sessions with trained parent educators.
Child health and development programs include free screenings for speech, vision, hearing and development. While all children develop differently, it helps to know if they're meeting typical milestones or could use extra assistance. Parents can also have get dental screenings and a child's teeth checked and protected with fluoride.
The Find Programs tool can also connect parents to Quality First, where they can search for more than 1,000 child care centers, homes and preschool programs in Arizona that participate in Quality First. These programs are committed to improving the quality of their early learning programs in ways that help young children learn, grow and thrive.
Videos and personal stories
The FTF website also offers the First Things parent blog, which has a variety of videos and blog posts on a wide range of parenting and early childhood topics, such as which are the best toys for young children, ways to help your baby sleep at night and personal stories like one mom's excitement over her preemie son's second birthday and what it means for his development.
FTF reminds parents that there's no one right way to raise a child — and they don't have to be perfect — but learning more about child development and parenting can help them do their best to help their baby, toddler or preschool be successful in school and life.