Los dientes sanos son importantes. Entre los 6 meses y los 3 años de edad, a los niños les brotan 20 dientes de leche. Aunque los dientes de leche se les caerán, ayudan a los pequeñitos a comer alimentos saludables y a aprender a hablar y sonreír normalmente. Empiece con un buen cuidado dental desde su nacimiento, para que las encías de su bebé estén sanas y sus primeros dientes no tengan caries.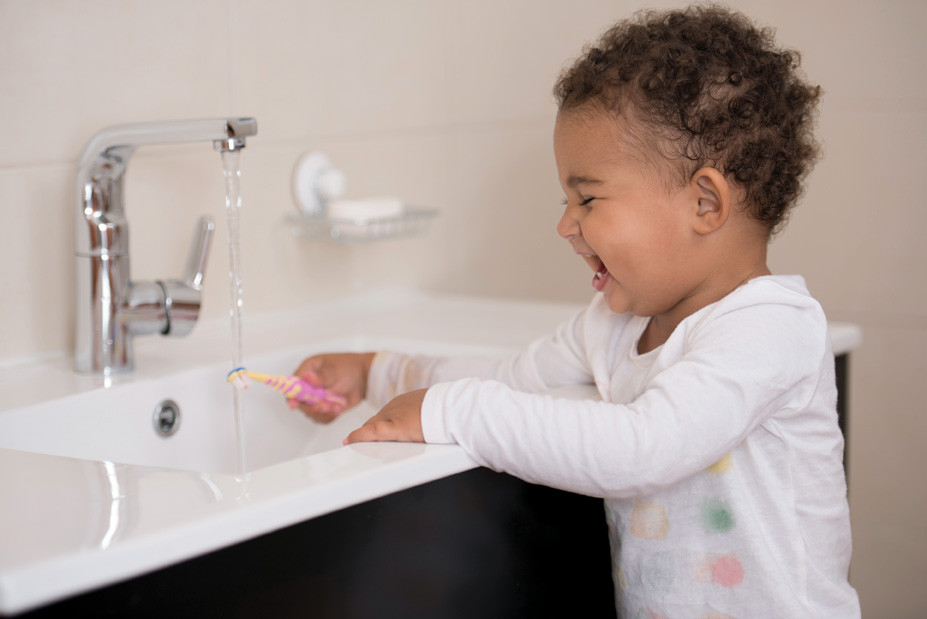 Prevenga las Caries Dentales
La bacteria y el azúcar en la boca causan las caries dentales. Para ayudar a prevenirlas, trate de evitar alimentos pegajosos y chiclosos con un alto contenido de azúcar. No deje que su hijo o hija traiga consigo un biberón ni un vasito para bebé con tapa con leche, jugo o bebidas azucaradas entre las comidas. No le acueste a dormir con un biberón o comida. Y cepíllele los dientes dos veces al día.
---
Trate las Caries dentales
Las caries dentales causan dolor e infecciones, y pueden causar problemas graves al comer, hablar, dormir y aprender. Lleve a su niño o niña al dentista si:
Tiene manchas cafés o negras en los dientes.
Tiene dolor de dientes.
Tiene una lesión en los dientes u otro problema dental.
Cosas que Usted Puede Hacer

Cuide los Dientes de Su Bebé
Desde el nacimiento, limpie diariamente las encías de su bebé con una toallita o gasa húmeda.
Cuando le salgan los primeros dientes a su bebé, comience a cepillárselos 2 veces al día con una pizca de pasta dental con fluoruro. Aumente a una cantidad de pasta dental del tamaño de un chícharo cuando su niño o niña cumpla 3 años de edad.
Pregúntele al doctor de su bebé acerca de los suplementos o barnices de fluoruro, a partir de los 6 meses de edad. El fluoruro ayuda a prevenir las caries, y es posible que su agua no lo contenga.
La bacteria que causa las caries puede transmitirse de boca a boca. Por lo tanto, no pase comida, cepillos de dientes, chupones/chupetes ni cucharas de la boca de usted a la de su bebé.
Usted necesitará ayudarle a sus niños y niñas a cepillarse los dientes hasta que puedan hacerlo por sí mismos. Esto no suele suceder sino hasta los 6 a 8 años de edad.
Encuentre a Un Dentista
Para encontrar a un dentista para su hijo o hija, hable con su propio dentista. O visite la organización Arizona Dental Association.
Para atención dental a bajo costo, pregunte en las clínicas locales y facultades de odontología. Visite la organización Arizona Office of Oral Health.
Para atención dental para niños y niñas con AHCCCS, comuníquese con AHCCCS o con el plan médico de su hijo o hija.
Cuando Usted Esté Embarazada
Usted necesita tener más cuidado con sus encías y sus dientes. La enfermedad de las encías puede causar que su bebé nazca prematuro y muy pequeño.
Mantenga sus dientes limpios. Cepílleselos dos veces al día con una pasta dental con fluoruro y límpiese diariamente con hilo dental entre los dientes, cerca de las encías.
Trate de acudir al dentista tan pronto como quede embarazada.
Asegúrese de comer una dieta bien balanceada para que su bebé desarrolle dientes y huesos fuertes. Y tome sus vitaminas prenatales diariamente.
The First Things First Parent Kit was developed in partnership with Health Research for Action/UC Berkeley. © 2018 The Regents of the University of California. Additional video, graphic and other content © 2018 First Things First. All rights reserved.