Los exámenes médicos de rutina y las vacunas pueden prevenir muchos problemas de salud en la infancia. También pueden evitar visitas costosas a la sala de emergencias. Cuidar de la salud de sus hijos e hijas los ayuda a crecer y aprender. Trate de llevar siempre a sus hijos al mismo proveedor del cuidado de la salud. Así, el doctor llegará a conocerle a usted y a su niño o niña, su expediente estará en un solo lugar, y es más probable que su niño o niña se relajará más en un lugar que le sea familiar.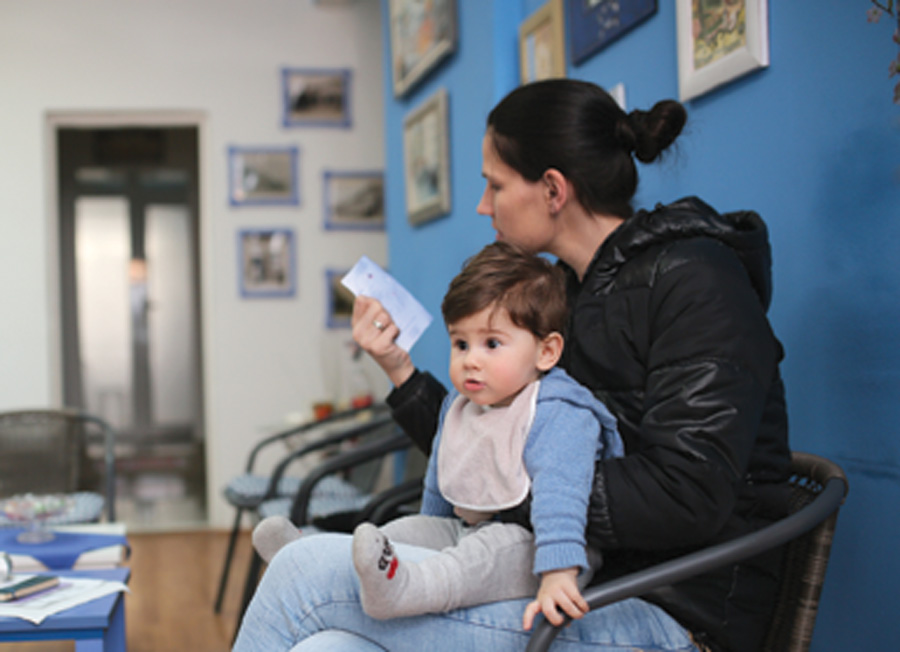 Cuando Se Enferman Sus Hijos
En la primera consulta de su bebé con el doctor, pregunte cuándo debe llamar al doctor y cuándo debe llamar al 9-1-1.
Siempre llame al doctor o a la clínica si algo le preocupa o si su bebé no se mejora en unos cuantos días.
Llame al doctor si su bebé es menor de 3 meses y tiene fiebre.
Llame al doctor si su bebé tiene diarrea o vómito constantes, y asegúrese de darle muchos líquidos.
En caso de fiebre, pregúntele al doctor si debe darle acetaminofén (Tylenol) a su niño o niña o cualquier otra medicina. No le dé aspirina, pues ésta puede causar una enfermedad poco común pero grave llamada Síndrome de Reye. Y no use ibuprofeno antes de los 6 meses de edad.
Para más información, comuníquese con la línea de ayuda desde el nacimiento hasta los cinco años de edad Birth to Five Helpline, o visite KidsHealth.
Cosas que Usted Puede Hacer

Proteja a Sus Hijos Contra el Sol
Exponerse demasiado al sol y al calor puede causar quemaduras, cáncer en la piel e insolación.
Use bloqueador solar de espectro amplio seguro para bebés y un sombrero de ala. Cúbrale la piel al máximo con la ropa. Póngale lentes oscuros con 99% de protección contra los rayos ultravioleta (UV).
Mantenga a los bebés menores de 6 meses alejados de la luz solar directa. Use una carriola con sombra y busque áreas de juego con sombra.
Mantenga a los niños adentro cuando haga demasiado calor.
Llame al 9-1-1 si su niño ó niña tiene señales de insolación: debilidad, náuseas, dolor de cabeza, sudor excesivo, palpitaciones rápidas, confusión, calambres musculares o piel reseca sin sudor.
Proteja los Pulmones de Sus Hijos
Los pulmones de los niños se dañan más fácilmente que los de los adultos. Para protegerlos:
No permita que persona alguna fume alrededor de sus hijos.
Mantenga a los niños adentro cuando haya mucho viento y polvo.
Abra las puertas y ventanas cuando el clima lo permita.
Trate de evitar velas y productos de limpieza perfumados.
Pase la aspiradora con frecuencia.
Cuidado Auditivo y de la Vista
A menudo, los padres son los primeros en notar un problema auditivo o de la vista. Si le preocupa su hijo o hija, hable con su doctor y pida una evaluación.
Asegúrese de darle seguimiento si se detectaron problemas en la prueba auditiva para recién nacidos de su hijo o hija.
Su niño o niña deberá tener su primer examen de la vista a los 3 ó 4 años de edad.
Para el cuidado auditivo y de la vista infantil, llame a su proveedor del cuidado de la salud.
Para obtener cuidado para la vista a bajo costo, comuníquese con la organización Sight for Students.
The First Things First Parent Kit was developed in partnership with Health Research for Action/UC Berkeley. © 2018 The Regents of the University of California. Additional video, graphic and other content © 2018 First Things First. All rights reserved.