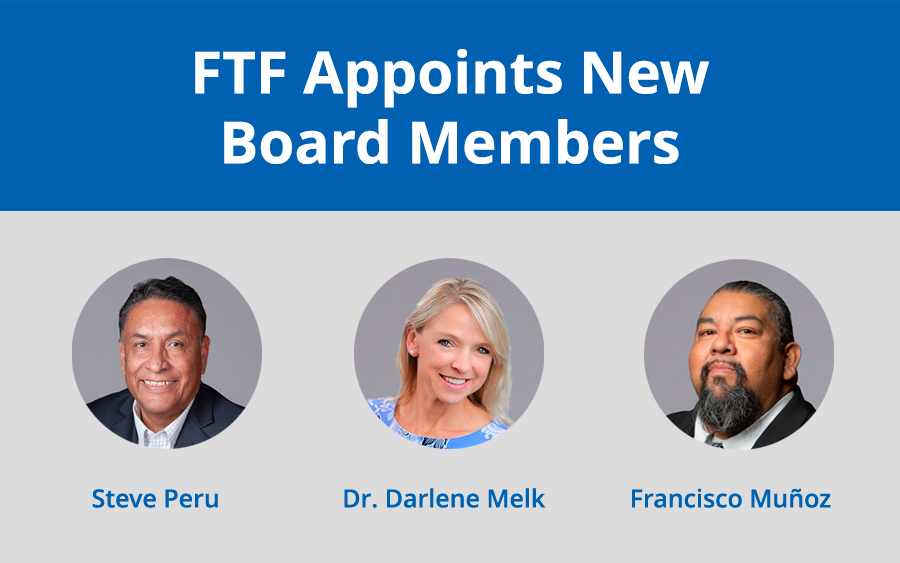 The First Things First Board recently welcomed three new members. Dr. Darlene Melk of Douglas, Francisco Muñoz of the Pascua Yaqui Tribe and Steve Peru of Flagstaff represent a variety of insights and experiences from across Arizona. 
Dr. Darlene Melk
Melk is the Chief Medical Officer of the Chiricahua Community Health Center, Inc. in southeast Arizona. She is a graduate of the University of Arizona College of Medicine and spent years on the FTF Cochise Regional Council. 
"After completing my residency training at Phoenix Children's Hospital in 2005, I really became interested in serving children with barriers to care," Melk said. "My first job working for Mountain Park Community Health Centers (in Glendale) helped solidify my passion for the community health center model as a way to reach all children, regardless of their financial or social background. I joined Chiricahua Community Health Center, Inc. in 2010 as a community pediatrician and over time, took on various leadership roles."
Outside of work, she serves as the Chief Medical Officer for a nonprofit organization focused on children with special health care needs in Montero, Bolivia and is blessed with four sons. 
Francisco Muñoz
Muñoz was selected to join the Board as its first Indigenous Representative. The Board created the position earlier this year and is a permanent addition with a two-year term for the seat.   Previously, Muñoz served as the faith representative on the Pascua Yaqui Tribe Regional Council for a decade. He currently serves as a member of the Pascua Yaqui Tribal Council and has previously served as Treasurer and oversight chair for Social Services, the Health Department, and the Public Safety Department. He has also served on El Rio Health and the American Red Cross boards.
 "Children are the future, and as such, need the best options and advocacy on their behalf," he said. "I worked in Child Protective Services for many years, and know firsthand that children need love, support and a chance to make it in the world."
Steve Peru
Peru currently serves as the Coconino County Manager. Originally from Morenci, Arizona, Peru moved to Flagstaff to attend Northern Arizona University, where he graduated with a degree in sociology/social work. He was quickly hired at Coconino County in 1979 where he worked for 32 years. This long and storied career at the County included roles such as Community Services Coordinator, Finance Director, Elections Director and Deputy County Manager, eventually leading him to become the County Manager in 2006. He held this role until 2011 and went on to enjoy leadership positions at local nonprofit, for-profit, and educational institutions, including as the CEO of the United Way of Northern Arizona and the Chief External Affairs Officer/Executive Director for the Coconino Community College Foundation. Peru has a master's degree in Public Administration from NAU and has completed the Senior Executives in State and Local Government Program at Harvard University – Kennedy School of Government.
Melk and Peru succeed Helena Whitney and Dr. Rev. Darren Hawkins. They join an already diverse group that is charged with stewarding Arizona's early childhood investment and ensuring that FTF programs improve outcomes for children statewide. Both Melk and Peru were appointed by Gov. Katie Hobbs and confirmed unanimously by the state Senate. For more information on the FTF Board and its members, please visit FirstThingsFirst.org/governance/board/members/.