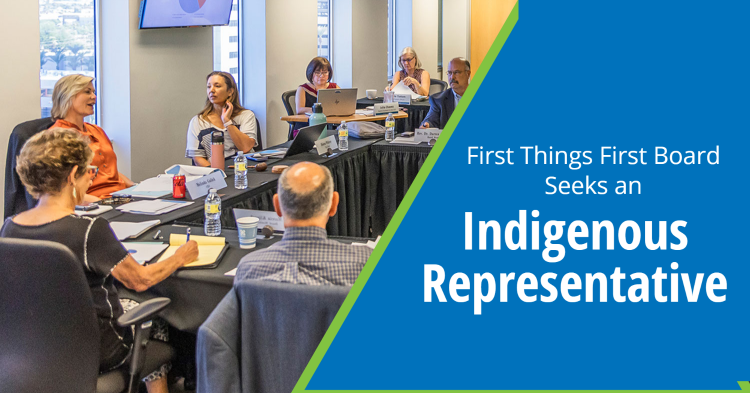 First Things First is seeking applicants for a new permanent Indigenous Representative to the FTF Board. Applications are due April 28. The FTF Board created the position for an Indigenous Representative at its March meeting based on feedback received from tribal leaders and designees during an FTF Tribal Consultation held in 2022. FTF is currently recruiting for this volunteer position, whose term of service would begin on July 1.
"From its inception, the appointed members of the FTF Board have always coincidentally included one person who was an enrolled member of an Arizona tribe," said FTF Senior Director of Tribal Affairs Candida Hunter. "Since 2021, this is no longer the case. FTF appreciates feedback and insight from tribal communities and knows an Indigenous Representative will bring a valuable perspective to Board discussions."
Persons interested in the Indigenous Representative should:
Have an interest and/or experience in early childhood development and health.
Live or have lived and worked with a tribal community in Arizona.
Have an understanding of rural and urban Indigenous children and families and tribal governments (preferred).
Have served on an FTF regional partnership council in which a tribal community is located (preferred).
"I appreciate that our Board recognizes the importance of always taking into consideration decisions impacting tribes and specifically Indigenous young children and families," Hunter said. "I'm sure there will be a number of folks interested and I am looking forward to seeing this representation on the Board."
The online application is available here and a PDF version is also available for download and submission via mail or email until 5 p.m., April 28.
The FTF Board consists of nine voting members appointed by the Governor and confirmed by the Arizona Senate. State law specifies that the Board also includes three ex-officio members – the directors of the Arizona Department of Economic Security and Department of Health Services, and the Arizona Superintendent of Public Instruction or their designees.
In 2019, the Board recognized that insight from two crucial government partners — the Arizona Department of Child Safety (DCS) and the Arizona Health Care Cost Containment System (AHCCCS) — was missing. Therefore, the Board created the position of Board Representative to include DCS and AHCCCS participation at Board meetings.
Board representatives receive Board meeting materials, sit with the Board members at meetings, and may participate in Board discussions prior to action being taken. This Indigenous Representative position would be in addition to any tribal member in other appointed Board seats.