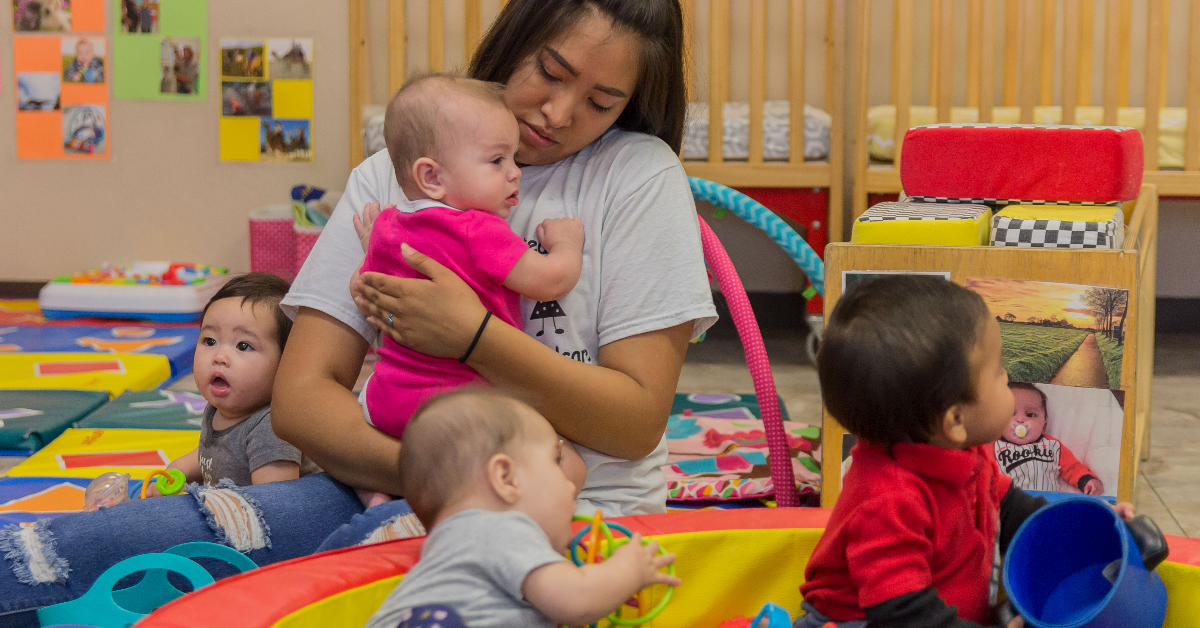 The City of Phoenix and First Things First have partnered to create a new program to address the challenges faced by airport employees in finding affordable child care.
The City of Phoenix Airport Worker Child Care Scholarship Program is designed to help more airport worker families afford safe, consistent, quality child care so that they can work without worry.
For parent Moniqueka Pink, who works at the airport, the scholarship is working great. She had already enrolled her sons at The Gift That Keeps On Giving child care center in Phoenix, but was excited to hear that she qualified for a scholarship for her youngest son, who is 18 months old.
"I love that my kids enjoy going there and have developed lifetime friendships," Pink said. "Also, the owner is flexible. There have been times where I've had to pick up late and she is able to accommodate."
Child care is one of the biggest expenses that families face. The average annual cost of infant care in Arizona is almost $11,000. It costs $390 more per year than in-state tuition for a four-year public university.
The program allows employees — including Phoenix Sky Harbor badged workers, Aviation Department employees, airline employees, concessions workers and contractors — who meet income limits to receive a scholarship to send their child birth to age 5 to a quality child care setting. The scholarships are awarded to the family and paid directly to the child care provider. Employees are eligible if they live in households with annual gross income of 300% of the federal poverty level or less. This amounts to about $83,250 for a family of four.
The program uses the framework from FTF's Quality First scholarship program and child care quality improvement and rating system.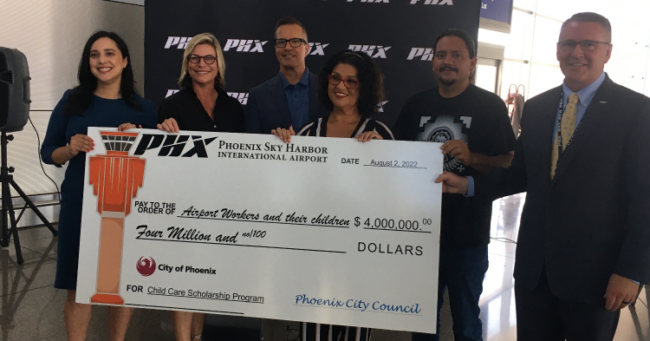 "Now, staff at Sky Harbor International Airport will have safe, nurturing care settings to take their children while they work," said FTF CEO Melinda Morrison Gulick. "In turn, their children will have access to quality early learning environments that will prepare them for success in kindergarten and beyond."
Participants can choose a child care center, preschool or home-based child care provider anywhere in Maricopa County that has met or exceeded the standards of FTF's Quality First program (3-5 stars).
The scholarship program was made possible through a $4 million investment by the Phoenix City Council, as part of the city's American Rescue Plan Act (ARPA) strategic plan. A focus of the ARPA strategic plan is to support people, neighborhoods and businesses struggling due to the unprecedented economic impacts they faced from COVID-19.
"As a working single mother, I know that ensuring your child has a vibrant, caring environment during the workday is paramount," said Phoenix Mayor Kate Gallego.
Through this program, Phoenix joins other local governments, like City of Tempe, City of Flagstaff and Pima County, in investing in quality child care to support both the workforce of today and the workforce of tomorrow.
"This investment in our airport workers who are in greatest need can be life-changing," Gallego said. "And by investing in our workers, we also contribute to the success of the airport operations and businesses that need people to truly thrive."