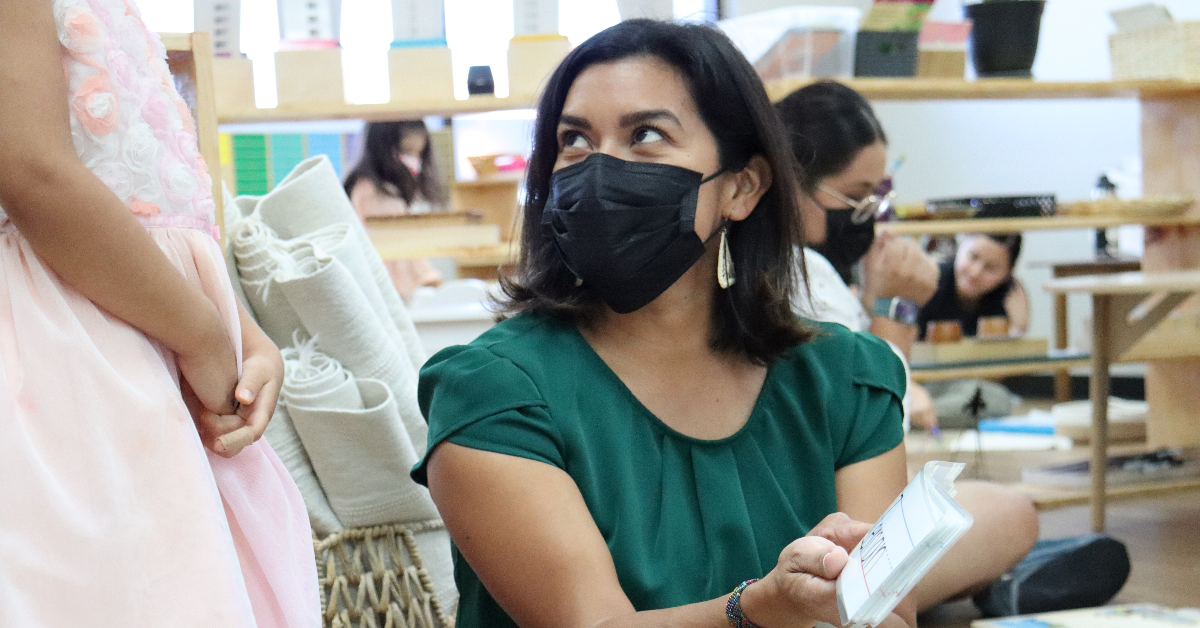 Mary Barcena launched her early learning program, Casa De Montessori, mid-pandemic.
She's a Montessori-certified teacher and started caring for a few young children in her home, working her way up to 10 children. By late 2021, after opening her program in an abandoned child care center in Chandler, Barcena was looking to improve.
"I knew we were doing well," she said, describing her staff of six, including herself. "We have a hard working staff. But I thought, 'I'd be happy to open our doors to get feedback from early childhood professionals.'"
Joining the Quality First program was the perfect solution.
What is Quality First?
First Things First, Arizona's early childhood agency runs Quality First, which supports child care providers so they can better support the young children in their care. The program is free for regulated child care centers, home providers and preschool programs to join. Participants receive support to improve the quality of their programs.
This support may include: professional development and coaching, specialized assistance from a team of early childhood experts and funding to help support improvements to classrooms.
Making the job easier
Barcena describes Quality First as a "comradery among educators," starting with the first phone call with her Quality First coaching supervisor.
"She was very friendly and open and told me, 'Let's partner. I'm not here to judge you and make you change your program. How can we help you make your job easier?'" Barcena said.
When Barcena first joined Quality First, she didn't know what to ask. But her coach would call her and touch base regularly.
"She told me, 'I'm your safety net. Anything you need, I can help you with.' So for weeks and weeks, she would reach out and follow up through emails and phone calls. She even called me back on evenings or weekends — which as a teacher and a director, I really appreciated."
It was a relief knowing that the Montessori philosophy of education, which is different than a typical child care center, would not need to be modified. For example, when the Quality First coach suggested a dramatic play area or dress-up for the center, Barcena explained that Montessori doesn't incorporate fantasy into their classroom.
"My coach said, 'If that area doesn't align with your program, that's ok. Let's look at a different area.' So instead the topic was changed to improving the children's display area with maybe pictures or framed art. They aren't here to change our philosophy. We can still maintain our Montessori philosophy and improve on it."
Different types of support
The Quality First coach sends Barcena professional development opportunities that staff can complete on their own time and free to them.
"Four out of the six of us are moms," Barcena said. "It would be very hard to have on-campus trainings regularly."
The financial incentives are also a win-win.
"As a small business owner, it's hard not to just start up, but to continue to replace the materials as they wear. It's difficult to do it constantly. With Quality First, they'll say it would be wonderful to incorporate these items into your curriculum and here's some incentive money to help you accomplish that."
Improving quality
When new participants join Quality First, they receive an initial assessment. Then the center staff and their coach set goals to meet the program's needs. The coach helps the child care staff put a plan into action to meet those goals
Working through the information provided by the Quality First assessment has given Barcena confidence that she is providing a quality program, and has helped identify areas where she wants to improve.
"My scores have shown me that our emphasis on keeping our teacher-child ratios and group sizes small is allowing for the types of high-quality interactions kids need," she said. "Some of the settings I worked at before, the number of students made it really difficult to develop relationships with children and their families."
To measure progress in quality improvement, each program participating in Quality First is assessed and given a Quality First Star Rating, ranging from 1 to 5 stars. Star Ratings are based on what research shows are the key components of quality early care and education. No matter a program's current Star Rating level, all child care providers participating in Quality First are committed to making improvements that help kids learn, grow and thrive.
Barcena, whose program earned a 4-star rating on its first assessment, said she plans to keep working with her coach and is open to learning about additional ways to improve or expand her program.
"Being a part of the Quality First program is not just looking at your program with a different set of eyes," she said. "Yes, Quality First wants to make sure facilities are providing a safe and healthy learning environment, but at the end of the day, they want all the children to thrive and that takes much more. Quality First makes me feel like they have our back."
A historic $1 billion federal investment is providing much-needed support to early learning programs, including increasing the number of quality child care settings around Arizona. A portion of this funding will allow the First Things First signature program, Quality First, to expand by up to 800 providers over the next three years.