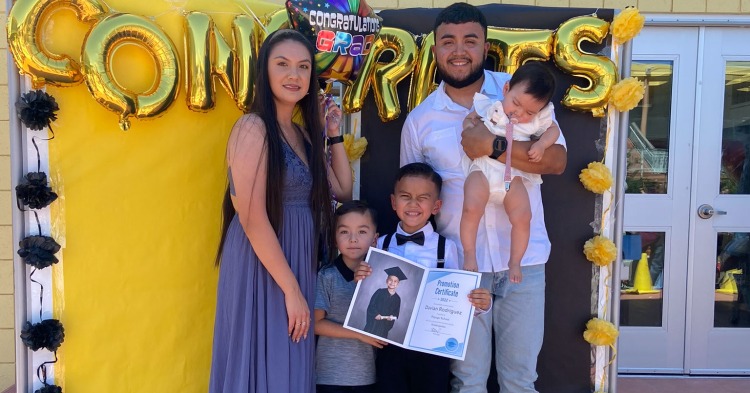 As a young mother, Claudia Rodriguez was searching for activities that kept her two shy boys busy while also allowing them to socialize with other children their own age. She found what she was looking for right in her Phoenix neighborhood.
Soon, her boys became regular program participants at a family resource center in the Creighton Elementary School District, not far from their home. The First Things First Phoenix North Regional Partnership Council helps fund the center to support the healthy development of young children, whose brains develop at a fast rate in the early years. 
The intent of family resource centers is to provide families with the information, services and support they need to help their children achieve their fullest potential. Family resource centers are community hubs that provide flexible, family-focused and culturally-responsive information, resources, referrals to services and parenting activities covering a wide range of topics, connecting families to the information, resources and services they need to support their child's optimal health and development.
"It's been great, going to the center has helped them and the whole family a lot," said Claudia Rodriguez, who also has 1-year-old girl, Jackie. 
Rodriguez first enrolled her oldest son, Davian, in a month-long kindergarten readiness boot camp. Initially, he was a bit apprehensive about attending. 
"He wasn't very open to other kids and all of that, but within the first week, he told me he loved it," his mother said. Davian, now 6 years old, did well in kindergarten and will start first grade in the fall.
She also enrolled her youngest son, David, in the early readiness program and Rodriguez said it's had a remarkable impact on her child. 
"He's 4, and you couldn't really understand what he was saying," Rodriguez said.
Although his parents considered that their son might have a speech delay, after about two weeks of learning numbers, colors and animal sounds along with other children, they noticed that he started to feel more at ease around other people. 
"That's when he started opening up more, and within the first month you were able to understand more of his words and his sentences," his mother said. "I'm very happy I enrolled him in early readiness because they prepared him a lot. Now he's going to kinder and he's going to be starting at 4." 
David turns 5 in October.
Rodriguez has been impressed by the progress her sons made while attending the center. That's why she has already decided to enroll baby Jackie in its age-appropriate programs. The earlier the better, she noted.
"I want her to be more social," the young mom said. "I don't want to do what I did with the boys and kind of isolate them at home with me. 
"I want her to be more open because my boys were kind of shy around other people, they wouldn't talk to anybody else. I want her to be able to socialize and hopefully she can learn early on. That's my goal."