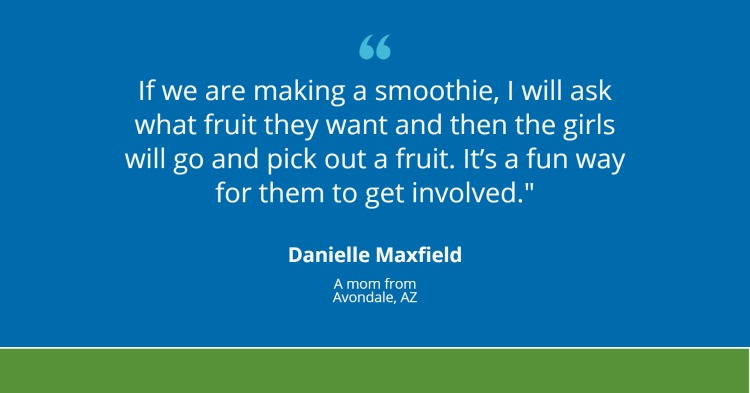 Danielle Maxfield was looking for new ways to expand her toddler daughters' learning opportunities. 
Like many families, who were adjusting to the COVID-19 pandemic world of remote work and limited preschool participation, the Avondale mom asked for help from a local moms group on Facebook. Some suggested a virtual program that provides parents and caregivers with ways to incorporate health and nutrition at home. 
The First Things First Southwest Maricopa Regional Partnership Council funds the Health and Nutrition program offered through the Maricopa County Department of Public Health. This program provides a fun and engaging way for families to learn more about how to incorporate healthy habits into their day-to-day, while also providing education on nutrition. 
The goal is for families to be more informed about nutrition and wellness while helping motivate them to eat healthy and be physically active. 
"We were always fairly active, but now they have other options of things to do," Maxfield said. "They will ask to play certain games and are very vocal now about what they want to do after learning some activities from class. The parachute game is a big one in our home now."
The parachute game incorporates listening and directions for the children to follow. It has families lifting a parachute or sheet over their heads, running under it, or sitting along its edges to make a parachute bubble.
The classes showed Maxfield ways to teach and incorporate healthier habits into their family dynamic. For example, now at the grocery store, she asks Addilynn, 2, and Arley, 1, what type of vegetables they want. She's also more intentional about activities, and including them in the dinner-making process and letting the girls choose outside activities. 
These small changes led to positive outcomes for her and her family. Now her daughters are eager to explore new foods and are excited to get involved in tasks like making dinner. 
"They now help me make meals," Maxfield said. "I feel like it is helpful for them to learn how to do that. If we are making a smoothie, I will ask what fruit they want, and then the girls will go and pick out a fruit. It's a fun way for them to get involved and I learned that still makes a difference."