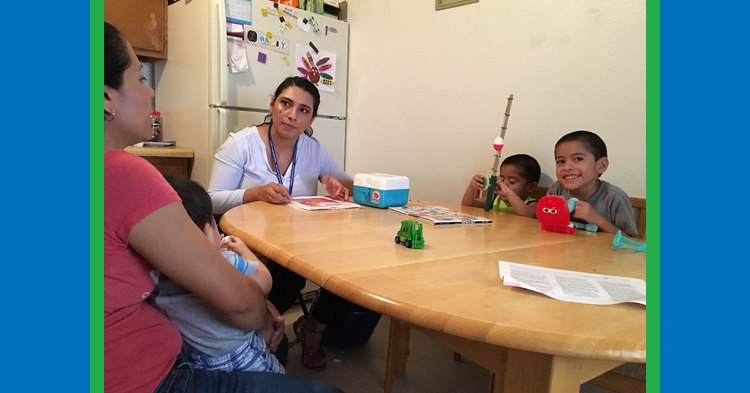 Reina Jimenez began having concerns for her son Randy's development at the age 2. She noticed that he did not have an appropriate vocabulary for his age.
"I was very worried," Jimenez said. "Randy only spoke five words."
That is when Jimenez decided to visit a local health fair, hosted at the Care1st Avondale Family Resource Center, in the hopes of finding some help.
There she met up with Melisa Mendoza, a parent educator with Child and Family Resources. Mendoza suggested that Jimenez enroll in the home visitation program, which provides parents with the support needed to be their child's first and best teacher.
The First Things First Southwest Maricopa Region funds the program that provides regular in-home visits from a trained professional who provides parenting information, models ways to support healthy development and shares connections to other community resources.
Once a month, Mendoza would visit Jimenez at home in Buckeye to work with the mom and young boy on his school readiness, by targeting Randy's language development. Mendoza told Jimenez to use her speech to label items throughout the house. Even if he wasn't ready to speak, she would label things around them, like during dinner, labeling the carrots they were eating and kept referring to them.
She also encouraged Jimenez to expand and recast when speaking to Randy. For example, if he said, "apple," then mom would expand the phrase with, "yes, it's a shiny, red apple" or if he said, "baby sleeping," she would recast and emphasize his missing words in the phrase, "yes, the baby is sleeping."
Mendoza also suggested Jimenez incorporate dialogic reading into their story time, where Jimenez would read a book to Randy and they would have a conversation about the book they were reading, which encouraged new vocabulary words and helped Randy with his verbal fluency and comprehension.
"I have learned about the importance of dedicating time to my children, to focus on specific skills and to read to them often," Jimenez said.
Randy, now age 5, can identify and write his colors, alphabet and numbers and recently was evaluated by his local school, where he demonstrated that he belonged in the advanced kindergarten class.
"I know that this program is what helped his progress the most and I am happy and relieved about his development," Jimenez said. "The program gave me the foundational tools to teach my children, I am now able to take what I have learned and use it with Randy's two siblings."