Your baby needs a safe crib and a quiet place to sleep, away from bright lights and sudden noises. For the first year, it is safest for her to sleep on her back. And, for the first 2 years, when she rides in the car, she needs to be in the back seat in a rear-facing car seat.

Put Your Baby to Sleep on His Back
For the first 12 months, put your baby to sleep on his back. Do not have him sleep on his side or stomach unless your doctor says it is OK. When babies sleep on their backs, they are less likely to die of SIDS (sudden infant death syndrome). SIDS can happen when a baby cannot breathe easily. For more information, visit Healthy Children.
---
Sleep Safety ABC's
Keep your baby in a crib or bassinet next to your bed. Do not put her in your bed. She could roll out, or you could roll on top of her. The American Academy of Pediatrics recommends that babies sleep:
Alone, in your room.
On their Back.
In a safe Crib.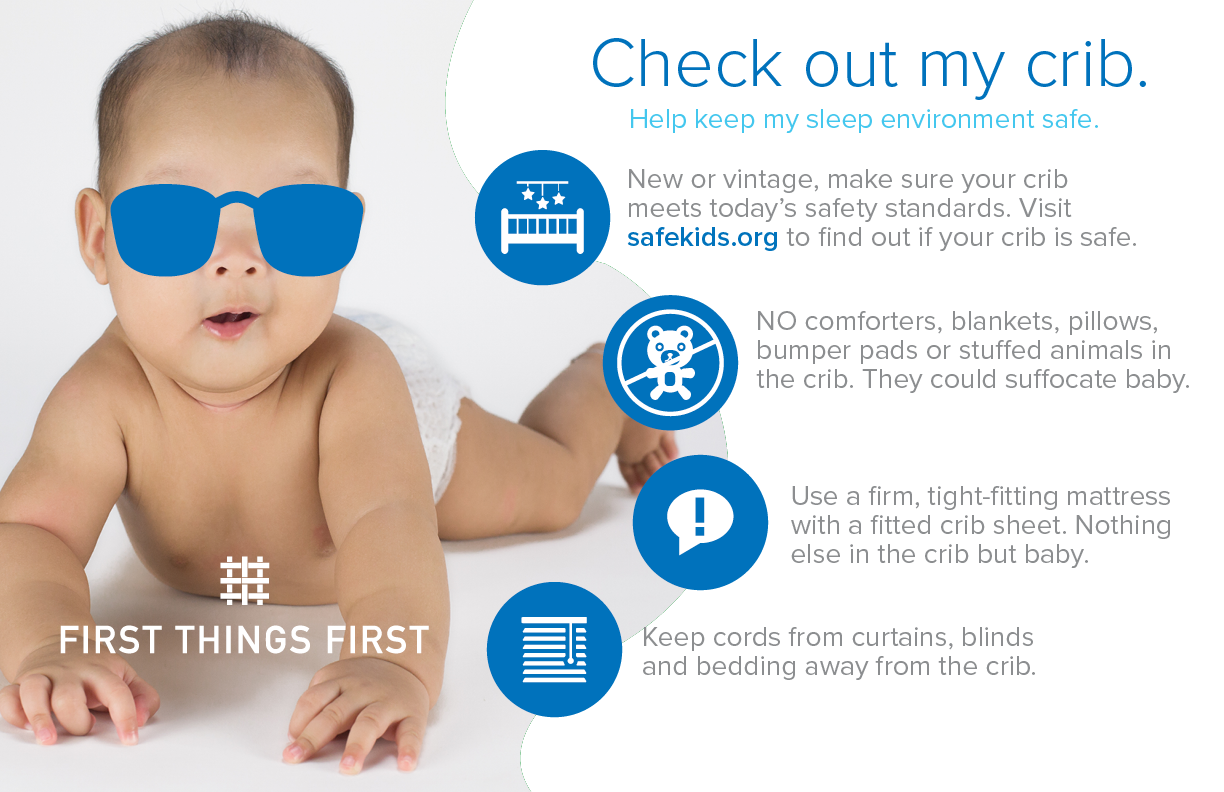 ---

Tummy Time
When your baby is awake, give her some time to play on her tummy. This helps make her neck, back and shoulders strong.
---
Infant Car Seats
At least until age 1, your baby should be in the back seat in a rear-facing car seat.
You can buy an infant-only car seat. Or buy a seat that can change to a front-facing seat later.
Infants and children should never be in front seats with airbags.
Avoid used car seats. They may not be safe.
Never leave your baby alone in a car. The air can heat up quickly, and a baby can die.
Always check your back seat before you get out of the car. That way you will not forget and leave a child in the car.
For more on car seats, contact Seat Check or visit Safe Kids USA or Healthy Children.
THINGS YOU CAN DO
Crib Safety
Use a new, safety-approved crib. Or make sure your old crib meets today's safety standards. The bars are too far apart if a soda can fits between them. Visit Safe Kids USA.
Use a firm, tight-fitting mattress with a fitted crib sheet.
Keep comforters and blankets, pillows, bumper pads and stuffed animals out of the crib—they could suffocate your baby.
Keep cords from curtains, blinds, bedding and toys away from the crib. Your baby could get caught in a cord and strangle.
Car Seat Safety
When you buy a car seat, make sure it is the right model for your car. And ask how to install it correctly. Many fire stations will do a free inspection. Contact Seat Check to find an inspection station near you.
Pacifier Safety
Try not to use a pacifier until breastfeeding has become a habit. This is usually at 3 to 4 weeks.
A pacifier at nap time or bedtime may help prevent SIDS.
Buy a one-piece, dishwasher-safe pacifier. The hard plastic shield should be at least 1 ½ inches across.
Never tie a pacifier to your infant's body, clothes or crib. He can get tangled in the string.
The First Things First Parent Kit was developed in partnership with Health Research for Action/UC Berkeley. © 2018 The Regents of the University of California. Additional video, graphic and other content © 2018 First Things First. All rights reserved.