Studies show that infants do best when they have the same caregivers over time. Your baby needs a close, caring relationship with just one or two caregivers. Make sure the caregiver you choose will pay careful, loving attention to your baby. And make sure she follows your wishes about sleeping, feeding and other issues. Talk with her often about how your baby is doing. You can visit at any time.

Different Kinds of Child Care
Home child care is provided in the caregiver's home. Look for a provider who is certified by the state. Larger homes may have several providers.
Child care centers usually have several caregivers. Often children of different ages are in separate groups. Look for a center that is licensed by the state.
To find high-quality child care in Arizona, visit Quality First. Scholarships may be available for low-income families.
For more help finding child care, contact Arizona Child Care Resource and Referral.
Ask people you trust to recommend caregivers.
Try to interview several people and check their references.
---
Being Apart Can Be Hard
Try to spend some time with your baby and the caregiver the first few days your baby is at child care. If you can, start with half days the first week. It will help your baby get used to new people and a new place.
You might be interested in: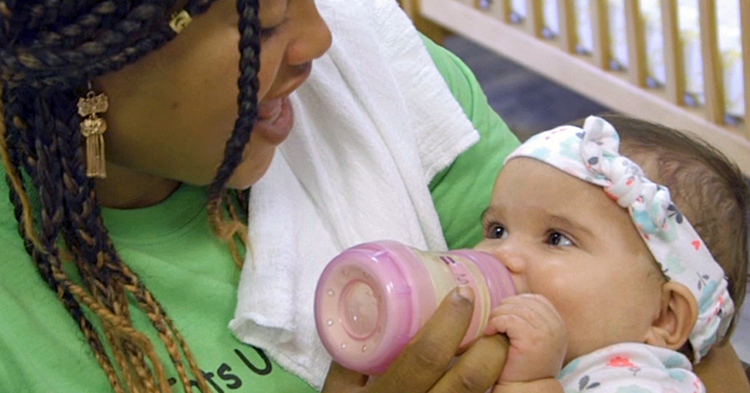 ---
Helping Your Baby Learn
Make sure your caregiver helps your baby learn. She should talk, sing and play with your baby. She should read picture books and nursery rhymes. And there should be many toys and books that are safe for babies to play with.
---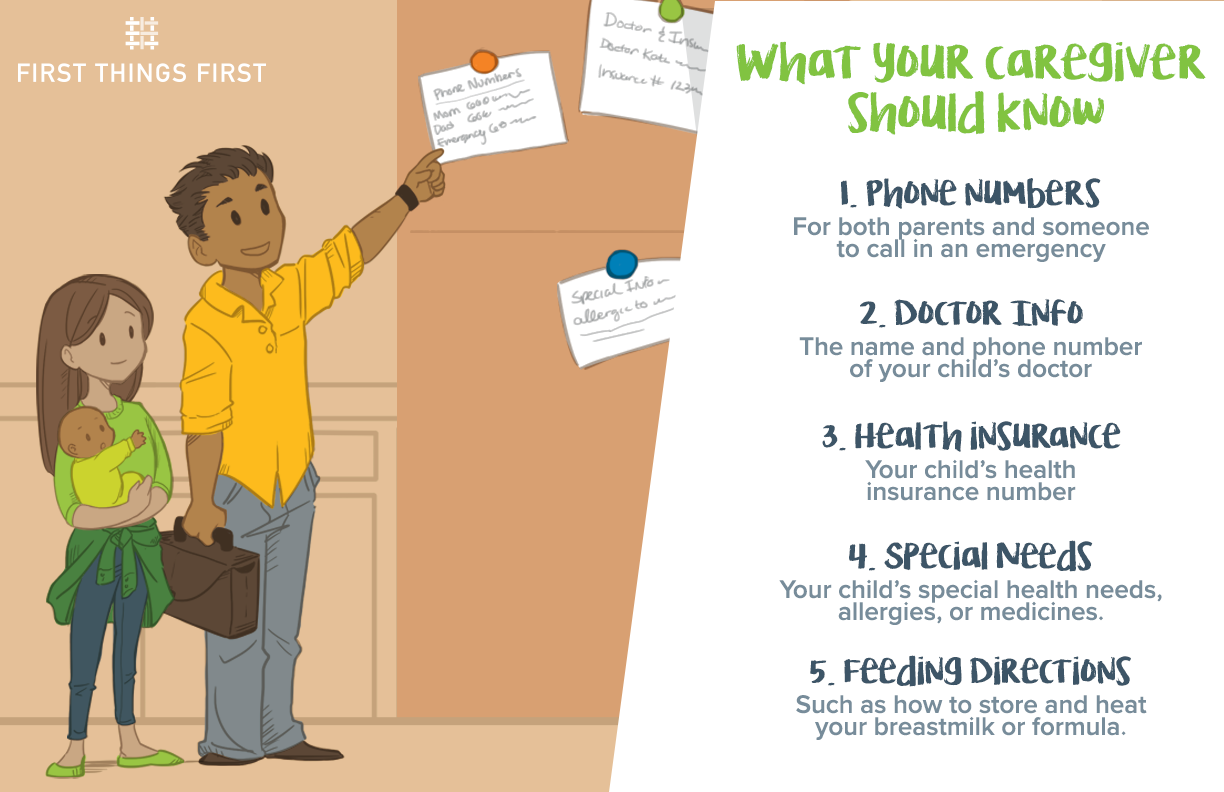 THINGS YOU CAN DO
Talk to Your Caregiver About Safety
Make sure your caregiver knows:
How to safely help your baby stop crying (see the Your Baby's First 6 Months page in this guide). Ask the caregiver to call you if your baby cannot stop crying.
When to call Emergency Services (9-1-1).
When to call Poison Control. See the Baby Safety page of this guide.
How to prevent choking and what to do if your child chokes. See the "To Prevent Choking" section of the Starting Solid Food page in this guide.
Give Your Caregiver Important Information
Phone numbers for both parents and for someone to call in an emergency.
The name and phone number of your child's doctor.
Your child's health insurance number.
How to store and heat your breastmilk or formula.
Your child's special health needs, allergies or medicines.
Look for High-Quality Child Care
Visit Quality First to find out what makes a child care program good. You can also use this site to find quality programs throughout Arizona.
When Your Baby Is Sick
Do not take your baby to child care when she is sick. Ask your employer if you can use your own sick leave to care for your sick baby. Or arrange for a relative or friend to stay with your baby when she is sick. Find out if there is a sick-child child care center in your area. Some employers will help pay for this. Some employers offer sick-child child care on-site.
If You Suspect Bad Treatment
Your baby cannot tell you if he is being mistreated or ignored. If you are concerned about bruises, or your baby seems hungry or dirty, contact Childhelp or the Arizona Child Abuse Hotline.
The First Things First Parent Kit was developed in partnership with Health Research for Action/UC Berkeley. © 2018 The Regents of the University of California. Additional video, graphic and other content © 2018 First Things First. All rights reserved.