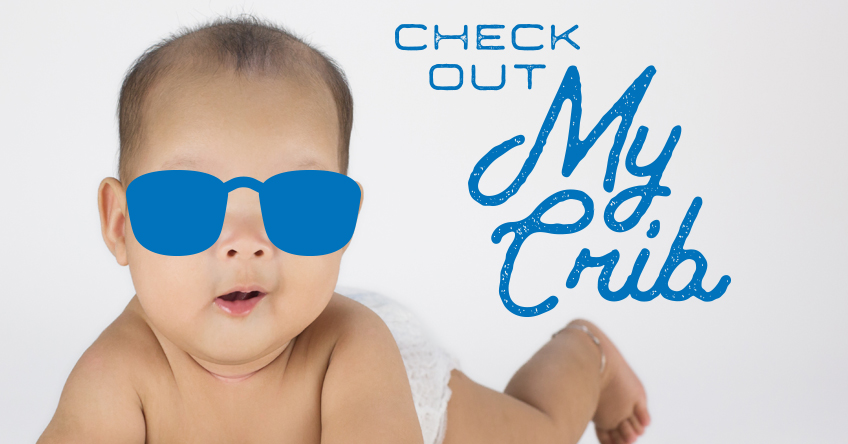 Babies sleep a lot. In a typical day, a typical baby will sleep about 16 hours or so. (Not all at once, of course.) Having a safe place for all that sleeping and dreaming and growing is something to take seriously.
Here's why…
In 2015 there were 85,024 births in Arizona. In the same year, there were 74 instances of sudden unexpected infant death associated with unsafe sleep environments. (That's according to the Arizona Department of Health Services.) Suffocation was the most commonly identified cause. While the numbers show that the probability is very low, each of these instances of infant death is a tragedy. And most were determined to be preventable.
CRIB SAFETY TIPS
To reduce the risk of all sleep-related infant deaths, including accidental suffocation and SIDS (sudden infant death syndrome), the American Academy of Pediatrics (AAP) recommends that until their first birthday, babies should sleep on their backs for all sleep times, on a firm surface.
A crib that's safe.
Since your baby will spend more time in the crib than anywhere else, you want to make sure it's safe. From the AAP's policy statement on sleep safety:
"A crib, bassinet, portable crib, or play yard that meets the safety standards of the Consumer Product Safety Commission (CPSC) is recommended along with a tight-fitting, firm mattress and fitted sheet designed for that particular product."​​​​​
If you have a used or previously-owned crib, make sure it's up-to-date with the latest safety standards. An important one to know about is that, since 2011, federal safety standards prohibit the manufacture or sale of drop-side cribs (cribs where one side can be slid up and down).
Also check that your crib is in good condition, with no cracks, peeling paint, rough edges or missing parts. And check that the bars of the crib are close together so your baby can't get caught between them. The CPSC recommends no more than 2 3/8 inches between crib slats, about the size of a soda can. If you can slip a soda can between the bars of your crib, they're too far apart to be safe.
A firm, clean, uncluttered surface.
When it comes time to lay your baby down t o sleep (always on his/her back), the AAP recommends that there should be nothing else in the crib – no blankets, pillows, stuffed toys or crib bumpers. Infants don't have the strength or motor skills to turn their heads if they roll into something that blocks their ability to breathe.
The firmness of your baby's sleep surface is important. A lot of parents think soft bedding will make their baby more comfortable and safe, but the opposite is true. Softer is not safer.
So, nothing in the crib but a firm mattress covered by a clean, tight-fitting sheet, with baby on top, on his/her back.
And, related to the dangers of soft sleep surfaces, here's an additional thing to keep in mind, from Rachel Moon, MD, FAAP, the lead author of the AAP's report on safe sleep, "Parents should never place the baby on a sofa, couch, or cushioned armchair, either alone or sleeping with another person. We know that these surfaces are extremely hazardous."
By keeping these important crib safety tips in mind, and following them, you're doing your best to keep your baby safe.
The ABCs of Safe Sleep – Arizona Department of Health Services

More Information on Sleep Safety