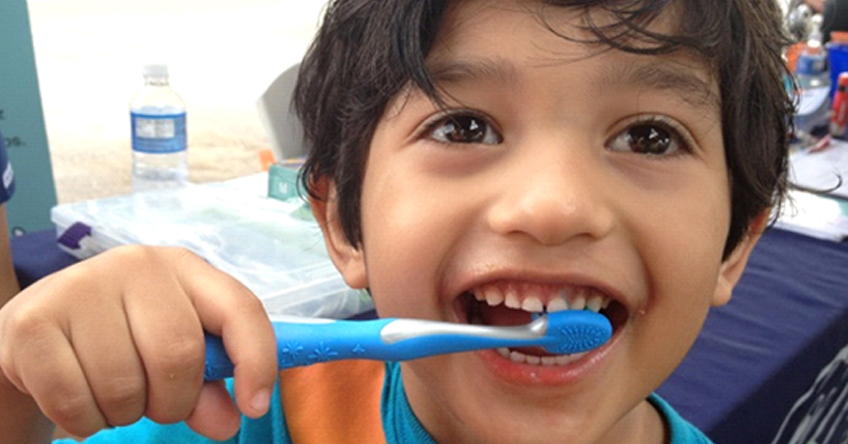 February is National Children's Dental Health Month, which promotes the benefits of good oral health. It's a good time to remind you how to help prevent tooth decay, even before your child gets their first tooth.
Untreated tooth decay in baby (primary) teeth puts young kids at risk for future health problems. It can cause damage to permanent teeth and even lead to being more vulnerable to ear or sinus infections. Tooth decay can also affect a child's speech development and hurt their self-esteem. And it's a leading cause of school absences later on.
"Tooth decay is the most common chronic disease faced by young children," said Joe Fu, First Things First's senior director for health. "It is also 100 percent preventable."
FTF offers these tips for families of babies, toddlers and preschoolers:
1. Prevent baby bottle decay. Don't put your baby to bed with a bottle at night or at nap time. The sugar in milk, formula, juices and soda can cause tooth decay. Beginning at 6 months, give your child water to drink to help keep their mouth clean and healthy.
2. Take your child to the dentist. By baby's first tooth or first birthday, take them to the dentist to check that their mouth, gums and teeth are healthy.
3. Clean your child's teeth. When your baby's first teeth come in, brush them after each feeding, especially before bedtime. Use a soft toothbrush and a rice-sized amount of fluoride toothpaste. When your child turns 3, you can use a pea-sized amount of fluoride toothpaste.
4. Serve healthy food and snacks. Sugary and sticky foods cause tooth decay, so give your child fruits, vegetables or cheese instead.
For more information about caring for your child's teeth, visit the Parent Kit.
---
Ofelia Gonzalez  is public information officer at First Things First.