Entre los 2 y 3 años de edad, su niña pequeña puede hacer muchas cosas nuevas. Corre y brinca, habla con frases y conversa con usted. También puede comenzar a llorar o a hacer berrinches. Está poniendo a prueba sus propios límites — y los de usted. Aún necesita su guía para aprender el autocontrol, y su ayuda para entender lo que necesitan los demás.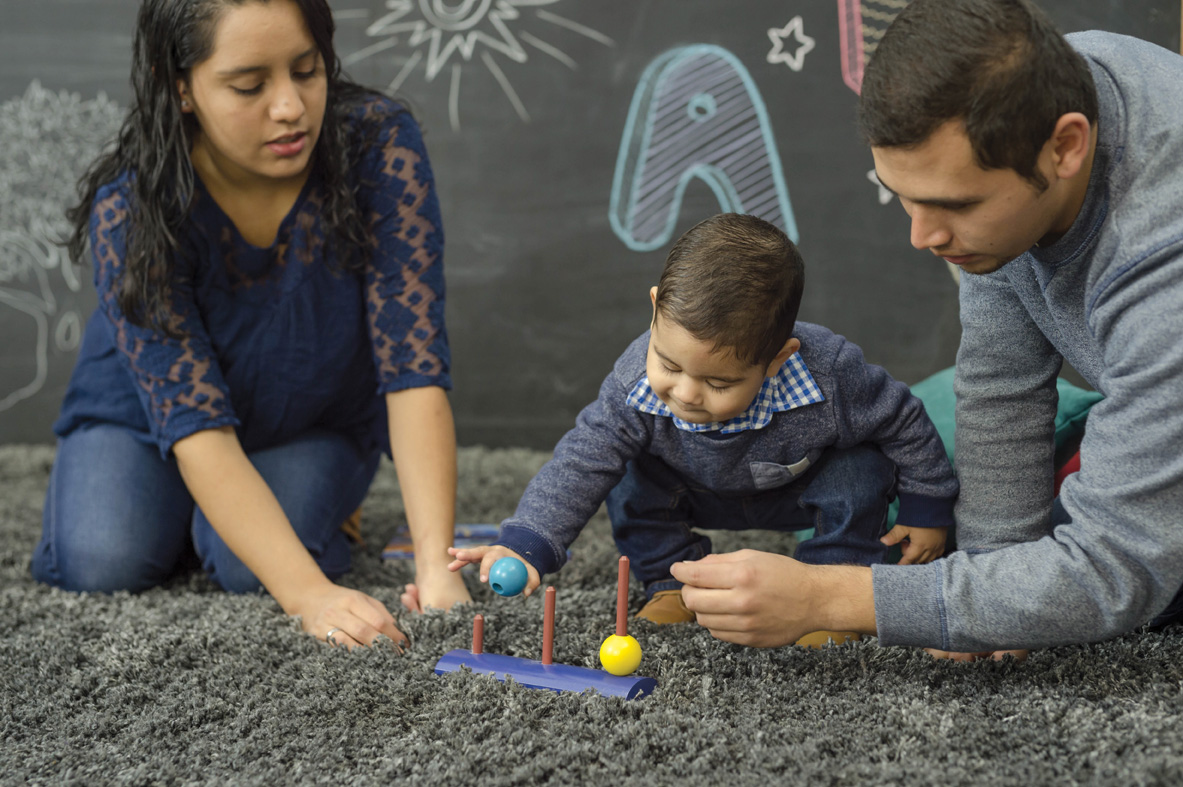 Sus Niños Pequeños le Hablan
Su pequeñín usa frases de 2 y 3 palabras.
Sigue instrucciones de 2 acciones, como "Toma la pelota y ponla en la mesa".
A los 2 años de edad, las personas a veces pueden entender lo que dice. A los 3 años de edad, las personas pueden entenderle casi siempre.
---
Los Niños y Niñas Se Desarrollan de Distintas Maneras
Cada niño y niña se desarrolla y aprende a su propio ritmo. Trate de no comparar a sus hijos con otros niños, pero confíe en sus instintos. Hable con su doctor si usted cree que podría haber algún problema, o si su hijo o hija pierde habilidades que ya tenía. O comuníquese con el programa de intervención temprana Arizona Early Intervention Program.
Cosas que Usted Puede Hacer

Ayúdeles a Sus Niños Pequeños a Aprender
Asegúrese de que su hijo o hija juegue con otros niños.
Cuenten cuentos juntos. Siga hablándole, leyéndole y cantándole a su hijo o hija.
Explíquele en palabras sencillas cómo funcionan las cosas.
Haga preguntas que requieran respuestas más largas que sólo "sí" o "no".
Permita que su hijo o hija resuelva sus problemas antes de ofrecerle ayuda. Entonces, dele sólo la ayuda que necesite para continuar de manera segura por su cuenta.
Para más información sobre el aprendizaje temprano, visite Zero to Three.
Léale a Su Hijos
Pídale a un bibliotecario o a un empleado de una librería que les ayude a usted y a su hijo o hija a elegir libros.
Lea con sus hijos sus libros favoritos una y otra vez.
Actúe los cuentos haciendo una voz distinta para cada personaje.
Haga preguntas como "¿Dónde está el gatito?" o "¿Cómo hace el perro?".
Cántele o léale rimas infantiles y otros poemas.
Juegue con Sus Hijos
Tiren o rueden una pelota suave.
Metan recipientes de plástico uno adentro del otro.
Pongan cosas en cajas de huevos.
Pongan tapas en envases de plástico.
Hagan plastilina casera mezclando almidón, agua y colorante para comida en un tazón grande.
Cuide los Dientes de Su Pequeñín
Ayude a su hijo o hija a cepillarse los dientes dos veces al día. Use un cepillo infantil suave de dientes y una cantidad del tamaño de un chícharo de pasta dental con fluoruro.
Para más información sobre el cuidado dental, vea la página La Salud Bucal en esta guía.
The First Things First Parent Kit was developed in partnership with Health Research for Action/UC Berkeley. © 2018 The Regents of the University of California. Additional video, graphic and other content © 2018 First Things First. All rights reserved.