Entre las edades de 1 y 2 años, sus hijos empezarán a explorar su independencia y desarrollan gustos y aversiones fuertes. A menudo dirán "¡No!" y "¡Mío!". De repente querrán irse de su lado y después se aferrarán a usted. Necesitan su guía delicada para ayudarles a aprender y sentirse seguros.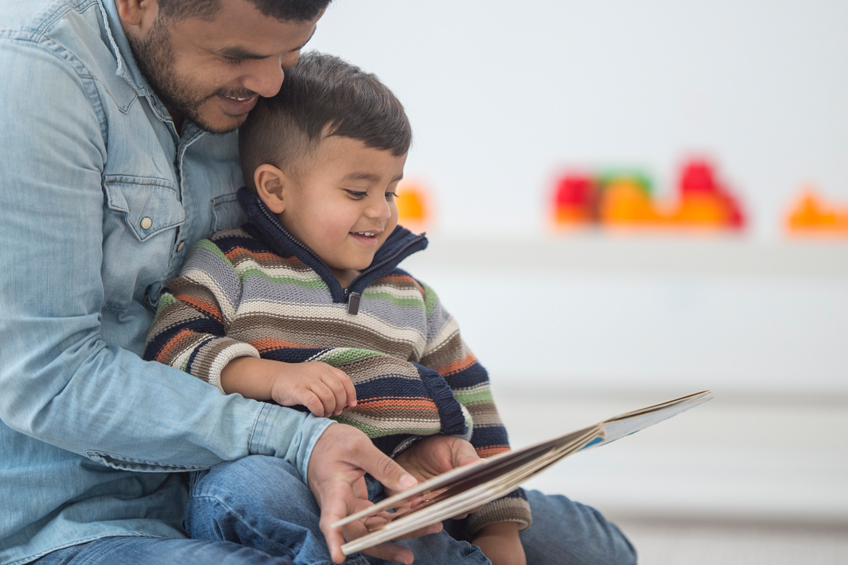 Pase Tiempo con Sus Hijos
Trate de dedicar diariamente tiempo para darles toda su atención a cada uno de sus hijos o hijas.
Realicen actividades físicas, disfruten juntos  juegos de dedos, vacíen arena de un recipiente a otro, hagan ruido con sartenes o piedras, corran y jueguen a "tú la traes".
Abrace a sus hijos frecuentemente. Esto les ayuda a sentirse amados y protegidos.
---
Los Niños Pequeños Aprenden a Través del Juego
Su pequeñita aprende al moverse, trepar, meterse en espacios, cargar y tirar cosas. El tiempo que está despierta está lleno de descubrimientos. Ella necesita lugares seguros e interesantes para explorarlos y aprender. Sus juguetes pueden ser simples, como ollas, sartenes, cajas, bloques, cubetas y palas de plástico.
---
Aprendiendo Palabras y Frases
Entre las edades de 1 a 2 años, los niños y niñas aprenden muchas palabras nuevas y comienzan a usar frases. Su hijo o hija:
Usará 20 ó más palabras.
Seguirá instrucciones sencillas, como "Trae la pelota".
Combinará 2 ó más palabras, como "¿Qué es eso?" o "Más jugo"
Apuntará hacia personas, juguetes y partes del cuerpo cuando se le pida que lo haga.
Entenderá canciones y cuentos sencillos.
---
Problemas Aprendiendo el Lenguaje
Si a los 16 meses de edad su hijo o hija aún no dice palabra alguna, ó si a los 2 años de edad no dice frases, hable con su doctor. Es posible que su hijo o hija sufra de autismo o de un problema auditivo, o podría necesitar más ayuda para aprender el lenguaje. Comuníquese con el programa de intervención temprana Arizona Early Intervention Program.
Cosas que Usted Puede Hacer

Ayude a Su Hijo o Hija a Aprender el Lenguaje
Siempre que estén juntos háblele, léale o cántele a su hijo o hija. Aprenda más sobre la plática inteligente en Read On Arizona.
Hágale preguntas como, "¿Dónde está la pelota?" o "¿Cómo hace el gatito?". Anime a su hijo o hija para que le conteste con palabras.
Léale a diario. Lean sus libros favoritos una y otra vez.
Nombre los objetos cotidianos, como los juguetes, la ropa y los animales.
Ayude a su hijo o hija a usar palabras para decir cómo se siente.
Apague la televisión. Los niños pequeños aprenden el idioma de usted, no de la televisión. Vea la página Niños, Niñas y la Tecnología en esta guía.
Tenga Una Rutina para la Hora de Acostarse a Dormir
A la mayoría de los pequeñines no les gusta acostarse a dormir. Pruebe estos consejos:
Trate de que pasen por lo menos 4 horas entre su siesta y su hora de dormir.
Fíjese en la hora en la que se nota que tiene sueño y establézcala como su hora para acostarse a dormir.
Si llora, cálmele pero trate de no prender la luz ni levantarle.
The First Things First Parent Kit was developed in partnership with Health Research for Action/UC Berkeley. © 2018 The Regents of the University of California. Additional video, graphic and other content © 2018 First Things First. All rights reserved.