El cuidado infantil para los pequeñines debería basarse en una relación estrecha y amorosa entre su hijo o hija y una o dos personas cuidándole. Busque a una persona que además de cuidar a su hijo o hija le ayude a aprender a hablar y desarrollar intereses y habilidades sociales.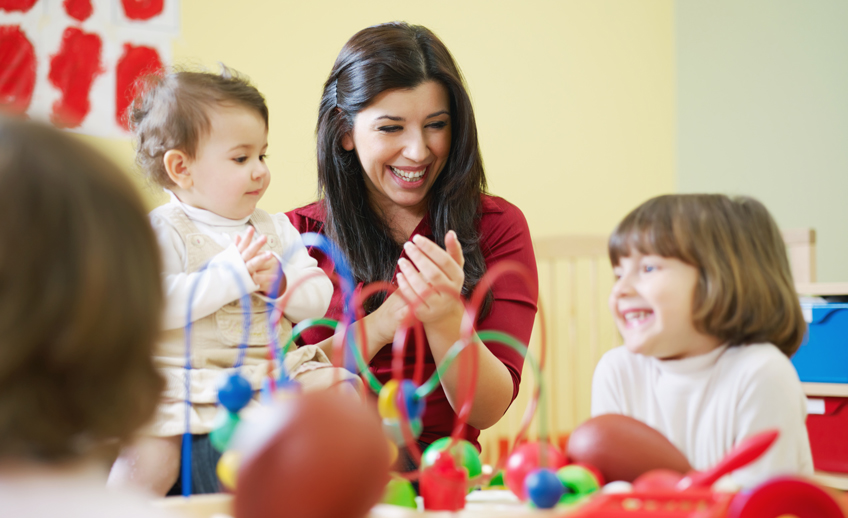 Encontrar el Cuidado Infantil Correcto Se Lleva Tiempo
Para encontrar cuidado infantil de alta calidad en Arizona, visite el sitio Quality First. Es posible que haya becas disponibles para familias de bajos ingresos.
Si necesita más ayuda para encontrar cuidado infantil, comuníquese con Arizona Child Care Resource and Referral. Ellos le pueden informar sobre costos, licencias y certificación del cuidado infantil.
Empiece a buscar con tiempo. Podría haber listas de espera para el cuidado infantil.
Pregúnteles a otros padres de familia sobre los programas o personas que proveen cuidado infantil que sean de su agrado.
Haga citas para visitar varios centros o casas de cuidado infantil.
Si su hijo o hija tiene necesidades especiales, asegúrese de que el proveedor cuente con el entrenamiento para brindar el cuidado adecuado.
---
Programas "Early Head Start" y "Head Start"
"Early Head Start" y "Head Start" son programas que proveen sus servicios a niños y niñas desde su nacimiento hasta los 5 años de edad, así como a mujeres embarazadas. Los niños aprenden muchas habilidades, incluyendo lenguaje y habilidades sociales. Los padres tienen un papel activo en el programa. Es gratuito para aquellas familias que califiquen. Llame a su distrito escolar o visite Arizona Head Start Association o National Association for the Education of Young Children.
Cosas que Usted Puede Hacer

Manténgase en Contacto
Cada día, hable brevemente con la persona que cuide a su hijo o hija.
Hable sobre temas importantes, como las habilidades de lenguaje y la guía.
Visite el lugar inesperadamente de vez en cuando para asegurarse de que todo esté bien.
Hable con otros padres y acuda a las reuniones de padres de familia.
Por la Salud y la Seguridad de Sus Hijos
No lleve a su hijo o hija al cuidado infantil cuando esté enfermo/a. Tenga un plan para cuando su niño o niña se enferme. Cuidado Infantil para Bebés de esta guía para encontrar algunas cosas que usted puede hacer.
Diariamente pregúntele a sus hijos cómo les fue. Escuche lo que le digan.
Si su hijo o hija le dice que le han maltratado, si tiene moretones sin una razón clara, o si muestra señales de descuido, tómelo en serio. Comuníquese con Childhelp, o vea la página La Salud Emocional en esta guía.
Si Un Pariente Cuida a Su Hijo o Hija
Platiquen sobre formas de ayudar a su hijo o hija a aprender, tal como leyendo cuentos, jugando juegos y haciendo cosas juntos.
Cuando su hijo o hija esté listo/a, hablen sobre cómo enseñarle a ir al baño. Asegúrese de que no se le avergüence ni se le fuerce antes de que esté listo/a. Vea la página Aprendiendo a Usar el Inodoro en esta guía.
Hablen sobre cómo establecer límites y sobre la disciplina. Vea la página Guiando a los Niños Pequeños en esta guía.
The First Things First Parent Kit was developed in partnership with Health Research for Action/UC Berkeley. © 2018 The Regents of the University of California. Additional video, graphic and other content © 2018 First Things First. All rights reserved.