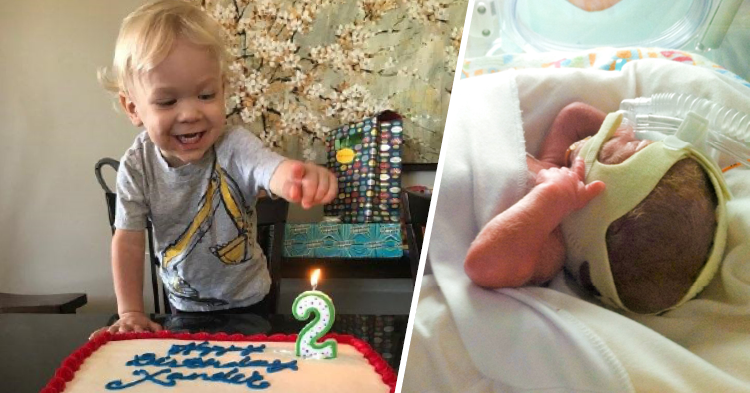 Our son's second birthday this year was a special one. As parents of a preemie, here's why.
Born at 28 weeks —12 weeks premature, considered "very preterm" — Alexander was 3 months old when we were finally able to bring him home from the neonatal intensive care unit. (Those first three months were an exhausting mix of worry, gratitude and a million other emotions, but that's a story for another time.)
At 3 months old, most babies are alert and curious about their surroundings. Most can hold their heads up and are beginning to smile at people around them. But our tiny 3-month-old was still sleeping most of the day and making the random, jerky movements of a newborn.
All parents are concerned about their child's development, and we were extra alert to our son's progress. For the first two years of a preemie's life, development is measured at a child's corrected age — the age they would be if born on their original due date. So, to accurately track his development, we had to look at the typical development of babies three months younger than he was. And three months make a big difference in baby time!
Calculating corrected age may not seem like a big deal, but to a parent of a premature baby, it can be a little difficult to get used to and tough to explain to others. I was always unsure of how to respond when strangers in public would smile at him and then ask me, "How old?" He was clearly not a typical baby based on his actual age, but the full story was more than I wanted to tell, and probably more than most people wanted to hear, while standing in line at the grocery store.
It's important for parents and caregivers to remember that all babies develop differently, and preemies are developing on an even more unique timeline. During our son's first years, we worked with a team of doctors and specialists who helped guide us through his development.
There were times when we were frustrated that he hadn't yet reached a milestone, only to be reminded that we needed to have patience, and that he was on track for his corrected age. We really had to put aside our expectations and trust his health care providers to let us know if there was something to be concerned about. True to their word, over time, we saw him catching up to his full-term peers.
With support, most preemies will catch up to their full-term peers by the time they turn 2. And much of what preemies need for their healthy development is the same as all other babies — stable and loving relationships with their families and caregivers.
Today, Alexander is a typical 2-year-old. He is running, climbing on everything, throwing and kicking balls, and exercising his budding independence (and defiance).
That's why our son's birthday was extra meaningful this year. We finally closed the book on his corrected age, and when asked, we can say with certainty and enthusiasm, "He's 2!"