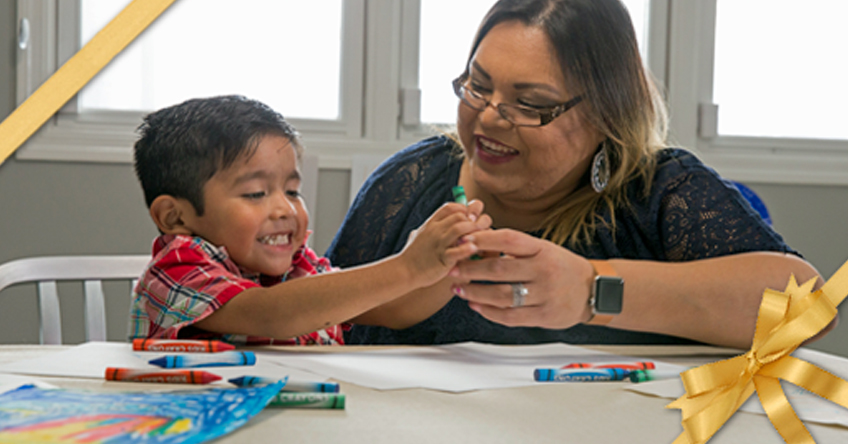 This holiday season, instead of filling your shopping list with the latest must-have toys for that young child in your life, consider that one of the best gifts you can give a child is your time.
Babies start to learn on the day they are born. Everything they see and experience, especially positive interactions with the adults in their lives, shapes them. By the time they are 5, their brains are almost fully developed.
These festive times offer many everyday moments to spend time with young kids and help them learn. In holiday decorating, children can learn about shapes and colors. Through helping with cooking or baking, they can learn about numbers and textures. Singing along to holiday music and telling stories about family traditions build vocabulary.
Play time is also a chance to learn together. The best toys for young kids are traditional ones that encourage adults to play along, whether rolling a ball back and forth with an infant, using dress-up clothes or reading a holiday book together that introduces kids to their own culture or family traditions.
The holidays naturally offer opportunities to spend quality time with toddlers and preschoolers. For example:
Religious services, in addition to teaching children values, give kids the opportunity to learn the importance of getting along well with others, to pay attention and self-control themselves.
Family gatherings and cultural traditions, especially having a specific role or responsibility in the celebration (setting the table for a family dinner, for example), give children a sense of security and help them to build self-esteem.
Charitable contributions or events teach children how to consider the needs and feelings of others.
This holiday season, look for opportunities to read, talk, sing and play together. These experiences will mean the most to a young child's learning and build memories that last a lifetime. And best of all, time doesn't cost a dime.
---
Ofelia Gonzalez is public information officer at First Things First.