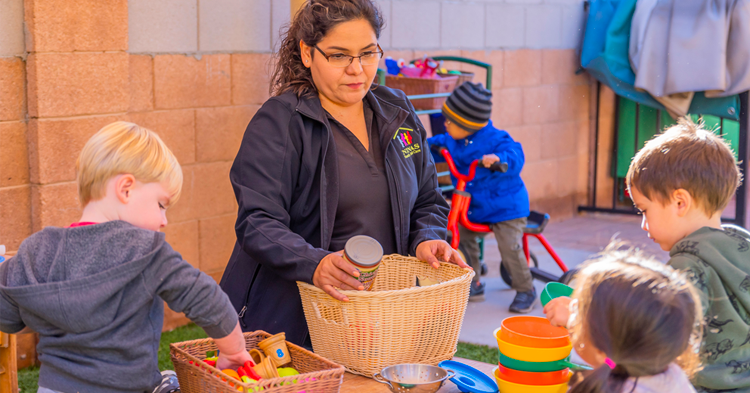 Federal pandemic relief funding has allowed more than 400 child care programs to access professional development coaching and specialized assistance from a team of early childhood experts. But those child care providers are scheduled to lose those supports once the federal funding runs out next year. 
Over the past 3 years, using federal funds, 413 child care providers were able to join the Quality First program. This voluntary program helps improve the quality of child care and preschool for children and families in Arizona.
Currently, more than 1,300 programs participate in Quality First, which is funded through Arizona's early childhood agency, First Things First (FTF). While FTF devotes almost 20% of its annual budget to the program, budget constraints mean only about a third of the state's eligible programs can participate. Federal funding helped clear the waitlist, but those funds end June 30, 2024. 
"The demand for the Quality First program was there based on the programs on the waiting list before the pandemic," said FTF Senior Director for Early Learning, Ginger Sandweg. "Federal funds were used to expand Quality First and now that the end of federal funds is coming, there's the potential impact for these newly joined centers to go back on the waiting list."
Providers say that one major blow of losing enrollment in the Quality First program would be the loss of access to an early childhood mental health consultant, who helps early childhood teachers be more effective in preventing and reducing challenging classroom behaviors. 
Research on early childhood mental health consultation programs shows that in addition to preventing and reducing challenging behaviors in the classroom, they improve teacher skills and lower preschool expulsion rates.
As more preschool classrooms begin to work with the children who were babies and toddlers during the pandemic and spent their early years in insolation at home with their families, teachers are seeing that their socialization skills need improvement compared with preschoolers before them. It becomes a greater challenge when new child care workers don't have the experience or training on what to do in tough situations. 
"Providers are telling us that as they hire a new workforce, these new people don't understand how to work with young children and young children with challenging behaviors," Sandweg said. "The early childhood mental health consultants have been really helpful."
Participating in Quality First is free for regulated child care centers, homes and preschool programs in Arizona.  To measure progress in quality improvement, each program participating in Quality First is assessed and given a Quality First Star Rating, ranging from 1 to 5 stars. A provider has met or exceeded the standards of the Quality First program at 3- to 5-stars, with 5 being the highest rating. Star ratings are based on what research shows are the key components of quality early care and education.
When new participants join Quality First, they receive an initial assessment. Then the center staff and their coach set goals to meet the program's needs. The coach helps the child care staff put a plan into action to meet those goals. 
For 112 providers who joined early with federal funds, they've been a part of Quality First for almost three years and have achieved a quality 3-star rating. Another 107 programs achieved quality levels. There are 127 programs still working toward a quality rating. And 67 programs are not yet rated. 
"They absolutely need support to get to a quality level," Sandweg stressed. "Federal funding has gone a long way, but when it goes away, how will providers maintain those quality improvements?"
She added that achieving a quality environment that promotes children's well-being –  with skilled teachers and learning environments that nurture language and cognitive development, as well as social-emotional skills and regular feedback to parents on the development of their child –  doesn't happen overnight.  
"It takes time to get to quality levels and takes time to maintain," Sandweg said.  
Decades of research studies demonstrate that children with access to quality early childhood development and health opportunities are more prepared for kindergarten, do better in school and are more likely to graduate from high school. They also tend to be healthier and more productive members of society. 
While these 400-plus providers continue to receive coaching and other Quality First supports over the next nine months, FTF and its partner at DES Division of Child Care which administers the federal funding, will continue to inform communities about the positive benefits that the short-term pandemic relief funding has provided for children, families and child care providers. Partners will work to encourage finding long-term solutions to ensure that families and children continue to have access to quality child care.