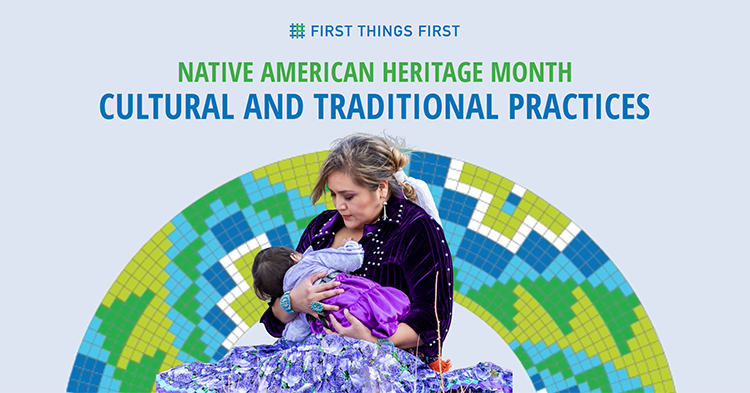 To hear Amanda Singer talk about supporting Navajo families with babies, you'll hear her speak about the babies first being introduced to Navajo culture in the womb, through relatives speaking Navajo, stories being shared and traditional foods that the family is eating. 
"Once they're born, there's the introduction to breast milk," said Singer, who is the executive director of the Navajo Nation Breastfeeding Coalition/Dine Doula Collective. "Mom's milk helps encourage the culture. The baby becomes attached and respectful to the parents. There are health benefits for both mom and baby."
Singer is a featured panelist as First Things First (FTF) celebrates Native American Heritage Month in November. This is an intentional, dedicated time each year where tribute is paid to the rich ancestry, traditions and contributions of Native Americans. 
To learn more, FTF will have free panel sessions throughout the month that explore cultural knowledge and stories about traditional practices, access to water in tribal communities, language revitalization and efforts happening within the state. Singer's session about cultural and traditional practices is at 1 p.m. on Nov. 9.
The coalition began its work in normalizing and finding ways to make breastfeeding easier for Navajo mothers through education and supporting families at home. In 2018, the organization added lactation support services and the following year, doula support. Today the coalition provides full circle support to families through help with the birth of the child and breastfeeding. 
Breastfeeding is such a personal decision, Singer said. 
"A lot of my clients are in their late 30s and they were raised in an environment where their relatives were more in tune in giving infant formula," she said. "As I've been doing this as a career path, younger parents are leaning toward breastfeeding. It's interesting.
It depends on the family structure."
In other instances, in families with a history of breastfeeding where they were exposed to a relative breastfeeding, the new mothers are given support by female relatives or the matriarch of the family to continue to breastfeed.
As Singer works with clients, she tells them how breastfeeding is one way to heal trauma within their family. A study shows how breastfeeding reduces a mom's risk of mental illness, postpartum depression and anxiety through the hormones involved in breastfeeding, she said. 
Another portion of her work is the spiritual and cultural part of the birth work between doula and client.
"We are relearning a lot of our Navajo teachings," Singer said. "There are different protocols that we're supposed to be using within a person's birth space. When the parent is laboring, she can transfer her trauma and anxiety to you (the doula) and if you're not careful what you're going through can be transferred back to her. One of the items we take from the training is that 
you have to start working on your past and current trauma as you go on this journey. Healing is hard, but it helps us become that guide for our clients."
Many ceremonial practices, such as healing and blessing ceremonies, are difficult to describe in English, Singer said. And many cultural ceremonies are being lost. 
"Our cultural practices have been pushed aside. And we also lost some ceremonial practices because they disappeared when they didn't have an apprentice to teach. But the ceremonies promote healthy outcomes," she said. 
She pointed out the recent solar eclipse.
"We can't look at the solar eclipse because if we look at it, there are implications on our health," Singer said. "With our pregnant relatives, we tell them 'You better be prepared in that eclipse.
Cover your windows and stay inside.' Non-native people, they're confused because they don't understand. Because of the way we're connected to the universe and earth; we're wired a little differently. When certain things happen in the environment, our health is directly impacted."
It's something that Western medicine is beginning to see value in. 
"Western medical practices are being complemented at Indian Health Services by having traditional practitioners in the hospital," Singer said. "They're finding the cultural holistic practices along with Western practices are producing good outcomes using both."