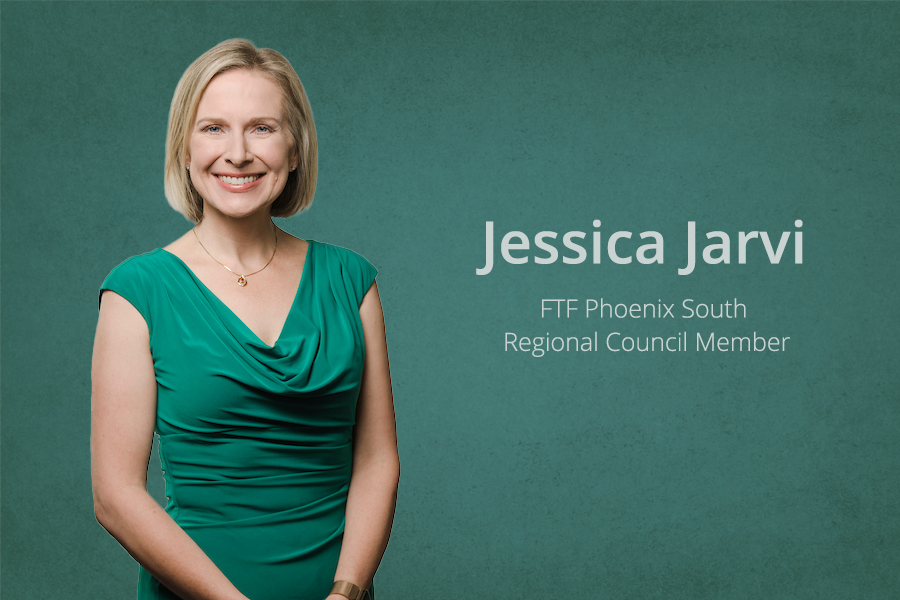 First Things First continues its spotlight on long-time regional council members through a series of short question and answer articles. As Arizona's early childhood agency, FTF is dedicated to helping children from birth to age 5 get a strong start in life.
That work is done in communities throughout the state through the nearly 300 volunteers who serve on 28 FTF regional partnership councils. These volunteers are integral in making recommendations to the FTF Board about how best to address the needs of young children and their families in their communities.
Recently we spoke with Jessica Jarvi, the vice chair on the FTF Phoenix South Regional Partnership Council. Answers have been edited for clarity.
Jarvi is the business representative for the FTF Phoenix South Regional Partnership Council and has been on the council for more than a decade. She is the Chief Legal Officer for Western Alliance Bank (d.b.a. Alliance Bank of Arizona). Jarvi has a bachelor's degree in English from the University of Arizona and a Juris Doctorate degree from Arizona State University. She is an Arizona native and a mother of three children. 
How did you get involved with First Things First?
I was a new mom and had spent quite a bit of time learning about the early years, zero to 5 and educating myself on how amazingly impactful they are. So (joining the FTF regional council) lined up with my interests and motivation. I still have a passion around the idea of how important early childhood is. I feel particularly strongly that if women are going to make progress in the workforce they have to have good child care. There are a lot of women, pretty impressive people, who wind up leaving the workforce because they aren't happy with their child care options. That's an unfortunate situation if you have to choose between your job and whether or not you're happy with where your child is cared for. You're going to pick your child. But it doesn't have to be that choice all time. You should be able to find high-quality child care and make a decision from the best of both worlds.
Why is early childhood important?
Early childhood is an important community issue, no matter what. One, it's fairly apolitical, which is nice. I don't feel people aren't interested in kids and early child care. But no matter what your priorities are, you can almost always link it back to how early childhood can make a difference in health outcomes, in economic outcomes, in poverty rates, in crime rates. Anything that you think might be a societal ill, if you invest in early childhood you can make an impact, well before that might be an issue for certain families.
It's important to understand the return on investment on what it means for children to be ready for kindergarten and how that feeds into third-grade reading scores and how that then feeds into high school graduation rates. Each of them is built on the foundation below.  Sometimes the further people get away from young kids in their lives the less you think about it.
What part of the work of the regional council are you most proud of?
Quality First has been a huge initiative both from dollars and from impact. We were intentional about making sure we continue to support quality child care centers and saw an increase in the number of quality child care centers over the years. There's still a child care crisis and it's nowhere near what we need but I have been very happy to see the increase in the number of 3- and 4-star centers over the years.
Family resource centers are a huge area for us to think about trying to be where families are and reach them. There's a lot of people who can't afford the cost of early child care but we believe parents want to do the right thing for their kids. So how do you get that parent-driven approach in terms of educating parents and helping parents get the tools they need to raise their kids in the way that they would like to raise them. We're trying to find ways to move the needle and it's not easy.
What impact is FTF making in your community?
I really think there's an ecosystem that can evolve where First Things First provides proof of concept of what works and what creates the right early childhood outcomes and then finds other funding sources. So that it can do the same thing someplace else. You refill that bucket with private dollars, corporate funding, philanthropy or something else, because now you can go and show them, "We did the investment. The agency took the funds and deployed them into the community and found that it works. We can continue to do that in other ways with other strategies, but we need someone to come in to keep this one going, because our dollars are limited."