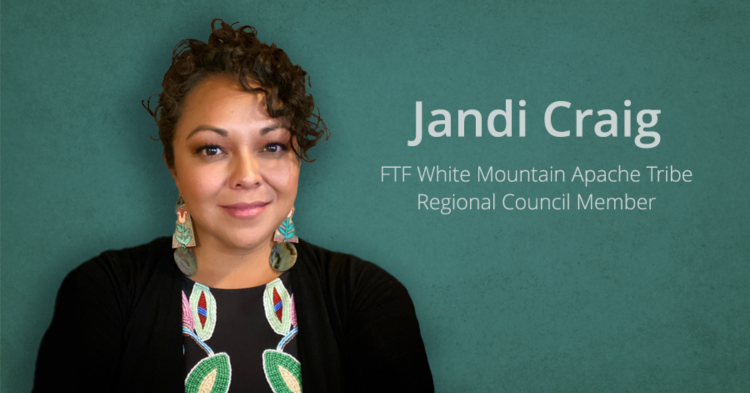 First Things First continues its spotlight on long-time regional council members through a series of short question and answer articles. As Arizona's early childhood agency, FTF is dedicated to helping children from birth to age 5 get a strong start in life.
That work is done in communities throughout the state through the nearly 300 volunteers who serve on 28 FTF regional partnership councils. These volunteers are integral in making recommendations to the FTF Board about how best to address the needs of young children and their families in their communities.
Recently we spoke with Jandi Craig, a regional council member from the FTF White Mountain Apache Tribe Region.
Answers have been edited for clarity.
Craig is the business representative on the FTF White Mountain Apache Regional Partnership Council. She joined the FTF regional council in 2012. She is proud to be Dził Łigai Si'an Ndee – a member of the White Mountain Apache Tribe and Xicana. She belongs to the Dischiidn clan, born for Nakaiye. Craig was born and raised on the Fort Apache Reservation, where she works to develop cultural wellness and mental health programs, data processes and policies for Apache Behavioral Health Services.
What part of the work of the regional council are you most proud of?
The Reach Out and Read program was really important to get books into the hands of families and children. That goes along with the messaging of making sure that we're speaking 30,000 words per day to a child to help them make those brain connections to increase their vocabulary and understanding. That was a significant one.
What I'm really proud of is how Feather (FTF White Mountain Apache Tribe Regional Director) is working on incorporating more of the Apache language in products for the children and the families. I think she's pioneering that area. We always make the Apache language and culture a priority.
Community volunteers who serve on FTF regional councils are able to recommend programs that are needed in the community. Why is that important?
Sometimes the people that run those programs, although they are wonderful programs, they don't understand how to mesh the program with Apache culture. Not just traditional culture, but also the way of living and understanding the world. You view that Apache paradigm. Being more aware of the people coming onto the reservation, they have a responsibility to learn more about our tribe and our people and our history and to always keep that in mind when they develop their curriculum and deliver services.
I appreciate being able to say that is important to every group, as well as, taking into account that when Apache is the first language, we have to be more aware of how we're communicating different approaches and skills. So that no matter what mastery level of English a person has, they would still be able to incorporate those skills and values with families.
What early childhood issue are you most passionate about?
I think early literacy is important, especially Apache literacy. Because we have the language as a mother tongue. A lot of people may be fluent in Apache, but not fluent in Apache literacy. So it's important to have the language available in as many places as possible so that people are exposed to it and make an effort to learn the literacy part.
Tribal members are the experts of Apache language and culture, when trying to fit the piece into early childhood development then it only makes sense to take into account the Apache approach and the Apache way of learning and knowing things. That's what makes it important.
How important is it to expose children to the Apache language as early as possible? 
We already know that a lot are losing the language, myself included. There's a generation of us who were not exposed because of historical trauma. So we're reclaiming that, in the best way we can. And from my experience, children have the opportunity to learn, so they do know more about the language than some people in my generation. That makes a difference.
What do you hear from adult family members of young children?
There are a couple of times when the regional director came to do some presentations for our parents. The approach was perfect. To hear the parents understanding the message, and explaining to one another, especially about the connections to the brain and how language is related to that. It was a beautiful conversation to see a father talking about how he can understand why those brain connections are important to the children and learning more about traditional Apache parenting techniques. And all of that was made through funding from First Things First, as well as some of the resources and staff who shared with the parents.
Why is it important to have someone from your background on the regional council?
I think about myself, but I also think about empowering other Apache parents who have really good ideas. Apaches are the experts on being Apache and being Apache parents. When money comes through the council and there are all these programs being proposed from outside the organization who are not Native, it's empowering as a council member to tell them, "You need to do better and you need to do more." And for them to understand more about the approach with other Apache people. We also expect for those people who come to the reservation to go to more than just the location where they're doing the training. They need to go to the store, go to the post office, to check out where the different schools are located and experience the community rather than just coming through to do a 2-hour presentation and leaving.
What impact is FTF making in your community?
For sure presence.  More people are aware of it and the services that they provide.  And really this message of the importance of early childhood. The most important information about children's brains developing in the first five years, and also talking about school readiness and of ways parents can play with their children so the children can learn and be ready for school.
The incentives that FTF-funded programs provide through participation in the programs are important for families here. Because the incentives meet some very basic needs that sometimes you don't think about like diapers and wipes and even educational toys. I can't tell you how important it is for parents to receive incentives that meet basic needs because when basic needs are met, adults have more capacity to learn more about their children's development and it's the same for children, too.