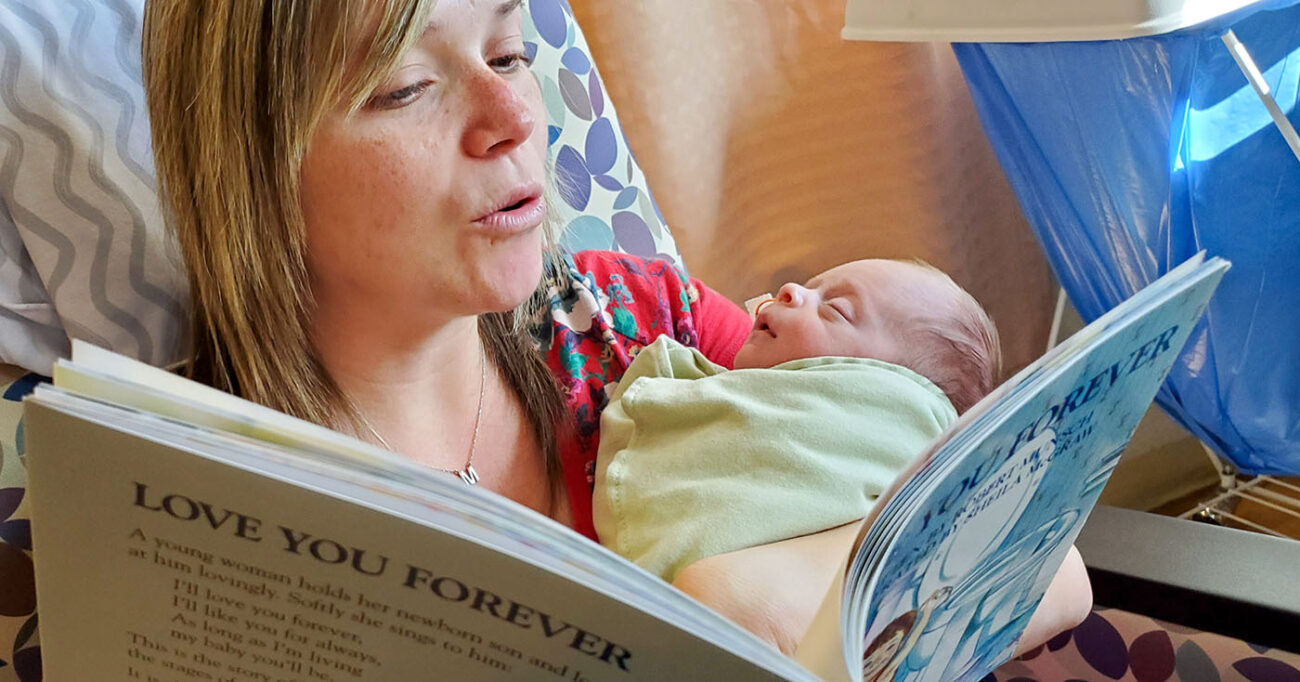 The reading corner in the Tucson Medical Center neonatal intensive care unit (NICU) needed a little love, a certain something special to get parents and families of babies in the unit excited about reading to their little ones. 
Now, as parents, caregivers and families walk into the NICU to be with their newborn babies, they pass by a bright bulletin board full of information about First Things First and early literacy. When they look down, they'll see a colorful library cart brimming with children's books and decorated with First Things First posters. 
The staff in the NICU were looking for a way to reinvigorate the space and contacted the First Things First Pima North Region. With a shared vision to inspire families to read with their babies, a collaboration between FTF, the hospital and Make Way for Books was formed.
In mid-December, the group held a Love of Reading Book-a-Thon to celebrate the reimagined reading corner, and to help parents and families make community connections.
"We know that families are there during the day," said Cynnamon Woodberry, project director of The Story Project for Make Way for Books. "We want them to know that it's a great idea to just read to the baby and talk to the parents about the importance of reading."
Make Way for Books, which is an FTF partner, provides early literacy services across Pima County.
"What we found when we talked to participants at the NICU, parents would bring in newspapers, old books and sometimes they would read," Woodberry said. "They wanted to have something to do with them, but they didn't necessarily have books that were appropriate for children. We noticed that was a space of growth for those families."
During the book-a-thon week, nurses and developmental specialists distributed children's books and talked to families about the early literacy programs and resources that are available in the unit. 
They also shared how important it is to read to your baby. Learning begins at birth, and even the youngest and littlest of babies will start developing language and literacy skills by hearing the voices of their loved ones reading to them.
First Things First is providing age appropriate books that families can use and take home when their baby goes home.
"Part of this project is to highlight that babies can listen to a story and they get a lot out of it," Woodberry said. "They hear language. It's a good practice to start with your baby."
She tells parents to start by talking to their baby.
"For some families, literacy is kind of hard," Woodberry said. "They think, 'I don't know that word.' I want to make sure that families, regardless of their literacy skills, have all the skills they need to raise their baby."
She helps walk the parents through the book to tell the story.
"It's the practice of reading and the baby hearing their voice," Woodberry said. "Children have the most fun with readers who are silly and engaged when reading and connected to them."