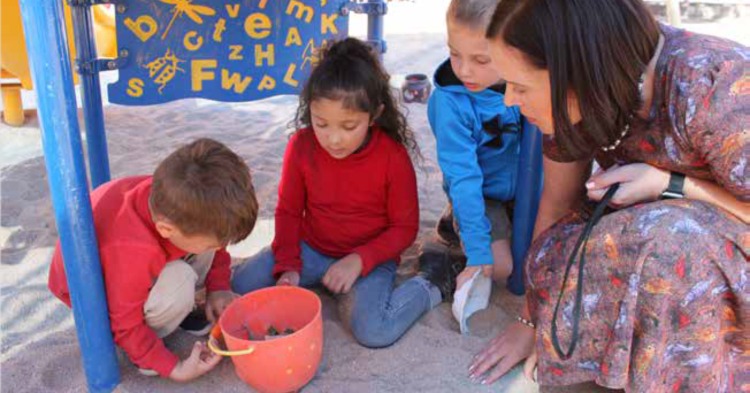 After years of mobilizing to expand preschool opportunities, early childhood advocates in Pima County have succeeded in securing funding for about 1,200 scholarships for preschoolers.
The Pima County Board of Supervisors earlier this year, approved $10 million in funding for early education scholarships for 3- to 5-year-old children. In addition, almost $3 million has been added from cities, towns and other partners.
The Pima Early Education Program scholarships (PEEPs) provide funding for local school districts and preschool providers to offer scholarships to qualifying families. This will be a lifesaver of many families who can't afford the cost of preschool.
The cost of child care varies across Arizona and within individual communities and each provider sets their own rates. But child care for 3- to 5-year olds in Pima County averages about $167 per week, according to Arizona Child Care Resource and Referral, which publishes rates based on the 2018 Arizona Department of Economic Security (DES) Market Rate Survey.
"One thing I think is so valuable about PEEPs is that it truly is a collaboration between county and city governments, some private organizations and the early childhood field," said FTF Pima South Regional Director Jaymie Jacobs.
A portion of the PEEPs money will allow First Things First to offer 600 Quality First scholarships for eligible families in the FTF Pima North and Pima South regions to enroll their child in quality early learning programs that participate in Quality First, Arizona's quality improvement and rating system.
Watching the early childhood advocates make the case for funding high-quality early education is inspiring and not something that happened overnight, said Monica Brinkerhoff, associate vice president of early childhood education for the United Way of Tucson and Southern Arizona.
"The exciting thing about PEEPs, what made the initiative so successful is the diverse group of people coming together to make it happen," Brinkerhoff said. "Nonprofit, private individuals and government stepped up to the plate. It was a radical act of leadership on behalf of Pima County. Mobilizing people behind this kind of cause can take many years.  But we did it!"
One of the largest supporters of quality early programs in Pima County is Preschool Promise, made of a coalition of educators, business leaders, community organizations, parents and concerned citizens who support the goal of making high-quality preschool available for all southern Arizona children a reality. A 2017 ballot initiative, called Smart Start Tucson, proposed a half-cent sales tax that would have meant about $50 million a year for early learning programs. It failed among voters, so the organization looked for a new way forward.
"One of the guiding principles is to work within existing systems. That was essential," said Nicole Fyffe of the Pima County Administrator's Office. Having the Quality First system already in place was a big plus to get providers on board, because many already know how the program works, she said.
According to the county, in addition to the Quality First scholarships, PEEPs includes:
Partnerships with seven school districts to offer free, high-quality preschool classes to approximately 480 children.
A partnership with Child-Parent Centers to offer full-day, free Head Start preschool programs at 11 locations for 205 children.
Partnerships with the United Way of Tucson and Southern Arizona, DES and others to increase the number of high-quality preschool providers as well as the number of preschools that accept DES child-care subsidies.
A request-for-proposal process to find an experienced organization to develop a three-year plan to manage and implement PEEPs on an ongoing basis under the guidance of a multi-departmental Pima County oversight team and according to the PEEP framework and guiding principles.
"One thing I appreciate in the funding of PEEPs is they truly had a goal of diverse delivery of services," said FTF Pima North Regional Director Karri Kerns.
"There's something for Head Start, school districts with preschools and something for private preschools."
The diversified systems will help support early learning throughout the different types of areas of Pima County. For example, Tucson, which is the county's most urban area, has a majority of center-based providers, while the FTF Pima South Region, with its pockets of rural areas, has many home-based providers, Jacobs said.
The FTF Pima South Region is defined as the southern portion of Pima County, not including the lands belonging to the Pascua Yaqui Tribe and the Tohono O'odham Nation, plus a small part of Santa Cruz County around the Amado community, the region has around 25,000 children under the age of 6, with about 28% living in poverty.
The FTF Pima North Region is defined as the northern portion of Pima County, not including the lands belonging to the Pascua Yaqui Tribe and the Tohono O'odham Nation. The region includes the city of South Tucson, the towns of Oro Valley and Marana, and the unincorporated communities of Catalina Foothills, Tanque Verde, Picture Rocks, Catalina, Avra Valley and Nelson. The region has almost 50,000 children under age 6, with about 27% living in poverty.
Research has proven the long-term benefits of attending a high-quality preschool for young children including higher graduation rates, fewer teen pregnancies, higher median income, less dependence on government services and more.
The spirit of collaboration with the early care and education community is something that "is true of all of Tucson," said Brinkerhoff of the United Way of Tucson and Southern Arizona.
"Somebody said, 'Tucson is a generous community. It's a big small town.' There are so many people connected in multiple ways. The idea of relationships seems to be a culture of service. There are probably hundreds of examples of people coming together to make positive things happen.
"In the early childhood community, organizations and people that we serve, we've all been around for a long time. That trust and relationship-building happens over the years. What healthy communities need is a well-resourced early care and education system and Pima County is getting closer to it."