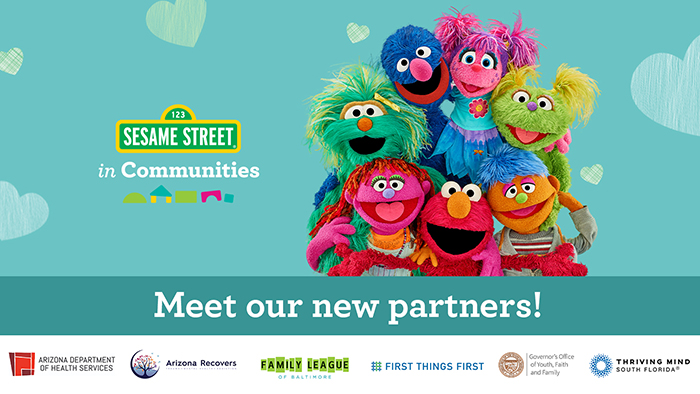 This has been a challenging time for families, and young children have especially felt the impact of all of the changes in our daily lives during COVID-19 — from having to leave familiar child care providers and friends to seeing everyone wearing face coverings now. Families will soon get a hand from some familiar friends to help their children build coping skills to get through tough times like these.
Sesame Workshop, the nonprofit educational organization behind Sesame Street, is expanding its Sesame Street in Communities initiative to Maricopa County. In addition to Maricopa County, the Sesame Street in Communities program is also launching in Maryland and Florida, made possible through the generous support of the Robert Wood Johnson Foundation.
The program, which aims to help young children build coping skills and foster nurturing connections between them and the caring adults in their lives, will support local families by providing free, easy-to-use resources through a partnership with the Arizona Department of Health Services, Arizona Recovers and First Things First.
Families are encouraged to watch the premiere of a digital family special featuring the Sesame Street Muppets on Facebook Premiere at 10 a.m. Arizona time, Oct. 6. This special launch event, "Little Children, Big Challenges" will also be accessible on Facebook after it airs.
The special will feature children's questions with answers from experts in the three new communities—along with some familiar grown-up and Muppet faces from Sesame Street. Families and community providers will learn about building resilience and coping with the effects of the COVID-19 pandemic as well as hear from experts about common stressors that have been intensified by the pandemic, such as parental addiction. A Spanish-language version is also planned.
"The COVID-19 pandemic has exacerbated the challenges facing many young children and families in Maricopa County, and it's more important than ever to establish a foundation for building resilience from a young age," said Dr. Jeanette Betancourt, senior vice president, US Social Impact, Sesame Workshop.  "We're so excited to bring Sesame Street in Communities to Maricopa County, a community that cares deeply about giving children the best start in life. With the tremendous uncertainty that children and families are facing, we're proud to partner with these three organizations to equip families with the tools they need to overcome the challenges of today and thrive into the future." 
Sesame Workshop is partnering with the Arizona Department of Health Services; Arizona Recovers, a grassroots organization dedicated to changing the conversation surrounding addiction, mental health and trauma; and First Things First to help the county's families and children thrive.
Together, these partners will use the Sesame Street in Communities resources and professional development materials to focus on helping children build resilience and overcome traumatic experiences, including parental addiction—a challenge magnified by the unprecedented realities of the COVID-19 pandemic. As part of the new expansion, Sesame Workshop is also conducting research to inform how the partners can most effectively use Sesame Street in Communities through early childhood development programs across Maricopa County.
"Maricopa County is a diverse, expansive county that, like many parts of the United States, also grapples with long-standing gaps in opportunity for a healthy life," said Executive Director of Arizona Recovers Angie Geren.
The Arizona Department of Health Services and Arizona Recovers will integrate Sesame Street in Communities curriculum, videos, storybooks, and activities on topics like traumatic experiences and parental addiction into its programs and trainings in the coming months. Through training staff and integrating resources into therapy, home visiting and family recovery programs, the partners and Sesame Street in Communities will support young children and the caring adults in their lives.
Families, caregivers and community providers can find tools — many of which are also available in Spanish — such as coloring sheets, short videos and articles on topics such as resilience-building on the Sesame Street in Communities website.