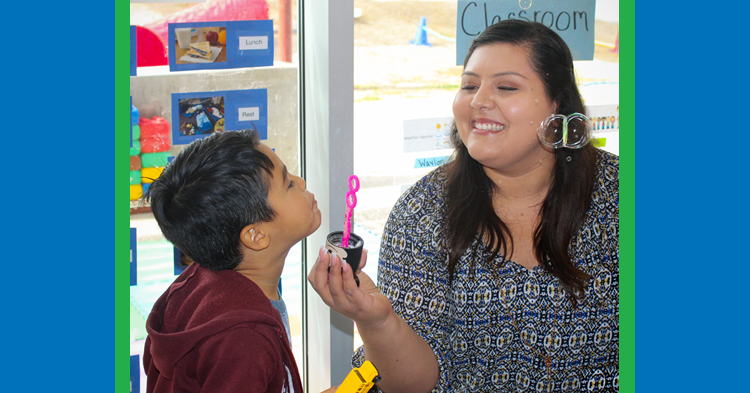 A new early childhood classroom, where early childhood educators in Yuma County can learn how to work with young children with special needs, has opened on the Arizona Western College campus.
First Things First, Yuma School District One and Arizona Western College recently partnered to open an inclusion classroom in the college's Kathryn Watson Child Development Early Learning Lab. Inclusion classrooms offer opportunities for students with disabilities to learn alongside their non-disabled peers in general education classrooms.
The FTF Yuma Regional Council invested through its Start Up, Expansion and Learning Lab Strategy, which seeks to add early childhood classrooms in the community and increase the number of spaces for young children in quality early childhood education.
"This strategy allowed the council to focus on one of the priorities identified during recent FTF town halls, where the community said they wanted a focus on children with special needs," said FTF Yuma Regional Director Rudy Ortiz. "After an initial investment, you have a model that is self-sustained and ready for Yuma to learn and grow."
The early childhood classroom, which serves 10 students with special needs and 10 typically-developing students, provides additional quality early learning to preschool-aged children in Yuma County.  The classroom is also used as a lab for early childhood education students to learn best practices in a classroom environment. It is the school district's responsibility to provide services to students with special needs, but before this classroom, the district didn't have enough preschool classrooms to provide for a true inclusion classroom, said Yuma School District One Superintendent James Sheldahl.
Working with the FTF Yuma Region and the college, Sheldahl said they were able to braid different funding sources "to get a good cross section of children in a classroom." The school district is paying for the classroom teacher, along with bussing the students to the classroom, while the college provides the teacher assistant and the classroom space for the teachers and students.
"This is our partnership, but we could not do it by ourselves," said Linda Elliott-Nelson, vice president of learning services at Arizona Western. "Jamie and Rudy came with a 'we can do it together through collaboration' attitude. This project shows how collaboration can benefit families, students and our community as a whole."
"This is an opportunity for our early childhood professionals to learn and grow," Ortiz said. "There's never been an opportunity like this in our community at a lab school to have a full-inclusion classroom."
Ultimately, the inclusion classroom should be a reflection of society, said Mary Beth Turner, the preschool coordinator for the Yuma School District One Exceptional Student Services.
"We live in an inclusive world," she said. "From the youngest ages, we have to bring these children in and provide more opportunities. It's the way of the world and how we should live."