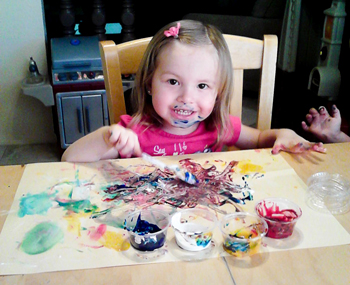 Abigail Rauso and her husband Michael were troubled when their baby Hannah was a little over a year old and not speaking words.
The child would communicate in other ways, but didn't use words. For example, Hannah would open the refrigerator and point to the orange juice when she wanted juice, but not say a word. The Rausos, who have older children, knew Hannah should be speaking at least a few words at that age.
Hannah wasn't talking, so we asked her pediatrician," said Abigail, who lives in Yuma.
The doctor ordered a series of hearing screenings. And although those didn't determine a hearing loss, the family was referred to the Easter Seals Blake Foundation, which provides consultation and training to families and child care providers about how to best meet the needs of children with special needs in their early care and education settings.
Abigail was set up with a parent educator through the Parents as Teachers program, funded by First Things First.
The voluntary program provides in-home education and support for families. In Hannah's case, the family goal was to work with Hannah on her speech development. Twice a month, a coach would visit the family, work on an activity to encourage speech development and leave them with additional tips and activities to work daily with Hannah.
Soon, Hannah was picking up single vocabulary words. Judith Hernandez, the family's current coach, told the Rausos that the next step was to help Hannah form small sentences.
"For example, she would say, 'milk' and grab her mom by the hand and point," Hernandez said. "She could not say, 'I want milk.'"
Hernandez told Hannah's parents and siblings to help her by putting the words in a sentence, such as, "You want milk." They also needed to encourage Hannah to use her words.
"It was difficult at first, especially for her sister, who would get frustrated and answer for Hannah," said mom Abigail.
Eventually, the older sister, who is one year older than Hannah, became a prime example for her little sister in communication, Hernandez said. "She would talk and talk and learned to let Hannah speak for herself," she said.
The communication activities continued after each session.
"Every activity was different," Abigail said. "There was always something to color or create with Play-Doh. Then she would give me paperwork that would explain how it helped with her motor skills or communication."
Rauso knew the sessions were working after her daughter stopped hiding under the bed when the parent coach knocked on their front door.
"She would cry until her sister would start the activity and encourage her to join," Abigail said. "Now, she doesn't do that. The change in her is huge."
By March 2015, Hannah was using multiple words in a sentence.
"The other day, I was working with her, and she said, 'Oh, I can't believe it,'" Hernandez said.
Hannah is learning new vocabulary words daily. During one activity where Hernandez was working with Hannah on facial emotions, Hannah asked, "What is this?" pointing to a man with a scowl and his hands on the side of his head.
"He is frustrated," Hernandez answered.
"Frustrated?" Hannah replied.
"She would never repeat a word like that before," Hernandez said.
Once a family starts in the PAT program, an initial developmental screening, which measures skills such as communication, is done. The screenings continue every six months to measure progress.
Hannah, who turned 4 in September, is doing well. "Our goal was for her not to get behind due to communication, and I know she'll do great when she starts kindergarten," Hernandez said.
In fact, Hannah, who Abigail thought would cry at the thought of having to go to school, asks every day when she'll get to go with her siblings.
"She's dying to go to school," Abigail said.