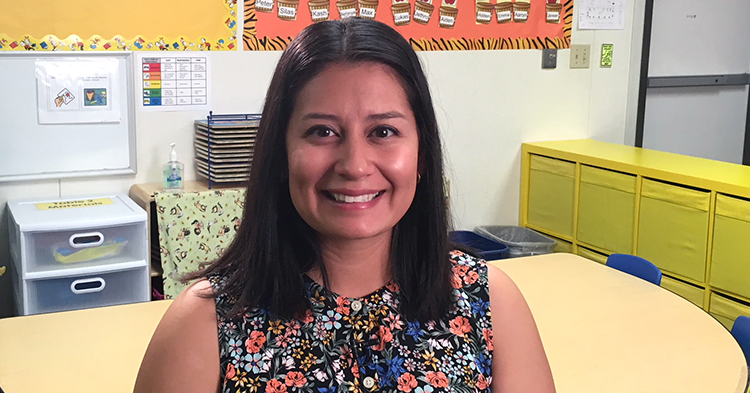 For the first time in two decades, a preschool teacher has been selected as a finalist for the Arizona Teacher of the Year program.
The Arizona Education Foundation (AEF) recently announced Maria Barker, a preschool teacher at Red Mountain Center for Early Education in Mesa Public Schools, as one of this year's five Ambassadors for Excellence.
This is one sign of growing recognition that teachers in the preschool years are a critical part of the education continuum. It's a realization similar to the path that brought Barker herself from teaching grade schoolers to teaching preschoolers.
Barker, a former K-3 grade school teacher, said she transitioned into preschool for the opportunity to make an early impact on students' long-term success.
"If I can help them build skills now, that can lessen gaps later," she explained. "Communication and social-emotional learning is so important to my teaching philosophy. (Young children) have big emotions and big thoughts and my job is to give them the tools to express themselves in a positive way."
Barker and the other finalists will learn which of them has been selected as the 2019 AEF Arizona Teacher of the Year at the foundation's annual awards luncheon on Oct. 25. That teacher will then be in the running for the National Teacher of the Year title. AEF's annual Teacher of the Year program is widely known as the premier statewide program to spotlight and honor Arizona's public school teachers.
Barker, who teaches children with special needs, describes her work as being a "Sherlock Holmes of teaching" that allows her to use both creative and analytical thinking.
"A lot of my students have communication delays and behavior challenges," she explained. "I try to figure out what are they trying to communicate to me and how I can help them."
She also believes preschool teachers play a special role because for many children, preschool is often "their first exposure to school. It's the first opportunity for their family to see what school is like."
"Not a lot of my students get the opportunity to interact with a lot of other students. But here they get this chance to explore," she said.
After Miss B – as her students call her – finishes each school day and her two classes of students have headed home, she feels a sense of gratitude.  It's hard work, but always rewarding "to know that I've impacted a life in a profound way that makes a difference in the lives of students," she said.