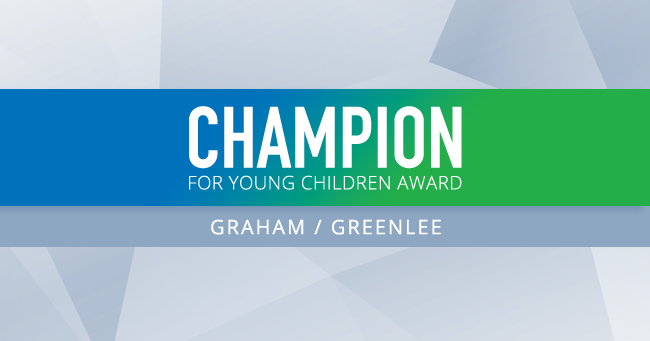 Tanya Montez has been selected as the 2022 First Things First Graham/Greenlee Champion for Young Children.
The award is given to local champions who actively volunteer their time to raise public awareness of the importance of early childhood development and health.
As a Family Assessment Worker for Child and Family Resources, Montez was able to visit each new mom who delivered a baby at Mt. Graham Regional Medical Center, where she connected the moms with the Healthy Families Program. In addition to talking about the home visiting program, Montez shared information about FTF-funded programs and resources with each new family she met, including a local community resource guide. She also enrolled hundreds of newborns and their siblings in Dolly Parton's Imagination Library, which allows any child in the region to receive a free book in the mail each month from birth to age 5. The program helps families build home libraries and improve literacy in young children.
Currently, Montez is a certified car seat technician and continues to donate her time sharing resources with parents and caregivers at local events such as the Health and STEAM Festival and the Community Baby Shower. Recently, she helped to share the message of the importance of early childhood, and honor local early childhood professionals through a presentation to the Safford City Council celebrating the Week of the Young Child.
We recently caught up with Montez.
QUESTION: Why did you choose to show your support for young children and families?
ANSWER: I want to be a part of giving parents the tools and resources to become successful parents and community members. In turn, they will raise their children in a positive, nurturing environment to grow and learn.
QUESTION: Your actions make early childhood a priority. What inspires you to do that work?
ANSWER: The success families have when they have support and resources. I also enjoy witnessing the smiles and joy on their faces when interacting together.
QUESTION: Why do you think it's important for people in your field/position in the community be a champion of young children and families?
ANSWER: The children are our future. Every child deserves a loving, caring and safe environment to learn and grow. Giving families the tools to be the best parent they choose to be is something we all should strive toward.
QUESTION: What is motivating you to support babies, toddlers and preschoolers directly or indirectly?
ANSWER: I have a growing family of my own and want the best for them. I have worked with families and children for over twenty years and I am still learning from them and growing as an individual.
QUESTION: How do you convince people not connected to early childhood that they should be a voice for Arizona's young children?
ANSWER: I remind people that all of us were once children and we have family. Every child deserves a happy and safe childhood. Family plays a huge role in how their children will grow and what role they will play in society and our community.