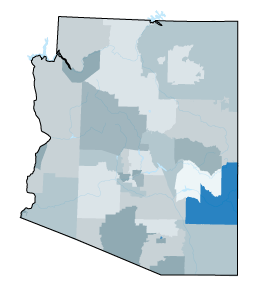 3,903
Population of young children (under age 6)
20%
Percentage of young children living in poverty
The Graham/Greenlee Region is defined as the combined area of the two counties, not including the lands belonging to the San Carlos Apache Tribe within Graham County.
Priorities
The Graham/Greenlee Regional Partnership Council makes strategic investments to support the healthy development and learning of the young children in the region. The council's priorities include:
Improving the quality of child care and preschool programs
Scholarships for children to access high-quality early learning
Strengthening families through voluntary home visiting
Learn more about what we fund.
---
First Things First Staff
Shari Elkins
Regional Director, Graham/Greenlee
Cindi Alva
Sr. Director, Central East Region
Antoinette Griffin
Parent Awareness and Community Outreach Coordinator
Regional Office
512 S. 2nd Ave
Safford, AZ 85546