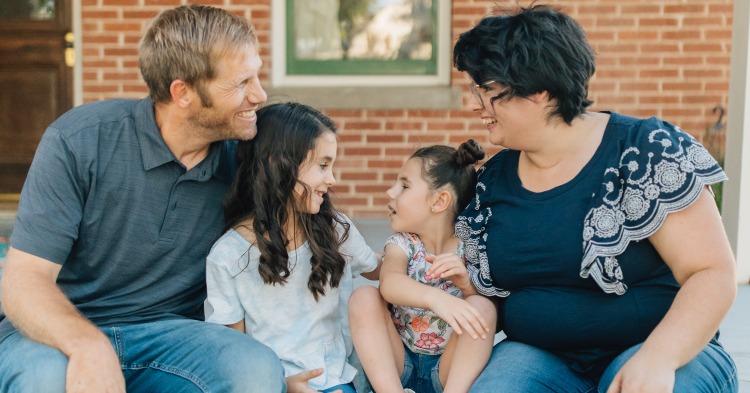 About halfway through her second pregnancy, Malia Mullenaux and her husband, Reagan got some scary news. 
Doctors told them that their daughter Addelyn would have complex medical needs. Addy was diagnosed in utero with chromosome 6q2627 deletion syndrome, which means that part of her body's chromosomes has been lost or deleted and could cause severe congenital anomalies and significant intellectual and physical disability. 
There was so much that Reagan and Malia didn't know, but they knew that Addy was meant to be their daughter. They also knew that they would love her and care for her to the best of their abilities. 
The Mullenaux family lives in Thatcher, which is three hours away from the high-level medical care that their soon-to-be born daughter would need. As Malia's due date approached, she stayed with family in Phoenix to safely await Addy's arrival. 
Shortly before Addy was born, a friend told Malia about a voluntary home visitation program called Healthy Families. The First Things First Graham/Greenlee Regional Partnership Council funds Healthy Families to provide parenting information, teaching strategies and connections to community resources. 
Malia quickly bonded with her home visitor, Stephanie, who immediately helped Malia navigate as she worked with at least a dozen specialists including a cardiologist, ophthalmologist, neurologist and endocrinologist, to help give Addy the best quality of life.
All specialists are in Phoenix, so every week the family ventures in to the city, sometimes three or four times in the same week.
After a craniotomy due to epileptic seizures, Addy was left legally blind. Stephanie worked with Mullenaux to provide Addy with sensory experiences like music, textures (especially rocks), and smells.
 "She especially loves the feeling of bubbles being blown on her hands and face, the wind in her hair and the taste of mac and cheese," Mullenaux said. "Her very favorite sensation is touch. She loves to cuddle, and gives the best hugs!"
The home visits never felt like appointments, Mullenaux added. 
"We say, 'We have a friend coming to check on us,'" she said. "So much love and support was provided. No judgments were ever made, and our home visitors felt like family. When people ask what this program is and why we are a part of it, I tell them that a kind friend is sent to give us parenting tips, advice on mental health for each of us, and that we learn so much on top of having direct access to resources we may need help finding for our girls, and even for us as parents."
Mullenaux describes Stephanie as a steady influence through the ups and downs. 
"She has seen me at my best and at my worst, yet she always came with a bright smile and a kind hug," Malia Mullenaux said.
"She became a shoulder to cry on, and a friend to laugh with. The difference the program made in our family is priceless. 
 "I've learned so many things to make me a better wife, mom and person. Addelyn and her big sister, Chloe, benefitted from Healthy Families in countless ways, too. Starting with learning techniques for comforting a newborn in sensory overload, to potty-training tips, to preparing for preschool and beyond."
Addy recently turned 5, and is now ready for school. The family will miss their association with their Healthy Families friends, but they are excited watch Addy continue to grow and thrive in her new learning environment at Brighter Day Transition Kindergarten.