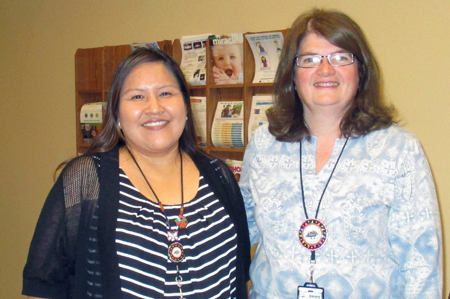 Brena Kennedy and Kelly Reede have been selected the 2017 San Carlos Apache First Things First Champions for Young Children.
The award is given to local champions who actively volunteer their time to raise public awareness of the importance of early childhood development and health. Champions spend a significant amount of time volunteering with FTF and building public awareness about the importance of early childhood issues.
Kennedy, who is a Family Nurse Practitioner with Maternal Child Health, Department of Health and Human Services and Reede, who is the Program Manager of the San Carlos Apache Woman Infant & Children (WIC) Program, work closely together.
Kennedy and Reede have engaged in awareness-raising efforts such as:
Attending training on early childhood messaging.
Facilitating early childhood trainings for staff.
Hosting information tables at community events such as Apaches Living Healthy Family Fun Night.
Incorporating grantee services to make sure kids arrive at kindergarten on track for success healthy and on track for success.
Both Kennedy and Reede recently answered some questions separately on their thoughts on early childhood development and health. Answers have been edited for clarity and length.
Question: Why do you feel early childhood development and health is so important?
Kennedy: Kids are great from day one and they are our future. When children are healthy and meet their milestones from the beginning of life and have a lot of love and nurturing, it sets them up for a good life. Their health and development are the cornerstones for their life.
Reede: The first five years of a child's life are critical since that's when 90 percent of brain development happens. The experiences children have in these years help shape the adults they will become. More than anything else, your relationship with your child shapes the way your child learns and develops. Development is the term used to describe the changes in your child's physical growth, as well as her ability to learn the social, emotional, behavior, thinking and communication skills she needs for life. All of these areas are linked, and each depends on and influences the others.
In the first five years of life, your child's brain develops more and faster than at any other time in his life. Your child's early experiences the things he sees, hears, touches, smells and tastes—stimulate his brain, creating millions of connections. This is when the foundations for learning, health and behavior throughout life are laid down. Babies are born ready to learn, and their brains develop through use. So your child needs a stimulating environment with lots of different activities that give her plenty of ways to play and learn, and lots of chances to practice what she's learning. Children's relationships affect all areas and stages of their development.
Q: What caused you to get involved in efforts to increase public awareness in early childhood issues?
Kennedy: I have always loved kids and saw a lot of kids in my previous job. Now in San Carlos I see about 90 percent kids. Parents, family members and the community need a lot of guidance, education, understanding and great care to help their children reach their full potential. I feel as a nurse practitioner, I am in a great role to help and guide them in.
Reede: Children come into the world eager to learn and I taught for 14 years in Head Start and preschool settings. I've always had a passion for children and having three of my own ages 8, 11 and 16 years of age. The first five years of life are a time of enormous growth of linguistic, conceptual, social, emotional and motor competence. Right from birth a healthy child is an active participant in that growth, exploring the environment, learning to communicate, and, in relatively short order, beginning to construct ideas and theories about how things work in the surrounding world. The pace of learning, however, will depend on whether and to what extent the child's inclinations to learn encounter and engage supporting environments. There can be no question that the environment in which a child grows up has a powerful impact on how the child develops and what the child learns. So it's important that parents understand they are their child's first teacher.
Q: Why do you feel building awareness in early childhood and developmental health is so important for families and communities?
Kennedy: The children are the family's and community's most precious and special assets. Families and communities need to feel important and valued in the care of these children. The family and community is where the child spends all their time. We need to give them guidance and resources to nurture and teach the children so that at age 5 they have achieved the best 90 percent of brain development possible.
Reede: Each child comes with a unique set of experiences, abilities, and needs. Children come from diverse families and communities and bring rich cultural and linguistic strengths and perspectives. They also come with diverse learning needs and approaches. For example, one child may have a special need, developmental delay or disability, while another may be experiencing stress in their home or community caused by violence, trauma, abuse, or neglect. Tuning in and being aware of each child's specific needs and where they are developmentally can help you adjust your care, environment, and daily activities. This may include managing the expectations you have for each child's behavior and learning, remaining sensitive to his or her individual needs, and if necessary, reaching out for additional support.
Q: How have you seen awareness for the early years change in your community?
Kennedy: Our immunization rate was extremely low at 36 percent when I came to San Carlos two years ago and it is up to about 76 percent. We are teaching the parents how important these appointments are. Getting them off the bottle sooner and saving their teeth. Signing them up for the Dolly Parton Imagination Library and giving first books and encouraging them to read and talk and have fun and enjoy their children more. Making a safe and inviting clinic which includes WIC and a pediatric registered dietician and play area for the kids. Parents want to be champions; they just need the right support and tools.
Reede: In our community here on the San Carlos Carlos Apache Tribe, awareness about the importance of early childhood has been brought from our WIC agency. WIC is a nutrition program that helps families feed their children healthy foods. WIC provides nutrition information, healthy foods and help accessing health care to moderate to low-income families. The program is available to families with pregnant women, new mothers and children under the age of 5. If you are a father, mother, grandparent, foster parent or other legal guardian of a child under 5 years of age. If you are a woman who is pregnant, breastfeeding, or has a baby up to 6 months old, you can apply for yourself. Our agency currently carries 1,100 clients which we see on a month to basis. We are trusted voices in our community to share about the importance of early childhood.
Parents or guardians have been interested with nutrition education about their child or wanting resources to help benefit their child.
Q: How do you suggest other people in your community get involved?
Kennedy: I feel so many in our community are very involved, not only the parents but extended family members, grandparents, aunts, uncles, cousins and even neighbors. Everyone can help a child by giving their time and supporting the children and helping them achieve their milestones. Helping parents and caregivers understand they are their child's first teacher. An extra smile, hug, read a book, give a sandwich, blanket, taking care of a child while mom runs an errand, lending a humidifier can help everyone involved. Like they say, it is better to give then receive.
Reede: For our WIC agency we encourage parents to get involved with their child from birth-5 years of age by being engaged with their child from day one. Reading to them from day one, but also talking singing and playing as well as making sure their children hit milestones.