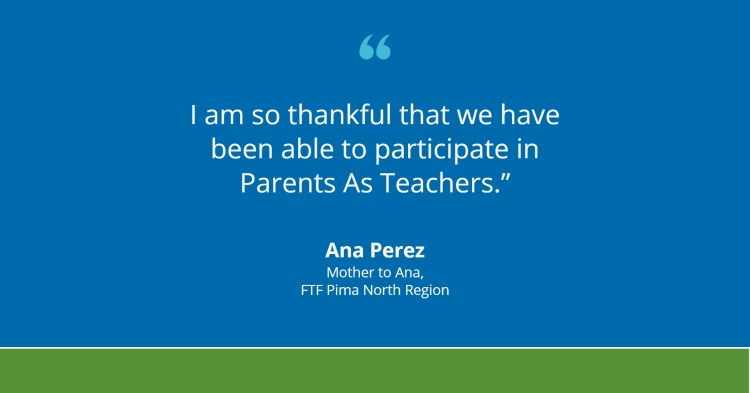 When Ana Perez's young daughter aged out of the home visitation program she was in, the stay-at-home mom began looking for a similar program so that both she and her daughter, Ana Victoria, could continue learning together.
Perez loved the community and support that home visitation provides, which gives families personalized, in-home support through a trained parent educator. The educator visits the family in their home and offers families information, education and support on parenting, child development and health topics while also assisting with connections to other resources or programs as needed. 
The First Things First Pima North Regional Partnership Council funds home visitation to help parents become their child's first and best teacher. 
Perez found the Amphi Parents as Teachers program, where the parent coach gave her information about various playgroups such as swimming and storytimes, where she could enroll Ana Victoria. There she met other moms who quickly became family friends and an extension of her support network- Ana is still close to the moms she met when her oldest was enrolled. 
The parent educator encouraged Perez and her husband to do activities with Ana Victoria at home, such as drawing and working on puzzles to develop her fine motor skills. The young girl loves crafts and was using a hot glue gun by age 3 as part of Perez's encouragement to try new things.
"I explained to Ana Victoria that the glue gun was very hot and that she had to be careful, but that she could do it and I would be there to help her be safe," Perez said. "I was nervous, but I knew she could do it, and she did!" 
Perez said she is thankful to the home visitation program for the resources they provide because it helped teach her daughter life skills.
When Perez had her second child, she knew she wanted to enroll her in Parents As Teachers so that her youngest could have those same positive experiences. 
Emma was a timid toddler. She only spoke to her family members and was nervous around new people. The home educator helped Perez find a scholarship to attend preschool, where she is now thriving. Now, Emma easily greets new people and introduces herself. She likes to play with other children, and she even knows her home address and mother's phone number by memory.
Perez loves that the program provided her family with so many children's books, especially bilingual ones. She and her husband are trying to ensure that their daughters are fluent in English and Spanish and read bilingual books as a family. 
"We also use them to grow the girls' Spanish vocabulary by fishing for sight words and using the tips we learned from Parents As Teachers," Perez said. 
When Ana Victoria graduated from the Parents As Teachers program, she was ready for kindergarten. Today, she is flourishing in school and still enjoys reading and making art, especially with her younger sister. 
"I am so thankful that we have been able to participate in Parents As Teachers," said Perez. "The program has helped our whole family learn so much."