Su bebé necesita una cuna segura y un lugar tranquilo dónde dormir, lejos de luces brillantes y ruidos repentinos. Durante el primer año, es más seguro que duerma boca arriba, y durante los 2 primeros años, cuando viaje en auto, necesitará ir en el asiento trasero en un asiento infantil para auto viendo hacia atrás.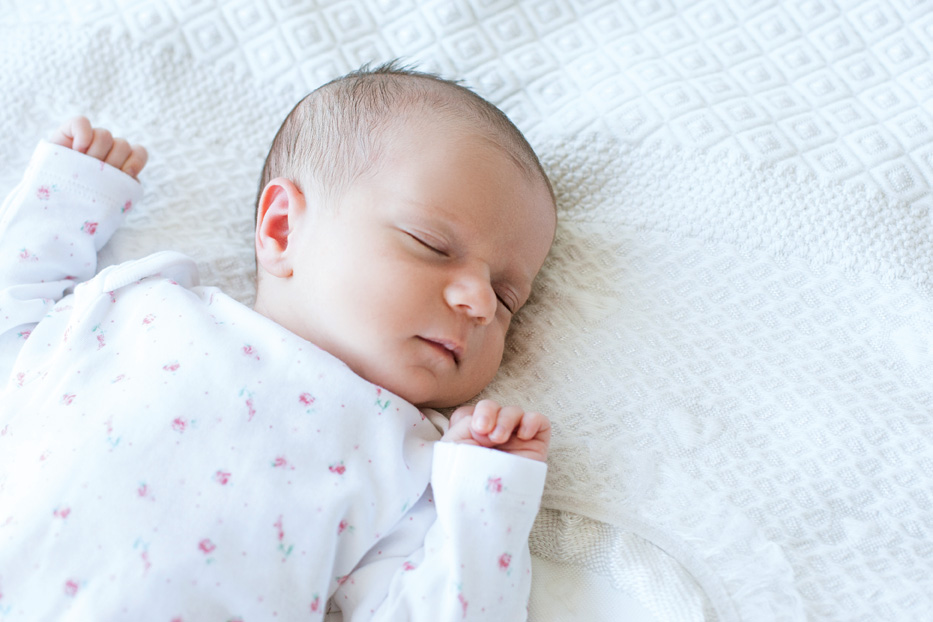 Ponga a Su Bebé a Dormir Boca Arriba
Durante los primeros 12 meses acueste a su bebé a dormir boca arriba. No le acueste de lado ni boca abajo, a menos que su doctor le diga que está bien hacerlo. Cuando los bebés duermen boca arriba, tienen menos probabilidades de morir de SIDS (muerte de cuna). La muerte de cuna o SIDS puede suceder cuando un bebé no puede respirar con facilidad. Para más información, visite Healthy Children.
---
La Seguridad Mientras Duerme
Acueste a su bebé en una cuna o moisés (bassinet) junto a su cama. No le acueste en la cama con usted. Podría rodarse y caerse, o usted podría aplastarle. La Academia Americana de Pediatría recomienda que los bebés duerman:
Solos, en la habitación de usted.
Boca arriba.
En cunas seguras.
---
Tiempo para Estar de Pancita
Cuando su bebé despierte, dele tiempo para jugar sobre su pancita. Esto ayuda a fortalecer su cuello, espalda y hombros.
---

Asientos Infantiles para el Auto
Al menos hasta los 1 años de edad, su bebé deberá viajar en el asiento trasero, en un asiento para auto viendo hacia atrás.
Usted puede comprar un asiento para auto exclusivamente para bebés o un asiento que más tarde se pueda cambiar a una posición viendo hacia adelante.
Los bebés y niños nunca deben viajar en asientos delanteros con bolsas de aire.
Evite los asientos infantiles para auto usados. Es posible que éstos no sean seguros.
Nunca deje a su bebé solo en un auto. La temperatura puede subir rápidamente y el bebé puede morir.
Siempre revise su asiento trasero antes de bajarse del auto. Así, no dejará a algún niño en el auto.
Para más información sobre asientos para el auto, comuníquese con la revisión de asientos Seat Check o visite los sitios Safe Kids USA o Healthy Children.
Cosas que Usted Puede Hacer
Seguridad en la Cuna
Use una cuna nueva que cumpla con los estándares de seguridad aprobados. O asegúrese de que su cuna vieja cumpla con los estándares de seguridad actuales. Los barandales están demasiado separados si una lata de refresco cabe entre ellos. Visite el sitio Safe Kids USA.
Use un colchón firme, que quede bien ajustado con una sábana ajustable.
Saque de la cuna colchas y cobijas, almohadas, protectores acojinados para las rejas y muñecos de peluche, ya que estos podrían asfixiar a su bebé.
Mantenga fuera de la cuna cordones de cortinas, persianas, ropa de cama y juguetes. Su bebé podría atorarse y estrangularse con el cordón.
Seguridad con el Asiento Infantil para Auto
Cuando compre un asiento infantil para auto, asegúrese de que sea el modelo correcto para su auto. Y pregunte cómo instalarlo adecuadamente. Muchas estaciones de bomberos realizarán una inspección gratuita. Comuníquese con la revisión del asiento Seat Check para buscar una estación de inspección cerca de usted.
Seguridad con el Chupón/Chupete
Trate de no usar un chupón/chupete, hasta que el amamantar se haya convertido en un hábito. Esto sucede por lo general en 3 a 4 semanas.
Un chupón/chupete a la hora de la siesta o a la hora de dormir podría ayudar a prevenir la muerte de cuna o SIDS.
Compre un chupón/chupete de una sola pieza que pueda lavarse en la lavavajillas. La placa de plástico duro debe medir por lo menos 1 ½ pulgada de ancho.
Nunca amarre un chupón/chupete al cuerpo, a la ropa o la cuna de su bebé, pues el bebé podría enredarse con el cordón.
The First Things First Parent Kit was developed in partnership with Health Research for Action/UC Berkeley. © 2018 The Regents of the University of California. Additional video, graphic and other content © 2018 First Things First. All rights reserved.