La leche materna o la fórmula es el único alimento que su bebé necesita hasta que tenga alrededor de 6 meses de edad. Entonces, usted podrá comenzar a darle comida en puré o machacada. Cuando su bebé tiene hambre y usted le alimenta al momento y con amor, él se sentirá seguro. Con el tiempo, aprenderá a comer por sí solo, se sentirá orgulloso de sus nuevas habilidades, y comerá más alimentos acompañando al resto de la familia.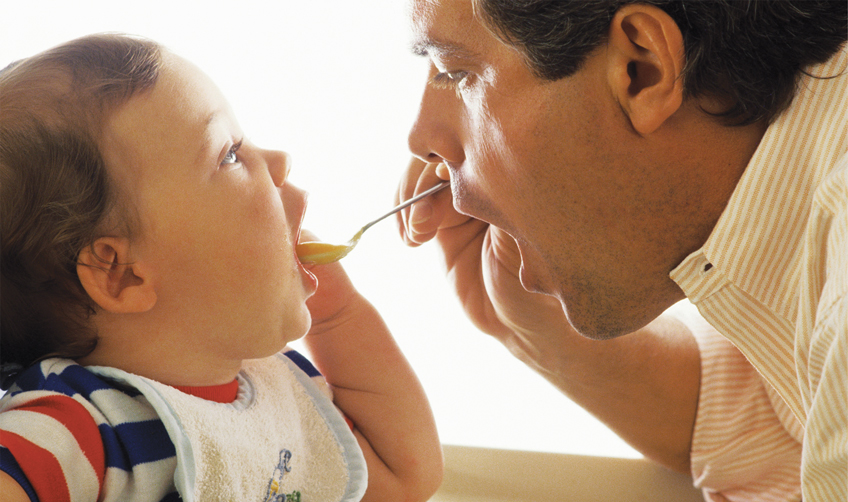 Su Bebé Indica que Está Listo
Usted puede empezar a ofrecerle a su bebé comida sólida cuando:
Pueda sentarse.
Pueda cerrar la boquita alrededor de una cuchara.
Pueda tragarse la comida en lugar de escupirla.
Él o ella abra la boquita al verle comer a usted, o trata de alcanzar la comida.
---
Los Primeros Alimentos Sólidos de Su Bebé (de los 6 a los 8 Meses)
Cuando su bebé esté listo, comience ofreciéndole cucharadas pequeñas de cereal, o de puré de verduras, de frutas o de carne. Pruebe una nueva comida a la vez por unos cuantos días, para ver cómo reacciona su bebé. Después de los 6 meses de edad, puede darle a su bebé jugo real, pero no le dé más de ¼ de taza al día y mézclelo con agua. Evite las bebidas con mezclas de jugo, ya que les agregan azúcar.
---
Comiendo con las Manitas, Cucharas y Tazas (de los 9 a los 12 Meses)
Su bebé puede empezar a comer carne, queso, verduras cocidas y fruta picados finamente. No les agregue sal, azúcar ni especias. Aún necesita la leche materna o fórmula. Pero no le dé más de 3 biberones ó tazas (24 onzas) al día. Si toma más, puede quitarle las ganas de comer alimentos sólidos.
---
Quitándole el Pecho o el Biberón
El pecho: Trate de amamantarle por lo menos durante un año. Es beneficioso amamantar más tiempo, hasta los 2 años de edad ó más. Cuando le quite el pecho a su bebé, hágalo despacio. Primero, deje de amamantarle al medio día, luego por la mañana, y finalmente por la noche.
El biberón: Comience a quitarle el biberón de los 12 a los 18 meses. Para ayudarle a estar listo, de los 6 a los 9 meses empiece a darle la fórmula, el agua o el jugo en una taza para bebé con tapa.
Para más información sobre cómo quitarle el pecho o el biberón (destetar), llame a La Leche League.
Cosas que Usted Puede Hacer

Alimentando a Su Bebé con Seguridad
Asegúrese de revisar la temperatura de la comida o de las bebidas antes de ofrecérselas a su bebé. No caliente ni la leche ni la comida en el horno de microondas, ya que no se calienta de manera uniforme y puede quemar a su bebé.
Lave las frutas y verduras.
No le agregue cereal al biberón, ya que puede causar atragantamiento.
No le dé miel de abeja a su bebé antes de que cumpla 1 año de edad, pues pueden envenenar al bebé.
No use leche de vaca ni de cabra en lugar de leche materna o fórmula, ya que no tienen los nutrientes que su bebé necesita.
Para Prevenir el Atragantamiento
Antes de alimentarle, asegúrese de que su bebé esté sentado en forma segura.
Vigílele siempre que esté comiendo. Si se está atragantando, su bebé no podrá hacer ruido para llamar su atención.
Corte la comida en trocitos pequeños. Remueva huesos, semillas y pepas.
Corte las uvas y las salchichas en tiras pequeñas.
Evite la comida difícil de masticar, como los trozos grandes de carne o fruta seca.
Evite los alimentos duros, como zanahorias crudas, nueces y palomitas de maíz.
Tome una clase de primeros auxilios para que sepa qué hacer si su hijo o hija se está atragantando. Comuníquese con el grupo local de American Red Cross (Cruz Roja Americana) o American Heart Association (Asociación Americana del Corazón).
Para Ayudar a Prevenir las Rozaduras de Pañal
Las rozaduras de pañal son más comunes entre los 8 y los 10 meses de edad, cuando su bebé empieza a comer más alimentos sólidos.
Cambie su pañal frecuentemente para mantenerle lo más seco posible.
Límpiele las nalguitas con una toallita desechable húmeda o con un trapo suave y húmedo.
Si se roza, cámbiele el pañal más seguido. Lávele las nalguitas con agua tibia y séquele con palmaditas.
Para protegerle la pielecita aplíquele vaselina o un ungüento de óxido de zinc.
Llame al doctor si tiene ampollas o llagas abiertas.
The First Things First Parent Kit was developed in partnership with Health Research for Action/UC Berkeley. © 2018 The Regents of the University of California. Additional video, graphic and other content © 2018 First Things First. All rights reserved.