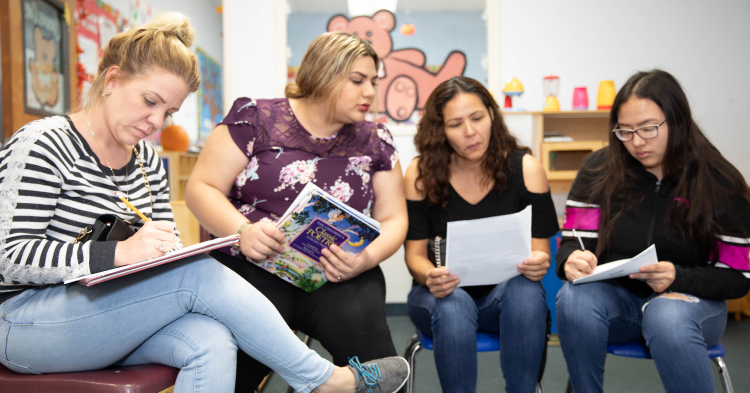 Like other states across the nation, Arizona is suffering a child care workforce shortage. And, when child care providers are able to hire new staff, they often lose them quickly to other jobs.
In an effort to help, First Things First began offering free, unlimited access to online early childhood training courses last year as a part of a three-year pilot program. Since January 2023, more than 11,200 child care staff have subscribed to access the entire ChildCare Education Institute (CCEI) training catalog.
The catalog includes more than 200 early childhood courses applicable to people working with babies, toddlers and preschoolers. The trainings are self-paced and can be accessed from any computer at any time, which provides flexibility for child care workers.
For child care providers like Cindy Unwin the online training has been "brilliant."
Unwin is director of opportunities at Small Miracles and now uses the CCEI system exclusively to onboard staff at 15 child care settings in Phoenix and Tucson.
Before CCEI, the organization had an on-boarding training regimen put together from classes in the community or online. Staff would need to complete the training in the evenings or on weekends — after they had been with children all day or all week. Now, Small Miracles can assign staff to complete 23 hours of training before they enter the classroom, and thanks to CCEI, they can do that within 3 to 5 days.
"They are fantastic courses. Very well put together," Unwin said, adding that staff especially enjoy classes that focus on brain growth, developmental stages, child psychology and redirecting challenging behaviors.
"The breadth of information is like a college course, but the platform makes it fun and interesting," she said. "It also tests your knowledge throughout, and if you get something wrong, it makes you go back until you learn it. Teachers are going into the classroom so much better informed."
Collectively, child care providers have completed about 40,000 hours of training since FTF began offering free unlimited access, with the number growing at about 5% weekly. The number of participants will be capped at 15,000.
The coursework includes classes to help new staff understand what quality early learning means and help center directors deliver onboarding training faster to those new staff members. Lack of proper training in early childhood sometimes creates an immediate gap in the content knowledge for those new to the early childhood field, which in turn frustrates the new employee and may cause them to quickly leave the job.
"What we know is that providers are having a hard time finding staff," said Ginger Sandweg, FTF senior director for early learning. "Many times, when providers hire new staff, they're busy doing many of the fill-in jobs that they don't have staff for and they don't have time to do the training. This should help ease that burden."
FTF partnered with the Arizona Department of Education, the Arizona Department of Economic Security Child Care Administration and Arizona Department of Health Services Bureau of Child Care Licensing to ensure the coursework would also help providers remain in compliance with state partners' training requirements.
Unwin said she believes everyone in the child care system can benefit from it.
"(Before CCEI), we would piece together trainings from a variety of sources," she said. "Many times, trainings weren't offered when our staff needed them, or the platforms they were on were difficult to use. Now, that struggle is over."
Subscribers need to be a part of the FTF-funded Arizona Early Childhood Workforce Registry, which helps early childhood professionals grow their skills and advance their careers. The Registry is free to join and easy to register here. Registry members are able to log into their account on the Registry website and see a navigation button to take them directly to the CCEI trainings.