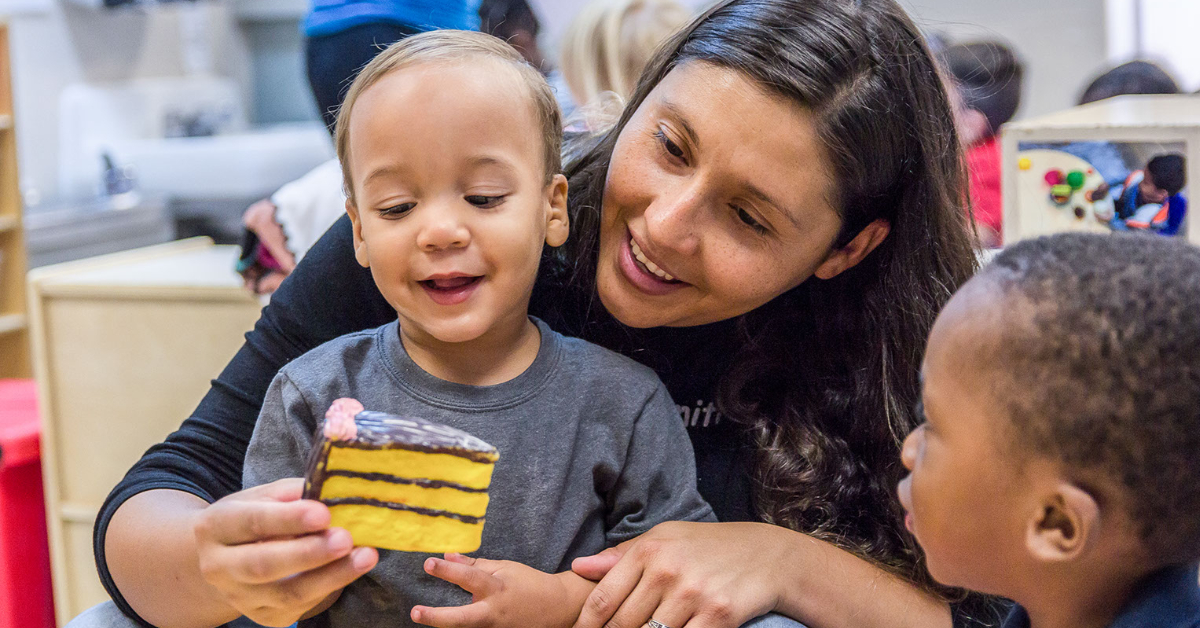 For many child care and preschool providers, hiring the right person to help care for and guide the healthy growth and development of babies, toddlers and preschoolers has always been a challenge.
Since the COVID-19 pandemic, the hiring process has become grueling.
"The minute someone applies, I call them," said Stacey McGuire, executive director of Tots Unlimited Child Care and Preschool, which has two locations in Glendale. "Sometimes they don't answer and I never hear back. They just never call back."
When she does hire someone because she felt the interview went well and the applicant seems excited, they may not show up for the first day of work.
"It's just so frustrating,"  Stacey McGuire said. "We have 150 names on a parent waiting list that we can't enroll because we don't have the staff."
The struggle to fill open child care positions is reflected across the United States, according to a survey from the National Association for the Education of Young Children. The early childhood advocacy group surveyed 7,500 early childhood educators in July. Four out of every five respondents from child care centers said that they had a staffing shortage and 15% reported a "major shortage" of 6-15 fewer workers than needed.
Economic impact on families
The child care worker shortage ripples into the economic lives of families with young children who sometimes are unable to go to work if they can't find child care.
In Arizona, there are an estimated 420,548 parents in the labor force with children under age 6. According to a recent statewide survey from the U.S. Chamber of Commerce Foundation and the Arizona Chamber Foundation of 402 households with children age 5 and under who are not in kindergarten:
approximately 6% of parents said they voluntarily left a job due to child care issues.
34% of respondents reported that they or someone in their household has left a job, not taken a job, or greatly changed jobs because of problems with child care in the last 12 months.
71% of parents reported missing work due to child care issues in the past three months.
Absences and employee turnover cost Arizona employers an estimated $1.42 billion per year, according to the same survey.
"The nation does not get how important child care is to the economy overall and how vital child care workers are to that," said Wendy Wallace from Three Points Child Care. "If we're not here to provide services to those families who need it, those families can't go to work. And they can't provide in the manner that they want to provide. It's a cycle. We all depend on each other."
Frequently, Wallace gets a phone call from a frantic parent who tells her that if they can't find a place to care for their child, they're going to lose their job.
"I have to tell them, 'I'm sorry, I would really love to help but I don't have the staff. I can't help you right now," Wallace said.
Three Points is in a rural area of Pima County, about 25 miles southwest of downtown Tucson. During the height of the COVID-19 pandemic, Wallace had to close the center for weeks. When she reopened, she found that three staff members would not return.
"We have an extremely limited applicant pool," said Wendy Wallace.
"I realized we wouldn't be able to open all the classrooms, so we have four classrooms instead of six. We're not able to expand at the moment because we don't have the staff to do that."
Challenges to finding applicants have always existed. Many child care centers can't offer health insurance to their employees or paid time off. Notoriously low wages also contribute to the struggles.
"Bottom line, we don't have the money or resources to pay what we believe they are worth," Wallace said.
Another obstacle for rural Arizona is location.
"The biggest challenge is that nobody wants to come this way," Wallace said. "We have an extremely limited applicant pool."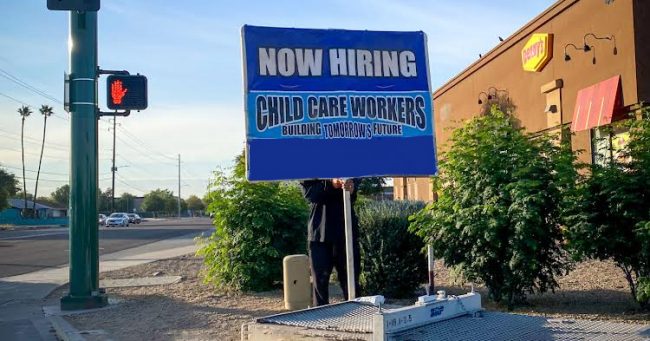 It has forced some child care providers to get creative with their recruiting. Word of mouth has become invaluable.
McGuire said her staff share job openings with the parents of children in their care. "When we're meeting with them one on one, we ask, 'Do you know anyone looking for work?' The parents who have been with us for a long time know the type of person we're looking for."
Laura Salter found some success advertising on the employment website, Indeed.com. She is the director of Signal Peak Early Learning Center on the Central Arizona College campus in Coolidge. They also send emails to their early childhood education students advertising their open positions and use social media to post the positions to local Facebook groups.
"Prior to COVID, it did take time to find the right staff members, but we always had more than one applicant to look at," Salter said. "Since the pandemic has hit, the applicants are far and few between. We've had three resumes over the past month."
Employee retention more critical now
Keeping the child care staff they do have has become even more important for child care centers.
"Retaining is our priority," McGuire said. "We know that everybody is hiring right now. If someone doesn't feel appreciated here, they might find somewhere where they will. We've done a lot of things to show appreciation, we give out $300 bonuses. And most of our employees make $4 more an hour than they did pre-COVID."
In addition to a signing bonus for new employees, Tots Unlimited recently started a $175 attendance bonus for the 48 staff members who are divided between the two centers. For the first two months, 15 people received it. By the end of October, 49 people had improved their attendance to benefit from the bonus.
First Things First is helping retention efforts by funding free, unlimited access to online early childhood training courses through ChildCare Education Institute. The coursework includes classes to help new staff understand what quality early learning means and to help center directors deliver onboarding training faster to those new staff members.
Alvina Lucio, who runs Mini Leaders child care center in Arizona City said she knows that many of her employees are living paycheck to paycheck. She gives her staff retention bonuses, and she tries to provide other incentives, like giving gift cards, making them dinner or buying them lunch.
"I instill in them that the children need us," Lucio said. "You're not going to get rich, but your reward at the end of the day will be when you see someone accomplish something: 'I just taught this kid how to wash their hands, how to tie their shoes.'  We're building a foundation for these kids."