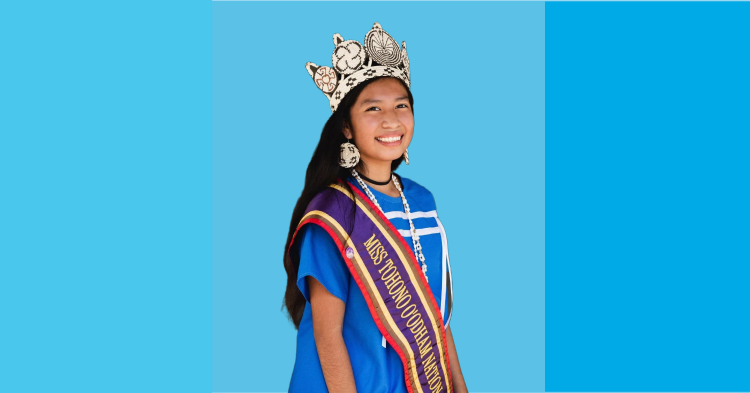 As First Things First continues to celebrate Native American Heritage Month throughout November, we are highlighting different tribal voices and perspectives. Recently, First Things First spoke with Miss Tohono O'odham Nation 2021, 2023, Mazey Ortega.
The Tohono O'odham Nation's lands are located within the Sonoran Desert in south central Arizona. The boundaries of the First Things First Tohono O'odham Region are the same as the Nation's federally-recognized reservation boundaries. These include the noncontiguous San Xavier (Tucson) and San Lucy (Gila Bend & Glendale) districts; Florence Village, a small community outside the City of Florence in Pinal County; and the eight contiguous districts that make up the majority of Western Pima County and small southern portions of Maricopa and Pinal counties. They include Gu Vo, Hickiwan, Sif Oidak, Gu Achi, Pisinemo,Chukut Kuk, Sells, Shuk Toak and Baboquivari districts.
Answers have been edited for space and clarity.
Can you describe from your own upbringing how early childhood education impacted you and your siblings?
Ortega: Early childhood education really helped us a lot because we attended a daycare in Three Points. There was a really nice couple, Ms. Wendy and Mr. Walter. They are the ones who really taught my siblings, starting from my little brother Curtis who is the sixth born out of 11. I'm the fifth born. On up to my older sister. They were all given their education until they moved on to the next grade, and it was honestly the most helpful thing ever. I was able to get used to the learning environment.
What do you remember about the teachers?
Ortega: (The teachers) taught me a lot because when I was there, I could barely speak a little bit of English. I did grow up with my grandmothers, who spoke O'odham and for me, I didn't really like to talk a lot, so when I met the staff there and I still remember a lot of them.  Miss Connie, Miss Shepherd, Miss Vicky. They were all super helpful.
They were really passionate about what they did about their education, and I learned a lot from each and every one of them and they treated all of us just like them. That's one of the genuine things that I still remember because of the environment they gave us and the games that they let us play. They just influenced us in a way that when I think about it today, I wonder, "what if my siblings and I didn't get that type of education from them? What if we had just gone straight to elementary school?' We were coming from a rural area such as San Pedro that didn't have Wi-Fi at the time. Had we not gone to that center we wouldn't have understood what a laptop was or certain books were. We wouldn't be able to understand how to interact with everybody. We didn't really have any of that yet.
Talk to us about how important early literacy was to you during your time in child care.
Ortega: It was there that I learned that I love to read. I really love to read. I am a bookworm. I would spend a lot of time sitting in the corner reading books at the child care center. I would sit there in this corner reading all the books that they had. I remember they would say, "OK time to go play outside." I would sit there and read my book. Miss Connie my teacher came up to me and asked, "Why are you still sitting there reading your book?" And I told her. "I don't want to lose my place and I don't want to damage the book." I said," I don't want to hurt the book because the paper might rip. I actually thought the book was alive because of all the words it had. A lot of the books that I read, like "The Magical Treehouse" and "Junie B Jones," I thought they were all true stories, they could take me anywhere.
(Miss Connie) came back the next day and said, "Here's a bookmark." And I said, "What's a bookmark?" She said, "It keeps your place." Ever since then I just really love to read. Honestly, there are no real words that can describe how I really felt and to this day, I don't really feel that type of environment anywhere that I go other than that place.